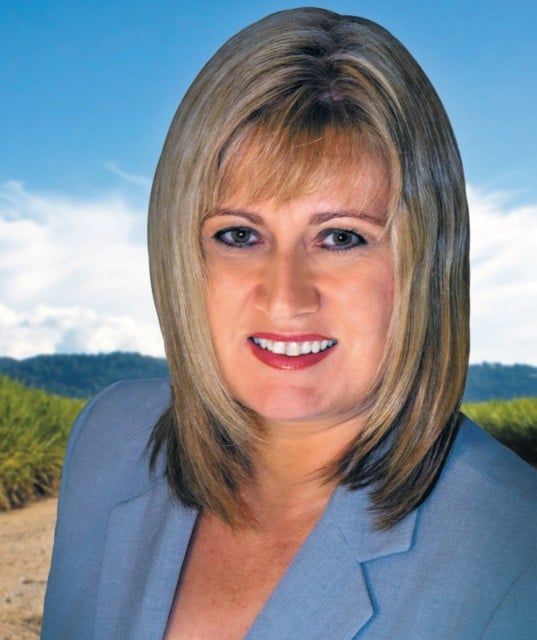 Hans Lovejoy
As the federal parliamentary year winds towards its close, The Echo asked a few questions of local Richmond MP Justine Elliot.
They relate to bills currently before both the lower house and upper house, or senate.
First up, she says prime minister Turnbull and his government are in total disarray.
'They're all over the shop,' she said. 'It will get worse for them… it's about his leadership and being led by the hard right within the party.
'To become leader, he sold out on climate change and marriage equality.
'He needs to stand up to the hard right and do the right thing. This behaviour is a reflection of a weak leader.'
Youth jobs
The Turnbull government's response to chronic youth unemployment is the $840 million package called Youth Jobs PaTH program, which was debated last week.
Called Social Security Legislation Amendment (Youth Jobs Path: Prepare, Trial, Hire) Bill 2016, it would see an extra $100pw to supplement Newstart allowances while businesses would also be eligible for a youth wage subsidy.
I understand Labor has some reservations with this Bill – what are they? Also what is Labor's alternative? 
Yes, and what is particularly concerning is that the Turnbull government has trouble demonstrating what safeguards are in place to protect young Australians. 
Let's not forget that this government was considering making young jobseekers wait six months to access benefits.
It was only due to pressure from Labor and others that it was reduced to one month.
That's why Labor remains concerned in this Bill that there are few guarantees that jobs will not be replaced by cheaper labour and that wages will not be undercut.
We're also concerned that the participants' safety will not be compromised and that adequate insurance arrangements will be provided and that participants won't be used to help businesses sidestep unfair dismissal protections.
In terms of it getting through the Parliament, I don't know if it will get through, and I hope the cross-benchers don't support it.
We took to the last election our Working Futures program, which outlines how to move young people into jobs.
After a six-week work readiness course, they would do a six-month work placement with an employer, paid at an award-equivalent training wage.
Participants will also have the opportunity to gain a formal qualification alongside work experience by completing a Certificate III qualification through TAFE or a reputable private provider.
National security
It appears there is rarely if never any retrospective analysis on why there is terrorism in the first place.
I read Turnbull's National Security speech (November 23) after his Peru trip to APEC. It was full of boogie man and motherhood statements yet didn't address any root causes. 
Turnbull spoke of Daesh (ISIS) yet didn't comment on who funds Daesh or why Daesh exists. Because of WikiLeaks and others, we know the US are largely responsible for their existence and Saudi Arabia are also involved. 
I also read the speech that followed by Labor's Bill Shorten and it was equally underwhelming and without any depth.  
How much soul searching has the Labor party done on its understanding of why terrorism is such a problem?
Would speaking truthfully on such matters compromise Australia's national security? 
Countering terrorism and violent extremism within Australia and around the world is an issue that the Labor Party takes very seriously.
In fact this is an issue that is regularly discussed and we're very fortunate to have in our Caucus recently elected Labor MP Anne Aly (member for Cowan) who is an internationally renowned expert in counter-terrorism and radicalisation.
In terms of Bill Shorten's speech he rightly said: 'While there are many issues that divide this parliament, often very deeply, all of us in this place, on all sides, share a common determination to keep Australia safe'.   
I strongly believe that Bill Shorten's speech did have depth in terms of our actions and motivations in combating extremism.
He further said: 'The ultimate defeat of Daesh is the shared goal of all those who believe in peace.' 
In fact if we have learned anything about Daesh it is that they will use every tool at their disposal, every weapon in their arsenal to spread hatred, to encourage violence, to destroy innocent lives. 
Preventing this, combating terrorism, defeating extremism means meeting Daesh on every front – whether that is providing air support and training in Iraq, or disrupting cyber operations. 
Not just defensively – but offensively. Ensuring we have and use the ability to silence their hateful extremist propaganda and to deprive them of resources and information.
I ask these questions because we appear to be living in a post-ethical and fact-free world, where such narratives i.e. terrorism – generally go unquestioned.
Surely an absence of honesty just leads us further into terrorism? As professor Noam Chomsky said, 'If you want to stop terrorism, then stop participating in it'. 
These are very complex issues and as I've said the Labor Party takes these issues very seriously in terms of combating terrorism and we believe in working with other nations, such as the United States to achieve these goals.
We also believe that foreign aid is an important tool for both humanitarian reasons and also in attempting to prevent the circumstances and situations in which extremism or radicalisation might occur.  
More broadly, Labor has been consistently critical of the coalition government's cuts to foreign aid.
In terms of Donald Trump's win in the US election, Bill Shorten has acknowledged that political parties must always look to the reasons as to why people are disillusioned and how we can address those concerns. 
We in Labor know that means actions like creating jobs, delivering affordable health care and quality education systems. 
Sugar tax
Are you for or against raising the price of sugar to combat obesity and increase government revenue?
Sugar industry lobbyists such as Coca-Cola must be wearing out the carpet in coalition offices at the moment. Are they attempting to influence Labor too?
I haven't been personally lobbied… but the Richmond electorate has a large sugar industry which I support 100 per cent. This sector is vitally important for the economic growth of the northern rivers.
For this reason I don't support a sugar tax, but I do acknowledge that government must always be focused on better health outcomes for Australians, particularly for tackling obesity.
According to the Australian Bureau of Statistics (ABS), the proportion of Australians who are obese has increased across all age groups over time, up from 18.7 per cent in 1995 to 27.5 per cent in 2011–12.