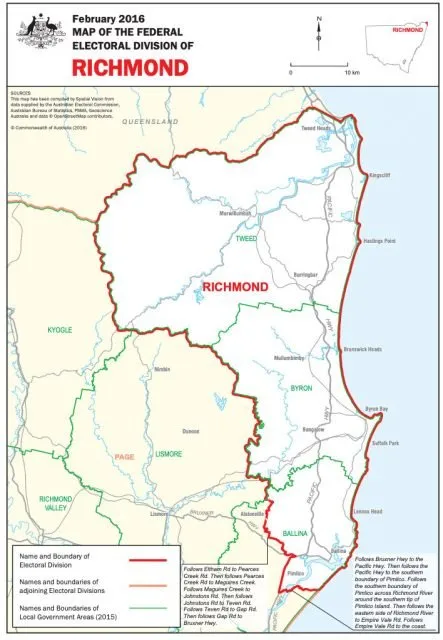 Voting in the seat of Richmond
The sitting member for the seat of Richmond is Labor's Justine Elliot who has held the seat for 17 years. Until 1990 it was considered a safe National Party seat when a surprise entry by anti-nuclear candidate Dr Helen Caldicott, persuaded to run by The Echo's found Nicholas Shand, swung the seat away from the Nationals to Labors Neville Newell. Ms Caldicott only lost to Labor by 600 primary votes. 
Neville Newell held the seat until 1996 when it went back to the Nationals member Larry Anthony, who was part of the Anthony political dynasty that had seen both his father and grandfather held the seat before him. He lost the seat on the back of Greens preferences in 2004 to current Labor member Ms Elliott. 
The last election saw The Greens a -0.12 swing against them when they ran current (now Independent) Mayor of Byron Shire, Michael Lyon, while Labor saw a 0.66 increase of votes and the National candidate saw -0.75 swing against. 
Things are looking tight this election with well know activist, comedian, and local identity Mandy Nolan running for The Greens aiming to exert influence on government through the crossbench. 
The seat of Richmond usually sees the Nationals (36,979 first preference votes in 2019) gaining the largest first preference vote followed by Labor (31,807 first preference votes in 2019) and then The Greens (20,384 first preference votes in 2019). It is then The Greens preferences that get Labor over the line ahead of the Nationals. To win Ms Nolan needs to beat Labor in primary votes and then hope that the preferences of the majority of Independent candidates, who are objecting to the limitation of their freedoms during the COVID-19 pandemic and are funneling their votes to the conservatives, don't push the Nationals candidate Kimberly Hone over the line.