Chris Dobney
The streets of Byron Bay were literally swarming with naked people on Sunday afternoon, as the town's World Naked Bike Ride hit an all-time attendance record.
Earlier in the day, Lismore experienced its first ever exposure to the WNBR experience, with about 40 riders there almost outnumbering onlookers.
Eggs thrown at Nimbin
Saturday saw around 100 people take to Nimbin's streets but its ninth annual ride was somewhat marred by abuse from the crowd and some egg throwing, at an event that is traditionally as popular with onlookers as participants.
Organiser Mijinberri told Echonetdaily 'a few people got separated and had bike breakdowns, which saw the group spread out around the route and that's when the trouble started.'
But he had nothing for praise for some members of the crowd who he said 'went up and talked to the crazies and eventually made them stop.'
'This won't deter us,' said Mijinberri, who added comments on the group's Facebook page described the WNBR as 'uplifting' and 'bringing a great spirit back into the town.'
Byron out in front
But it was Byron that carried the flag the highest – and longest – with some 216 people clocked crossing the railway line from the Butler Street Reserve assembly point to the station for a photo opportunity, where 30-40 more were waiting.
Photos Jeff 'nothing to hide' Dawson
Really, the whole event was one big photo opportunity, thanks to the tireless work of a few local organisers and one or two whipping up interest in south east Queensland.
It looks to have cemented an annual place on the Byron tourist map.
Despite the extraordinary leaps and bounds that the event has taken under her leadership, organiser Deb Conomy was quick to divert congratulations to her fellow organisers.
Double-lung op gets Paul back on his bike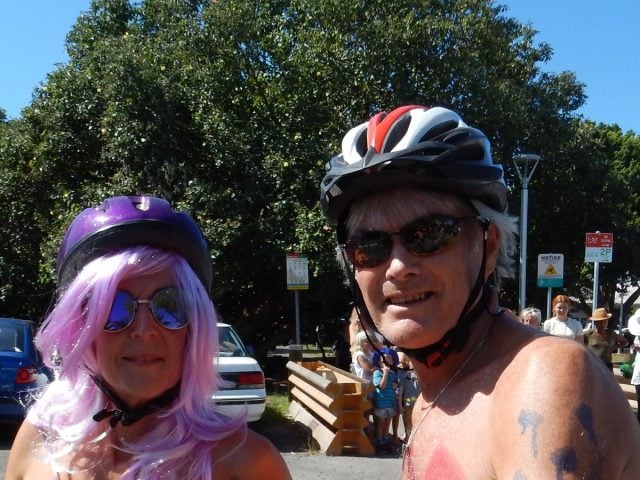 The event went off without a hitch, with no rain (unlike last year), no police, plenty of enthusiastic onlookers, one motorcyclist joining the throng and honorary mascot Paul Beard, who just two months ago underwent a double-lung transplant and triple-heart bypass surgery.
'I had a little lung condition called IPF (interstitial pulmonary fibrosis) and I had only about 26 per cent of my lungs left. And my darling mother gave me heart disease as well,' he told Echonetdaily.
'I was caught between a rock and a hard place: they couldn't do a lung transplant without fixing my heart and they couldn't fix my heart without doing the lungs.
'So they put me on a list last November and on January 2 they called me in and I had a triple bypass and double lung transplant,' he said.
Paul, who used to have a trouble walking up a flight of stairs, says he is now 'riding around in lycra'.
He started by walking the block and when friends 'coerced me into this bike ride' he began training in earnest.
'As it turned out I did two whole runs with them, so I was very pleased,' Paul said.