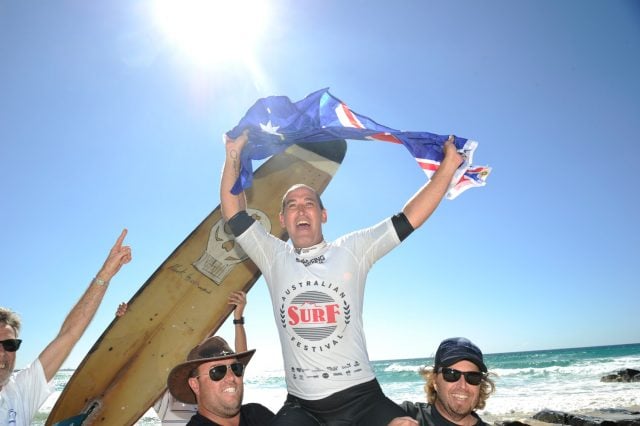 Crystal Cylinders
Lennox Head's Ben Dickens has won the double at the 2017 Australian Surf Festival held at Cabarita, taking out both the Over-40 Men's Logger and Over-40 Men's Longboard national titles with an impressive display of skill and self-belief on finals day.
'Yeah baby. It was awesome and I am so stoked to have surfed against the guys and it's an honour to be an Australian champion,' Ben said.
The northerly wind held off just long enough to run all seven scheduled finals on the Tweed Coast with all competitors surfing with outstanding skill and, more importantly, sportsmanship in the clean 0.6-metre point walls.
Having to surf in two divisions is always a big ask over several days of competition and Dickens was exhausted by the end.
'You're concentrating so much and putting so much effort into your planning through the event that the mental component is more tiring than the actual physical effort you exert,' he said.
Dickens relied on two of his oldest and most reliable surfboards through the event switching between the disciplines of high-performance longboarding and the more traditional logger-style board.
'I ride boards from Webster Surfboards and stuck with my 9'1" thruster and my old faithful 9'3" single-fin log,' he said.
Byron Bay's Alan Atkins missed out on adding yet another Australian title to his trophy cabinet by the smallest of margins (.10) to finish runner-up in the O/65 Men's Longboard final with a polished performance.
In Tahiti
Byron Bay's Matt Wilkinson got off to a great start at the 2017 Billabong Pro Tahiti held at Teahupo'o with wins in rounds one and three but his great run ended when he was eliminated in round five by Wiggolly Dantas to finish   in ninth place overall.