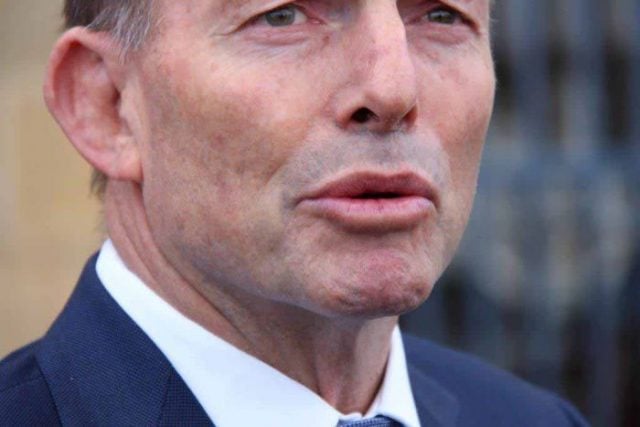 Cameron Bell
The media and other politicians have been quick to condemn the headbutt on Tony Abbott. However, in talking with people in cafes, in the street, at work, I have been met with a very different response. That response has been similar, though often in more colourful terms, to the ABC staffer who, The Daily Telegraph reported, responded 'reply all' to an email about the incident with 'Good'.
We are familiar with the phrase 'violence begets violence'. Tony Abbott would be the last person to admit that he is in any way violent. He can hide behind the rhetoric of 'free speech', 'opinion' and 'politics' to express views and implement policies that are, in effect, violent. The conservative right-wing agenda that he stands for is, at its core, based on greed, conflict and division. Mr Abbott's violent oppression of asylum seekers, the promotion of discrimination through his dishonest denunciation of same sex-marriage rights, even his 'shirtfront' diplomacy to Mr Putin, reveals the true character of a man who, we are told, was not averse to issuing a violent threat as a student politician. Mr Abbott has successfully pursued a career in a profession renowned for bullying, and his form has not dropped off since his removal to the backbenches.
Notably, Mr Abbott immediately seized upon the incident to denounce the 'yes' campaign. Once again, buoyed by media support, he could promote discrimination and denounce a large swathe of society.
I don't condone violence
In my professional role, as a solicitor, I am witness to the debilitating effects of violence on victims, families, perpetrators and communities. I am also witness to the regular bullying within the institutions charged with denouncing and imposing criminal penalties for violence. However, in a professional, legal and social sense, it is vital to seek to understand what motivates violence if we want to address the causes. In his paper 'How could they', published in the online magazine Aeon, American academic Tage Rai summarises findings demonstrating violence stems from 'the exercise of perceived moral rights and obligations… The general pattern we found was that the violence intended to regulate social relationships'.
What derives from Rai's findings is that we live in a culture of violence, where '[t]he purpose of violence is to sustain a moral order'. This occurs at the community and subjective level, and reflects a relativism of moral standards.
This theory accords with my experience as a practitioner in criminal law, and explains why the actual or threatened violence of incarceration is rarely effective. Whereas many of the matters of violence before the courts are justified by individual perpetrators within moral orders informed by significant demographic limitations, such as educational, economic and substance-abuse issues, in a wider social and political sense violence is still perpetrated 'as an acceptable means of making things right'.
Mr Astro Labe, the perpetrator of the headbutt, denied that it had anything to do with the same-sex marriage campaign. When asked if he would do it again, he replied 'Probably'. He told reporters that '[It] was just a lifelong ambition to headbutt a fascist because I'm a skinhead that likes ska music and hates fascism. He's an evil c—…'
Social regulation
Clearly, Mr Labe's comments indicate he justifies his actions within his subjective morality. Although he states that his actions had nothing to do with the same-sex marriage campaign, it is revealing to see this incident arising at a time where the debate is all about regulating social relationships. Violence does not need to be physical; emotional and psychological violence can leave deep and long-lasting effects. It could be perceived that Mr Abbott's laborious statements on the same-sex marriage debate, and the unjustifiable fear mongering in relation to other matters such as freedom of speech, are an attempt using emotional and psychological violence to regulate social frameworks according to his limited moral perspective.
Mr Abbott is actively campaigning to deny the rights of 'others' to express and celebrate love in a manner that attributes to them the full social and legal rights and obligations enjoyed by heterosexual couples. This is, directly and indirectly, emotionally and psychologically violent towards members of our society who hold a different perspective. The fact that Mr Abbott does this means that he either justifies the perpetration of violence within his limited moral framework, or fails to comprehend the violence inherent in the perpetration of his views.
However, from Mr Abbott we now have the claim that he is the innocent victim of an unprecedented attack by opponents opposed to his political opinions. He has bi-partisan support for this. Those who benefit from the political institutions in this country are not prepared to question the culture that thrives on aggression, vilification and narcissism.
Nowhere have I seen this very public act of headbutt and victimisation viewed as an opportunity to reflect on the extent to which we continue to live in a culture of violence, the manner in which violence is perpetrated and the idea that, to quote Tage Rai, 'Only when violence in any relationship is seen as a violation of every relationship will it diminish'.
Provocation is not a defence. However, it is a mitigating factor. The general public view that I have encountered, more than just being a reflection of political partisanship, indicates an element of provocation from Mr Abbott which, by virtue of his public persona, power and ability to express his views to a large audience, is widespread. However, in his now self-serving role as victim, Mr Abbott and his colleagues avoid the need to reflect on the nature of that provocation and what it says about the mire that is now the state of politics in this country, or the calibre of some of those who enter into it.If he were honest, Mr Abbott should not be surprised that he would be assaulted by a member of the public. If politicians and the media were honest, they would not be surprised that some members of the public could say, with a wry sarcastic grin, 'it couldn't have happened to a nicer bloke'.