Pickering power
Edgy, polished and inventive, Charlie Pickering is one of the most exciting names in Australian comedy. Charlie is a political junkie, a law graduate, and was the voice of his generation as a regular team captain for Generation X on Network Ten's quiz show Talkin' 'bout Your Generation. He was also on your TV screen every weeknight for five years as co- host of The Project, where the day's news is dissected, digested and re-constituted by some of Australia's funniest and smartest. In 2015 Charlie joined the team at ABC TV to premiere a news comedy show, a tonight show, a chat show and a panel show all in one – The Weekly with Charlie Pickering. He is joined by support Damian Power, three-time Barry Award nominee and widely regarded as one of the most exhilarating voices in Australian comedy. With Mandy Nolan as MC, this is one cracker of a show.
Byron Brewery | Thursday 2 November | Doors 7pm | Show 8pm | $25. | Tix on trybooking.com/SLDY
---
Oktober for Club Byron
Club Byron is having its very first Oktoberfest this Saturday and Sunday – two days filled with fun and entertainment for all. An Oktoberfest cannot be complete without traditional Bavarian food, beer from the region and, of course, entertainment. Live music inside for the adults, 14m obstacle course for the kids, face painting and, naturally, prizes for best dressed over both days. Oh yes, face painting may be the option for those who don't like dress-ups… So what's on the menu? Bratwurst sausage and curry ketchup, and a botched roll; Knodel-poached potato dumplings in gravy and pork; German flamkucken, a thin-crust pizza with creme fraiche, sliced onion and speck that soaks up the beer… And there will be beer. Lots and lots of beer!
---
From Bangalow to Chicago!
With two sellout productions (The Drowsy Chaperone and Little Shop of Horrors) under its belt, this November Bangalow Theatre Company puts its spin on the Broadway classic CHICAGO!
Yes, aspiring vaudevillian star Roxie Hart and a singing, dancing ensemble of some of the northern rivers' finest performers are coming to Bangalow's historic A&I Hall across two big weekends in November – on Friday 3, Saturday 4 and Sunday 5 November and Thursday 9, Friday 10 and Saturday 11 November.
A&I Hall, Bangalow | Doors at 6.30pm. Show commences at 7.30pm SHARP.
General seating $35 + booking fees | Premium seating (1st & 2nd row seats) $40 + booking fees | Vantage seating (3rd row, table seating with high-backed stools) $45 + booking fees
Tickets on sale now at bangalowtheatre.com.au.
---
Open day for skatepark
This Sunday the South Golden Beach community are holding the SGB OPEN DAY to celebrate the opening of the new skatepark and playground. The day will be packed full of events for the whole community including a barbecue by the SGB Community Association, skate coaching, comps and cash prizes by the Byron Youth Service, craft activities, face painting, free 'taster sessions' at the SGB Hall including yoga, dancing, singing and kung fu, performances by local groups Bollywood Sisters, Cuban rythyms and a local girls' choir. The event will finish with live band Sugar Rush and Colombian street food at the hall from 4 till 6pm.
---
10 Years of Mullum Music Snapped
To celebrate 10 years of Mullum Music Festival, the festival and The Rock and Roll Coffee Company Café in Mullumbimby will present a retrospective photographic exhibition (24th Oct – 27 Nov) featuring the work of local photographers who have been capturing the magic of Mullum Festival for many years.
The selected exhibiting photographers regularly cover festivals and have been an integral part of the Mullum Music Festival family since its inception. Each photographer has selected their favourite photos of the festival to include in the exhibition. 'The joy the festival inspires in the town I love is uplifting, says Jeff Dawson, local legend, photographer and one of the founding members of the long-running independent paper The Byron Shire Echo "I love the lack of insecurity.'
Opening Tuesday 24 October at 6pm. All welcome!
---
Brilliant Artist Films
SALVATORE ZOFREA – Master of Light tells the life story of one of Australia's great painters. His journey has taken him from war-torn Italy as a child to his search for a new life in Australia. From his studios in Sydney and the Blue Mountains to his birthplace in Southern Italy, we follow Salvatore's story as he creates Morning Light, a monumental artwork, 100 foot long and reminiscent of Monet's panoramas that he did at the end of his life. This film is presented by Richard Mordaunt.
Bruce Goold is another of Australia's greatest living artists. His life is a fascinating journey that has take him from the Yellow House in Sydney to exhibitions in Ireland and London, book-cover designs all around the world and thousands and thousands of linocut art pictures. UNDER THE LINO tracks down some of his finest pieces of art spread around the world, woven through wonderful conversations of great times and exotic people. This is a film full of humour and eccentric art.
The filmmakers will be available for a Q&A where Richard Leimbach and Bill will talk about how the films were made and the treacherous journey of crowdfunding an arts film.
Sunday at 3.30pm at the Byron Theatre | Tix are $18 | byroncentre.com.au
---
Mind Made Me
The stigma around mental health issues is still deeply rooted for many people and this is one reason that Byron Youth Theatre are eager to share their production of Mind Made Me with as many community members as possible.
Structured as a series of powerful vignettes, each scene exposes the challenges that mental health issues such as negative body image, anxiety, gender orientation, depression and non-suicidal self-harm can present in young people's lives. Incorporating song, slam poetry, dance and theatre, the production has been featured at the Richmond Valley Mental Health Expo for the past three years.
Local psychologist Peter Chown will make a presentation and hold a Q&A session after the performance, drawing on his 30 years of experience working with adolescents. Resources will be available.
For more information please contact byronyouththeatre [email protected]
Wednesday at the Drill Hall in Mullumbimby
$15 on the door | Under 18 free | 6.30pm
---
Funny Shit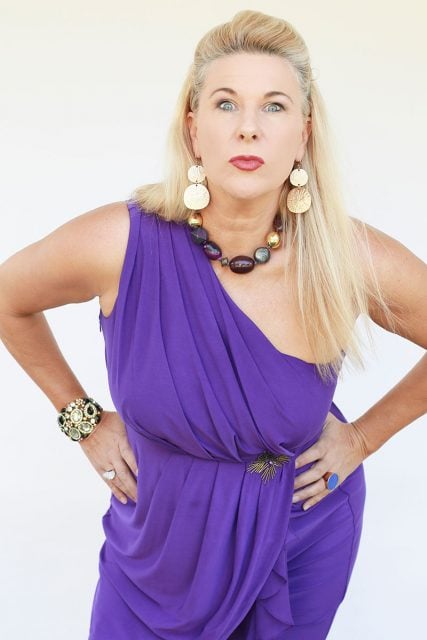 The Queen of Comedy Mandy Nolan introduces another hand-picked collection of Byron's funniest and most eclectic brood of wanna be standup comedians.
See them rise up and take flight or crash and burn, for naught but your viewing pleasure, and at their own desperate addition to being the centre of attention. Don't miss it, your best opportunity to see fail after fail of not-funny comedians, hilarious stuff…
Thursday at the Byron Bay Brewery. Free. 8pm. MC Mandy Nolan.
---
Not Going Gentle
Do Not Go Gentle opened to a 'full house' last week. After two years in the making, this production of Do Not Go Gentle, by Australian playwright Patricia Cornelius, is finally here. Following rave reviews in Cardiff last month, this joint international endeavour between the Drill Hall Theatre Company in Mullumbimby and Everyman Theatre Company from Cardiff, Wales, is now at the Drill Hall for just one more week.
Bookings can be made at drillhalltheatre.org.au or at The Bookshop, Mullumbimby. Friday, Saturday and Sunday.
---
Niomi Sand
Over the past two years Port Macquarie-based artist Niomi Sands has been trawling through lost-property collections uncovering somewhat quirky gems that represent our everyday lives. Sands is fascinated with the collections of objects and material culture that we surround ourselves with and how these objects provide an insight into our lives, aspirations, memories, frustrations and relationships. Her exhibition opens at BSA Project Space (Dalley St, Mullumbimby) on Friday at 6pm.
You can also hear Niomi Sands speak in the upcoming Art in the Pub (see below) Monday 6pm for 6.30 start at Court House Hotel, Mullumbimby.
---
Nostalgic Dialogues
Shows are back to back at Art Piece gallery till Christmas. Next is Hilary Herrmann's Nostalgic Dialogues opening on Friday.
In the course of her 12-year career as an artist, she's touched the hearts and minds of so many art lovers, art buyers and artists, all over Australia but especially in the Shire. Of her latest exhibition Herrmann says, 'This body of work began when sifting through a box of forgotten photographs. They rekindled hidden memories of family, friends, country and the past. Landscapes altered, a sense of time. The photos were a sentimental reminder of how the past renders us in the now. I traversed backwards, into my childhood home, back to my parents, to those open fields and rolling hills. I fumble in time. I fumble in the present, amongst the larger world's malevolence, hatred, and inability to forgive. In this body of work my nostalgia is escapism, a search for a place of peace, a reminder or discovery of hope. Nostalgic Dialogues is a mosaic, a visual conversation of me, past and present, trying to make sense of the world.'
Opening at Art Piece on Friday at 6pm.