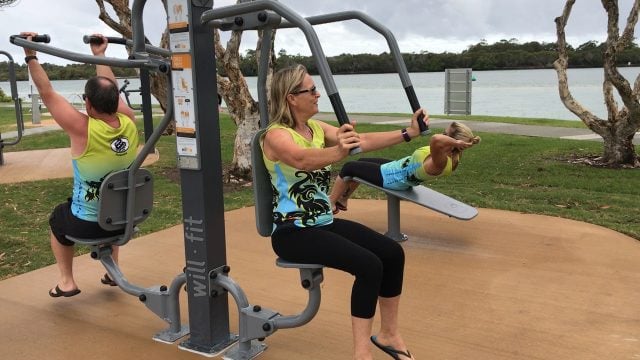 Tweed Shire Council has announced a range of new exercise programs for the over 50s .
And new equipment installed in a Tweed Heads park this week is aimed at providing incidental exercise for all, with a special nod to the older age-group.
The age-friendly outdoor exercise equipment has been unveiled in John Follent Park in Tweed Heads, which the council says is 'in further response to the area's ageing population and its recreation needs.'
The exercise pods are a free and social exercise option available to everyone, serving a diverse range of users and contributing to the overall health of the community. Nestled in a cluster of trees, users can enjoy beautiful views of the Tweed River while exercising.
To launch the equipment, Council and Northern NSW Local Health District will offer two four-week 'Come and Try' programs for over 50s.
The first program will begin on 25 November and will be held each Saturday to show residents how to effectively use the equipment. It will be held at 8.30am to 10am on the first Saturday, then 8.30am to 9.30am for subsequent sessions.
A second program will begin on Saturday 3 February.
'The programs will be free and will be run by a qualified exercise professional,' Council's Recreation Planner, Jodie Hewett, said.
'Topics at the program will include exercising safely, warming up, how to use each piece of equipment, information on balance training, core stability and resistance training.'
The state-of-the-art exercise pods replaced outdated equipment in the park, following consultation with the community.
John Follent Park was chosen as the best site because of the high proportion of older residents in the surrounding area, its beautiful setting and the number of people who walk, cycle and run through the park.
'Approximately 70 per cent of the population in the immediate area surrounding John Follent Park are aged over 60 years,' Ms Hewett said.
'Its location on an active pedestrian route provides opportunities to combine walking, cycling, running and strength training.'
Each program will be limited to 15 participants and bookings are required by phoning 0423 956585.
Aqua fitness
Meanwhile new aqua fitness classes aimed at over 50s began at the Tweed Regional Aquatic Centre last Friday (November 10).
A gentle exercise class, using the resistance of the water in an indoor heated pool, will run each Monday. Participants will be guided through a gentle routine of movements and stretches designed to improve personal health and well-being.
More active seniors can participate in a high-intensity class using aqua strength equipment, each Wednesday from November 15.
Dry-land exercise classes using chairs, music and small weights are being held on Fridays.
The dry-land and gentle aqua exercise classes are being held from 10am to 10.45am, while the high energy classes will run from 8.30am to 9.30am.
All Staying Active classes will be followed by a morning tea, to give participants further opportunity to ask questions and find out more about looking after their health.
For class prices and further information, visit http://trac.tweed.nsw.gov.au/