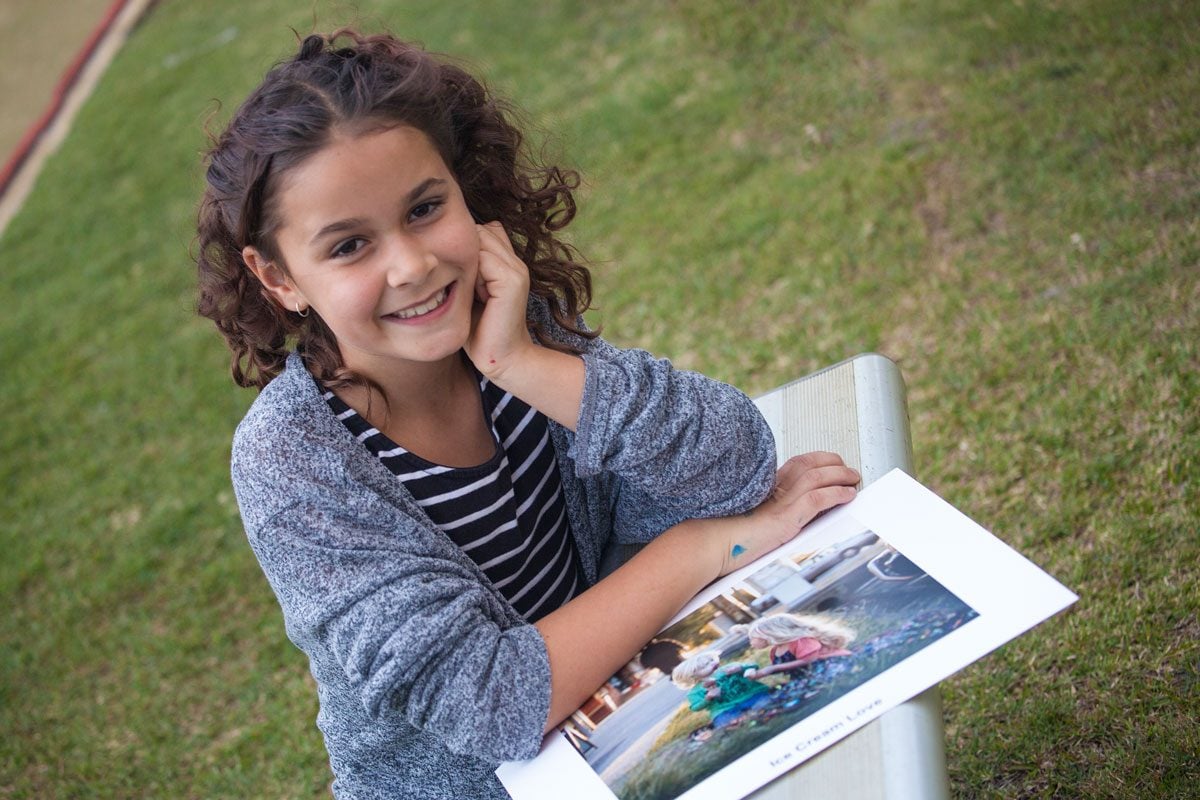 With a photo of some young kids eating whipped ice-cream, nine-year-old Sophia Dadon will go down in history as the youngest overall winner of the annual Brunswick Heads Simple Pleasures Photo Competition.
Keeping in mind this year's theme – Loving Bruns – Sophia snapped her young friends loving the whipped ice-cream from Bernardi's on Mullumbimby Street.
In its 14th year, the competition winners were announced at a ceremony at the Bruns Bowlo on Sunday afternoon.
With the Tamara Smith MP, People's Choice and Instagram awards, judges chose 17 finalists and five winners from 135 print and almost 500 instagram entries.
From those entries a wonderful selection of photos are now for sale in the 2019 Simple Pleasure calendar.
For more information visit: www.brunswickheads.org.au.
The winners and finalist are
CATEGORY – UNDER SIXTEEN

Photo Name

Winner:

Chia Barwick-Going

Your Evening Pleasure

Finalist

Scout Bee Jones

Teddy Bears Picnic

Finalist

Lili Hopkins

Awaking Memories

Finalist

Lili Hopkins

Sunrise Surfers

Finalist

Ethan Adamek

Grass Under the Sun

Finalist

Taj Taylor

Bridge

Finalist

Jazzy Cooke Heafey

Bitter Sweet Bruns

Finalist (and Overall Winner)

Sophia Dadon

Ice Cream Love

 

 

 

CATEGORY – ADULT

 

Winner:

Michelle Kelly

Loving Barefoot

Finalist

Daniela Andre

Pastel Wave

Finalist

Alan Lymbery

White Faced Herons Mating

Finalist

Debra Simpson

Footbridge Honeycomb Shadows

Finalist

Jonathan Miller

The Lone March

Finalist

Jonathan Miller

Brunswick Dawn Patrol

Finalist

Jennifer Hughes

Waiting For A Ride

Finalist

Paul Begg

Liquid Gold

Finalist

Raoul Slater

Fabulous Mrs Fox Hoop

 

 

 

CATEGORY – PEOPLE LOVING BRUNS

 

Winner:

Rose Dadon

High In The Sky

Finalist

Indiana Valentine Odum Ward

Lumen Prince Bike

 

 

 

CATEGORY – TAMARA SMITH MP 

Winner

 

 

Jonathan Miller

 

 

Stormy Morning Brew

Finalist

Avalon Coulter

Loving Torakina

FInalist

Lorraine Freeden

Loving Bruns Nature

 

 

 

CATEGORY PEOPLE'S CHOICE

Winner

CATEGORY – INSTAGRAM

Winner

 

 

 

 

Ethan Adame

 

@dexjou

 

 

 

 

Grass Under the Sun