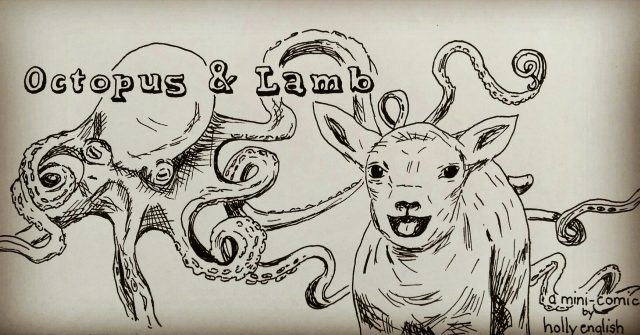 What's your relationship with animals and food?
In her latest comic Octopus & Lamb, illustrator Holly English explores animal rights in an intimate, accessible and sometimes humorous way. 
She says, 'I'm not vegan, I'm not even vegetarian'.
'But I'm concerned about the way animals are treated in our meat, dairy and pet- food industries.
'I can understand when there is a health issue, disability or poverty that eating animal products may become necessary.
'But for most of us, it's a pleasant luxury.
'I am encouraging all of us to live a more compassionate and ethical way of life…
'We can all take tiny steps to make kinder choices towards our fellow animals and have a clearer conscience for our lives.
'It's going to take us out of our comfort zones, but it's worth exploring'.
The new eight-page, A4 black-and-white comic is available from www.hollyenglish.com, Sticky Institute (Melbourne) and Junky