Hussy Hicks at the Dusty Attic
The Dusty Attic, Lismore | Friday December 14 | 8pm | $20
After a mammoth year of national and international touring, Hussy Hicks are back home for the festive season and will be playing an intimate acoustic show at the Dusty Attic in Lismore  this Friday.
The girls have just returned from Europe and The Dusty Attic show will be a chance for the Hussies, Julz Parker and Leesa Gentz, to play tunes from their latest award-winning album On the Boundaries in a stripped-back, acoustic fashion – a contrast to their highly acclaimed band sets at this year's Bluesfest.
This Friday at 8pm. Tix $20 at dustyatticmusicbar.simpletix.com or via FB @dustyatticbarcafe.
---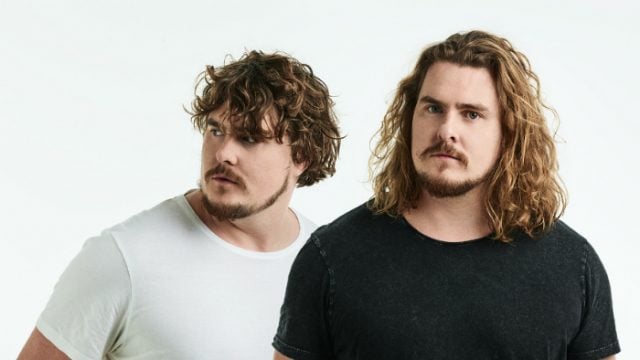 The Pierce Brothers
Kingscliff Hotel | Friday December 14 | 7pm | $35.65
The Pierce Brothers are twin brothers Jack and Pat who have taken their unique brand of folk music from busking on the streets of Melbourne to the world. Their irresistible energy and world-class live show has generated a word-of-mouth buzz about their albumAtlas Shoulder released in October. Catch them at the Kingscliff Hotel on Friday at 7pm.
This Friday at 7pm. Tix are $35.65 at kingscliffbeachhotel.oztix.com.au.
---
Garden Music
Santos Garden, Mullumbimby | Friday December 14 | 7pm | FREE
Local mystic minstrel Chad Wilkins stirs up some good vibes with a free show in Mullum on Friday at the Garden Party – it's a totally family environment – in the garden behind Santos Organics. This will be Chad's final show in the Shire for quite a while as he is heading overseas for an extended time. 
Food, drinks, and treats will be available. All are welcome at this free gig.
---
Lubitz loves refugees
Federal Hall | Friday December 14 | 7pm | $35
Tinpan Orange lead singer Emily Lubitz flies solo for a special gig for Federal Loves Refugees at Federal Hall on Friday. This is a rare solo outing for Lubitz who now calls the northern rivers home. Tinpan Orange won Triple J's Unearthed award in 2013 and have gone from strength to strength as a regular on the festival circuit.
Lubitz is a unique performer with a hauntingly mesmerising presence onstage so this a gig not to be missed.
Tickets available through Eventbrite or at the door unless sold out prior to the night. Doors open at 7pm. All proceeds to Federal Loves Refugees.
---
80s v 90s
Byron Bay Brewery | Saturday December 15 | 7pm | $29-69
It's 80s v 90s for Bay FM's latest fundraiser when punters get to choose their corner: either The Choose Life Garden with 80s music and The Laser Room with 90s music are fighting it out. Get on the dancefloors with five one-hour battles of hits, classics, pop, rock and house. Ten of Bay FM's best retro DJs are on the decks, competing to get you moving and grooving, in a celebration of Christmas and community. Pictured is The Velvet Fog of Boombastic DJs vibing out Mick Webb of Sand Pit DJs.
They'll be warming the floor from 7pm with an awesome hour of 80s and 90s movie hits. This Saturday at The Byron Bay Brewery 7pm till midnight. Tix at Bayfm.org