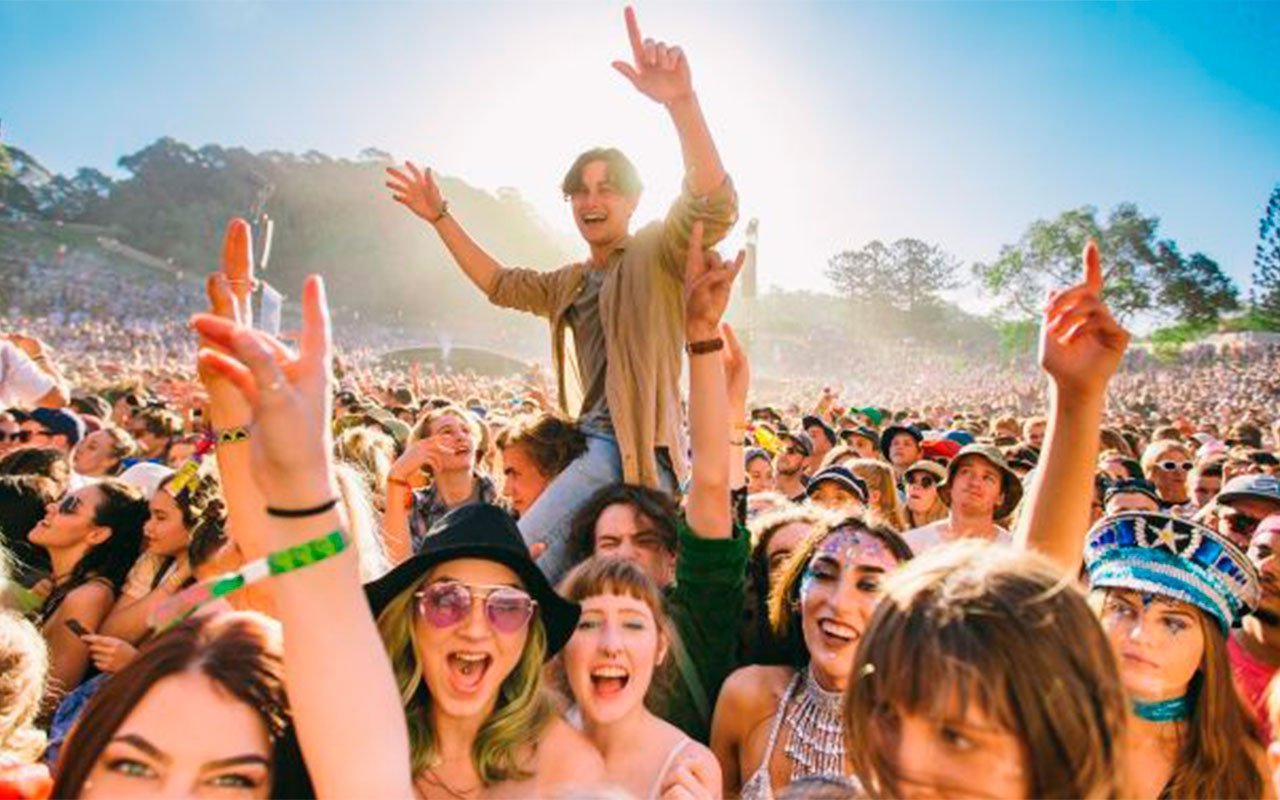 Splendour in the Grass
North Byron Parklands | 19 – 21 July | $200-$430
The 19th annual Splendour in the Grass returns to its forever home at North Byron Parklands from Friday 19 till Sunday 21 July, serving up one of the biggest and boldest music and arts moments to hit your calendar in 2019. With headline acts Chance the Rapper, Tame Impala, Childish Gambino, and a whole heap more. Rap royalty and hip-hop heavyweights collide with boundary-breaking rockers, RnB bosses and psychedelic visionaries. Discover underground sounds and bass-heavy jams at The Tipi Forest! Jump ship to The Global Village, where you can sip on kombucha or spicy chai, foresee the future with a tarot card reading, indulge in a massage, or limber up pre-mosh with a yoga class! Leave the passport at home but be sure to make your way to The World Stage to hear diverse sounds from all corners of the globe.
Save your podcasts for the daily commute and instead hear from some of the most provocative and forward-thinking humans around at Splendour Forum, which returns for another home run of inspiring and thought-provoking talks and panels in 2019. Then, take a load off at The Comedy Club, as some seriously sassy comedians serve you up a fresh bowl of LOLs each evening.
Flex the left side of your brain in The Science Tent. Back for another explosive year in 2019, prepare to go full mad professor as you dive into a world of mind-blowing talks, revelations, and experiments. Relax and un-twine at Splendour in the Craft! Splendour's home of hot-glue guns and eco-glitter is back with a series of hands-on workshops where you can flex your makin' muscles. From the sandpit to the moshpit, Splendour in the Grass has the whole tribe sorted when it comes to living your best festival family life. Little Splendour is the ultimate pint-sized festival playground, designed for the young and young at heart! There's DJ Skool, workshops, rock climbing, and dress-ups galore and a babysitting service so you can catch a break!
Tix go on sale Tuesday at 9am sharp through moshtix.com.au.
---
Boo Seeka at the the Byron Brewery
Byron Brewery | Friday | 7pm | $30
Boo Seeka's synths and beats keeps the energy sizzling like a neon sign on the Miami strip. The Sydney hip-hop-psych-soul project began as an outlet for a couple of musical experiments, a testing ground for new sounds. And it's growing, multiplying, and producing delicious sounds. A combination of pulsating synth sounds that bed down layered textures of electronic bass and percussive beats. Influenced by the layerings and experimental beats of Major Lazer, the cool swagger of DJ Shadow, and The Seed 2.0's Cody Chestnutt's soulful vocal delivery. Boo Seeka snaps up melodies and bounces them off hip-hop/RnB-driven grooves and beats that vibe.
To date, the duo have accumulated over 11 million Spotify streams and dominated national airwaves with their singles​ ​ Oh​ ​My,​ Deception​ ​Bay and Fool​.
Boo seeka's infectious live performances have seen multiple sold-out headline tours and festivals in Australia and abroad, including appearances at Groovin'​ ​The​ ​Moo​, Splendour​ ​In​ ​the​ ​Grass​, Party​ ​in​ ​the​ ​Paddock​, The​ ​Big​ ​Pineapple​ ​Festival,​ ​The​ ​Great​ ​Escape​ ​(UK),​ ​and SXSW​ ​(Austin​ ​TX, USA)​ earlier this year.
Boo Seeka hits the Byron Bay Brewery this Friday at 7pm. $30. Tix at byronbaybrewery.com.au 
---
Bluesfest Busking Comp
Grommet Heat | Byron Youth Centre | Saturday | 9am | Free
Open Semi finals | Byron Bay Brewery | Sunday & Monday | 5pm | Free
Final | Beach Hotel | Wednesday 17 April | 5pm | Free
That Bluesfest feeling is already starting to heat up in and around Byron as we gear up for the 30th anniversary Bluesfest. Enter the Bluesfest Busking Comp – where the best and brightest battle it out for a chance to perform in front of a Bluesfest audience at the 2019 crowd! The Bluesfest Busking Comp is the off-the-record start to Bluesfest, kicking off the weekend before with the Grommet Heats, held at the Byron Youth Centre on Saturday from 9am. This year the Grommet Comp will be held in conjunction with the Byron Flea Market, a fabulous initiative focusing on youth arts.
Following on from the Grommets, the Open Semifinals event takes over the Byron Bay Brewery (Bluesfest's official beer sponsor) on Sunday and Monday at 5pm daily. It's like a mini-festival in itself and certainly worth a look to kick that Bluesfest vibe into full swing.
The finale will take place at the iconic top pub in Byron, The Beach Hotel, on Wednesday 17 April from 5pm, where nine of the best will take to the stage for the Bluesfest Busking finals showdown. It's going to be one hell of an evening with a special guest closing the show, a previous Bluesfest busking finalist, currently #1 on the musical charts and selling out shows everywhere!
Come along and show your support for these up-and-coming artists, the next round of Australian musical superstars, all captured from a little town in the heart of NSW.
---
Bello Winter Music
Bellingen NSW | 11 – 14 July | $50 – $220
Bello Winter Music has announced yet another phenomenal lineup for 2019 ensuring that their fifth annual festival will go off with a big Bello bang! With over 70 artists set to descend on the small NSW town of Bellingen during the July school holidays (11–14) it looks as if this year's event will be bigger and better than ever. Acts to grace the halls, pubs, and marketplaces of the tiny riverside town include NZ's Auckland-born, Dunedin-raised Nadia Reid, who has attained global success off the back of her first two albums; the ever-popular and always-brassy Bullhorn; magnetic five-piece Pony Face; and the amazing Emily Wurramara, a young Indigenous artist who is taking the Australian music world by storm. Joining them will be blues legends Hat Fitz and Cara; Australia's top Zydeco band, Psycho Zydeco; unique one-man band Juzzie Smith; and the always stunning The Maes (formerly The Mae Trio). Bello Winter Music is a boutique family-friendly festival that takes place within existing venues in the town during one of the cosiest months of the year. The event has proved popular ever since its inception owing to its relaxed intimate vibe, diversity of lineup, environmental edge, and unexpected quirks including one-off performances that encourage surprise collaboration between artists. The event has sold out each year, reinforcing the backing it has received from patrons and performers alike.
For tix and info go to bellowintermusic.com.
---
Peace Train
Brunswick Picture House | Saturday | 7pm | $28
Get on board the Peace Train for a warm-hearted evening of community and celebration. An activation of peace energy through sacred songs, laughing, and joy towards a peace-on-Earth reality.
Peace Train is an open collective of conscious musicians and performers joining together to create sacred, warm, and fun events, energising the vibration and vision of peace on Grandmother Earth. These yummy events will incorporate music, laugher, sound bath healing, meditation, movement, and a glorious joining of hearts in song.
The collective is coordinated by Kim Lesley Davidson and Robert 'Hanuman' Grayson, who have roots deep in spirituality and the entertainment arts and each with a passion for awakening, nature, unity, and being of service as part of the grassroots, 'be-the-change' growing movement to co-create peace on Earth. Also featuring Shai Shriki and Amir Paiss. Sat 7pm at the Brunswick Picture House. $28
---
Lismore Youth Festival
The Quad, Lismore | Tuesday April 16 | 10am – 9pm | Free
Welcome to Lismore's first Youth Festival! – happening on Tuesday 16 April and coinciding with 2019 Youth Week.
Curated by Indigenous youth mentors Dream Bigger, the free one-day festival will showcase emerging artists from the ages of 14 to 19 years across all artforms. Bringing together all The Quad's stakeholder buildings, the Youth Festival program will encompass events in Lismore Regional Gallery, The Northern Rivers Conservatorium, and the Lismore Library.
There will be panel discussions and art shows at the Lismore Regional Gallery, a poetry slam and dance workshops at the Conservatorium, and the Library screening a film festival. The festival will conclude with an all-ages concert headlined by local Lennox Head favourites Wharves and Lismore alt rockers LSAS as well as selected singers from the Lismore Young Songwriters Competition.
10am–9pm at the Lismore Quad. Free!