The 4WD entrance to Patchs Beach remains closed, as promised by Ballina Council, but residents have told Echonetdaily that there are still too many 4WDs and motorbikes on the beaches south of Ballina, with inadequate communication to the public from Council about why change is necessary.
Stephen Totterman from Coastal Defenders Network has been collecting data on compliance from drivers and campers and said there are ongoing social and environmental impacts which need to be addressed.
'The idea that misbehaving drivers are the problem leads towards increased enforcement and/or permits and the beach remains open,' he said. 'We don't want to see rangers and police on the beach and we find the beach safer and more peaceful without the 4WD traffic.'
New tracks
Mr Totterman has written to Crown Lands, National Parks and Ballina Council about his concerns about a horse track recently built without a DA between the Sugar Beach Polo Club (also known as the Surfing Cowboys) and the beach, via the Crown Reserve and the existing Tuckeroo Trail.  He said the horse track adjoins the Richmond River Nature Reserve, and has damaged coastal vegetation.
'The new horse track is a concern because it comes out on to the beach in the middle of a long-term oystercatcher territory,' said Mr Totterman.
He pointed out that BirdLife Australia has been actively campaigning against commercial horse training on beaches in Victoria because of threats to sea bird nests.
Locally, endangered pied oystercatcher chicks are known to hide in shallow depressions and are at risk of being trampled.
Mr Totterman says there are dozens of informal beach tracks through the Crown Reserve, with the area becoming a 'free for all'.
He has written to the authorities about an additional illegal beach track at South Ballina Beach (at 263 Sneesbys Lane), but no serious action has been taken as yet by Council or Crown Lands.
Links in the chain
Local resident Megan Ward said every track through the dunes weakens the ecosystem of the beach. 'Think of a chain, you take out just one link, and the entire integrity of the system collapses,' she said.
'That is the effect of every 4WD track to any beach. The question is, do our beaches have the capacity to withstand this? And the answer is no.'
She said she recently spoke to a man driving through fragile South Ballina beach dunes at high tide with a dog off-leash who had no idea he was doing the wrong thing.
'I asked him if he had seen the sign saying no camping and no dogs and he said he hadn't.
'I then asked him did he see the sign about the protected birds and again he said no. He was being genuine.'
Ms Ward said better signage and community education is all-important, with the issues going beyond locally threatened species.
She pointed out that the South Ballina Beaches are identified as 'highly vulnerable' on the SEPP Coastal Management 2018 Coastal Vulnerability Map for NSW, with the long-term shoreline recession, a rising sea level and the low, narrow dune barrier at Boundary Creek presenting a beach erosion hazard.
'It is predicted that by 2050-2100 there will be no front dune left, greatly increasing the risk of sea water flooding during extreme erosion events,' said Ms Ward.
'This logically indicates if you live in areas adjoining Boundary Creek such as East Wardell and Broadwater your property, home and livelihood may be threatened due to flooding.
'And this is not just isolated to these areas, it also affects the local beaches from Lennox Head to Evans Head and further afield.'
Crown Lands must act
Ms Ward said Crown Lands holds jurisdiction for South Ballina Beach but have never managed it. She said Crown Lands have told her they will have another land managers meeting in the next few weeks.
'My concern is they still don't fully recognise the destruction of what is happening and the meeting will be a compromise to meet everyone's perceived individual wants and desires, not about what the beaches need.'
She said the NSW government is being hypocritical in that the NSW Office of Environment and Heritage has recognised the pied oystercatcher as a threatened species but is not being protected from the first action on its conservation management plan: 'Disturbance from Recreational Use.'
Ms Ward argues that Crown Lands must close off South Ballina Beach to public 4WDs while a comprehensive ecological study is undertaken.
Other developments
At Broadwater National Park, the Coastal Defenders Network say there has been a 'running battle' between 4WDs and National Parks staff in recent weeks with dune driving tracks being closed with earthmoving equipment and then illegally reopened.
Stephen Totterman from CDN said this week there were convoys of 4WDs trying to get through the coffee rocks between South Ballina and Airforce beaches and at least two drove up the big dune.
'Years of experience shows that the efforts to manage 4WDs at Broadwater NP (including Salty Lagoon and the Airforce Beach section) have not been effective. Therefore, the entire beach should be closed to public 4WDs,' he said.
'Richmond Valley Council is making a futile attempt to manage the situation with frequent enforcement patrols on Airforce Beach (but rarely north of the coffee rocks, which are often impassable). It's time for the NPWS to support closing the beach.'
In other southern beaches news, Mr Totterham said the proposed Ringtank development (near the Surfing Cowboys site) was withdrawn this week, following strong objections from Rous County Council, but the threat from further ecologically destructive dunetop development in the area remains.
Action needed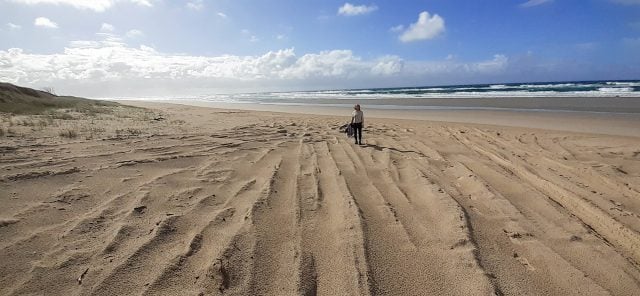 Megan Ward said that while the future of the South Ballina beaches look grim if things don't change, nothing in nature is static.
'COVID-19 showed us that when 4WDs were removed from the beaches the dunes began to replenish themselves.'
'The NSW state government and Crown Lands are well aware of the risks from ongoing 4WD traffic on the dunes and beaches,' she continued.
'The question is why aren't they doing anything to address these risks? Inaction is not acceptable.'
If you would like to be involved in protecting South Ballina beach, you can email Megan Ward at [email protected] or follow the campaign on Facebook.