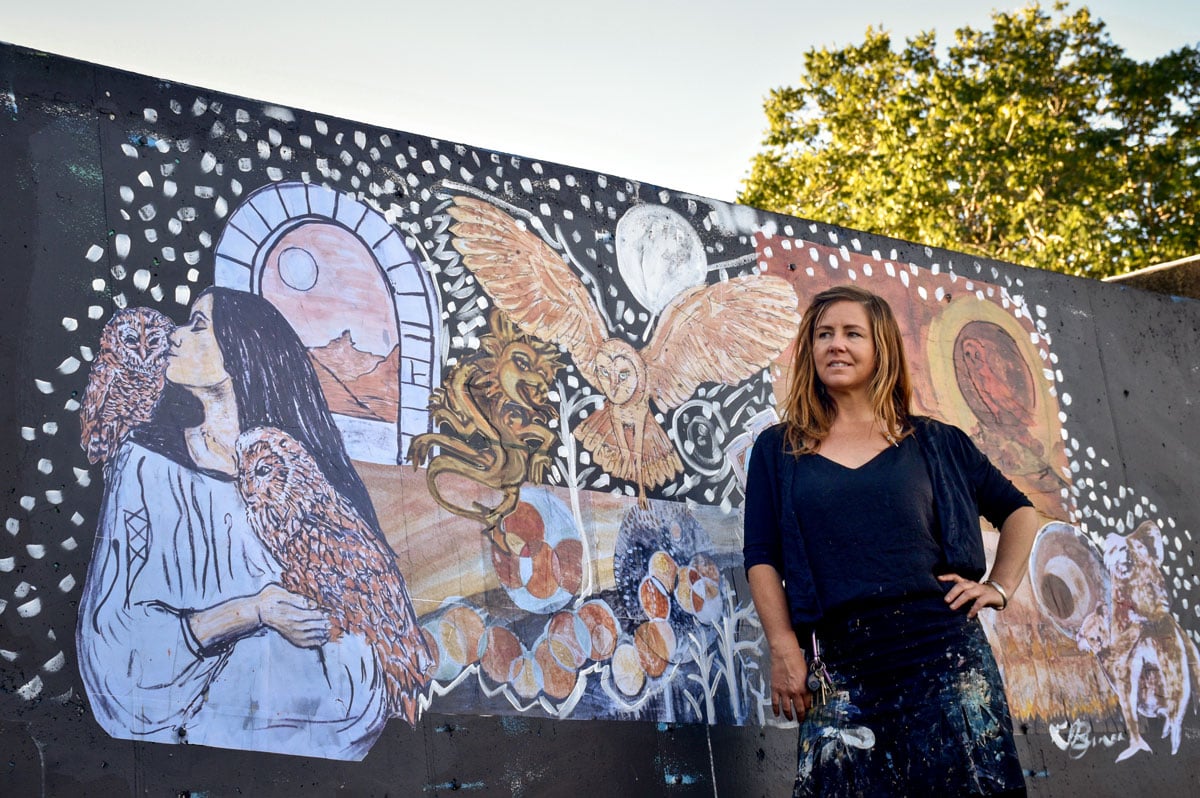 Eve Jeffery
Local artist Karma Barnes says that the notion that we are all in this together has inspired a community art project. The project aims to bring together stories and experiences of COVID-19 in a Street Art Story Montage in the Northern Rivers.
The project is an artist-led community recovery project supported by an Arts Northern Rivers Micro-Grant.
'People were talking about how we are all the same boat during this crisis, but really it is more that we are in the same storm and our boats that we have to weather the storm are different sizes and capacities.'
 As an art therapist in the community and a participatory artist, I feel like its an important time to create creative opportunities for people to feel a sense of connection.
Ms Barnes said that she wanted to create a project that anyone in the community could contribute to and that would give a visual dialogue to everyone's experience. 'We as a community had only just seen the last of the bush fires being put out when the COVID-19 situation started to become more serious here in Australia, this on top of the droughts and floods has made for what I have titled the project Super Rough Seas.'
Artmaking can help us process our feelings
Ms Barnes who has worked on several community projects, said that artmaking can help us to process our feelings and emotions. 'It can help us express things that we find it hard to put words to.
'There's a lot going on for people at the moment, art-making can be a form of self-care and a good way to check on how you are and others are going.
'The projects seeks to connect our community and make sense of our personal and shared experience through art.'
Super Rough Seas is open to the whole community
The project is open to the whole community. People of any age and ability are welcome to contribute as organisers want the project to be representative of a cross-section of the community.
'People are invited to submit photos of their artworks, drawings or sketches created during, or in reflection of the isolation period of COVID-19 as well as artworks in relation to the recent fires, drought, floods, social justice and injustice, and climate change.
'The project invites everyone to take a moment with yourself or with family, school groups or friends to create art pieces while reflecting on our current and recent experiences around the project's themes. Artworks can be simple and don't need to large as the images will montaged together and enlarged.
'Creating artwork with your kids or friends can be a good way to have some reflective creative time together. Artmaking is a great space to talk about things.
'Artworks around the theme of hopes and visions for the future as we move forward from these experiences are welcomed.'
The end artwork will be one large instalment of the work on a public wall in the community. 'We are currently looking for a large scale wall if there is a business in the community that would like to be part of the project.
'The project is about connection in our community and making sense of our personal and shared experience through art. Wonderfully supported by Arts Northern Rivers.'
To submit something for the project, people just need to take a photo of their artwork and upload it through the Super Rough Seas link https://www.karmabarnes.org/super-rough-seas