Adel Pheloung
After 120 million years of peace, the Daintree Rainforest is under threat.
In the 1980s, over 1,000 blocks of land were excluded from the Daintree National Park and World Heritage area. Since then, around 500 lots have been bought back by not-profit organisations, to try and save the ancient rainforest from development.
Organisations like Rainforest 4 Foundation have purchased seven properties to become a part of protected national park since 2019, but they can't stop the fight against development just yet.
Lot 157, Cape Tribulation Road in the Daintree Rainforest is the most recent plot of land that is facing sale, and if the foundation is unable to raise the $404,685 needed, an important part of this rainforest could go to developers, as Douglas Shire Council has zoned it as suitable for 'improvement'.
Native species in danger
The 8.0937 hectares was surveyed in September of this year, and over 270 native species of flora and fauna were found, which included 12 species that are listed by the Queensland Nature Conservation Act 1992 as threatened, including one which is on the National Environment Protection and Biodiversity Conservation Act (EPBC).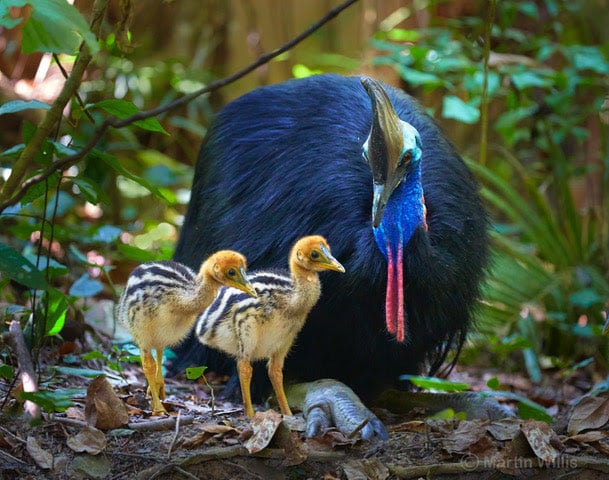 Not only are the species on Lot 157 listed as threatened, but the ecosystem itself is at risk. Most of Lot 157's land is classed as Mesophyll vine forest, which is prime habitat for the endangered Southern Cassowary. Only around 14,000 hectares of Mesophyll vine forest remains, and if Lot 157 is not saved, that number will drop.
Founder of Rainforest 4 Foundation, Kelvin Davies, says 'Considering that Lot 157 has over 270 native species on the property, donating to buy back this plot is a really great opportunity to preserve the rainforest. We have also confirmed that the lot is used by the extremely rare Southern Cassowary, which has only 1,500 animals left in Australia, making this property very special.
'Many years ago, I realised that it was very wrong for humans to cause a species to go extinct, and that is what has pushed me to fight for the rainforest for all this time. The Daintree is home to many threatened species, and by protecting the forest, we are protecting those that live there.
'Donating to buy this plot is also incredibly cost effective,' Kelvin continues, 'with each square metre of land only costing $2.50, you can make a huge difference to the preservation of the Daintree for such a low price.
'Preserving our rainforest is in the best interest of humanity; everyone benefits from it. The rainforest creates oxygen, absorbs carbon, and helps to create regular weather patterns. By donating to buy back land, you are not only protecting the rainforest, but yourself and generations to come.'
Please donate to protecting the Daintree Rainforest or for more information on the work done by Rainforest 4 Foundation on their website.