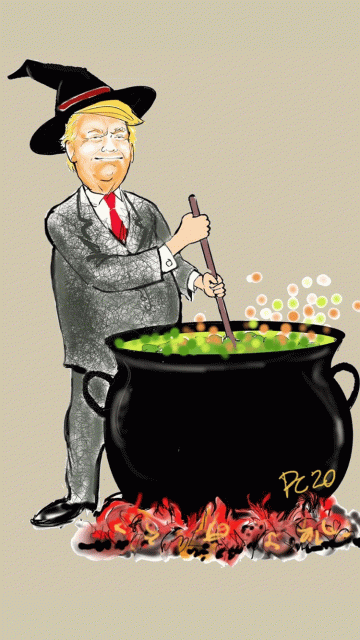 Art Burroughe
'Those who can make you believe absurdities can make you commit atrocities' wrote Voltaire.
At Politics in the Pub (Tuesday, 12 January, 2021), Max Igan rampaged across the spectrum of human experience like an inchoate scattergun. He invited us into a tortured, crazed, binary world, reminiscent of Christian apocalypticism, ruled by a 'sub-species so evil you can't imagine,' indulging an insatiable appetite for adrenochrome, 'brain-juice' harvested from children. 'Did reality change, or did they just replace our brains?' Igan mused, before warning that 'if "they" can do it, "they" will do it, which means "they" have already done it'. Igan then speculated that the "they" may live somewhere beyond the poles.
According to Igan, China is run by the international banking cartel; Antifa is to blame for storming the Capitol – not the meek Proud Boys, Oath Keepers etc in battle fatigues; COVID-19 is a 'provable, quantifiable fraud', 'their' motivation being to cull the population. Surely, epidemics have happened throughout history? But Igan avoided logical explanation, and offered no evidence.
A broken system or just want someone to blame?
Whilst it is wise to be skeptical of virus origin stories, purported vaccine effectiveness, and down-played side effects (these are legitimate questions), unnuanced certainty that rejects reason and science outright, is not wise.
Why believe the world is run by unspeakably evil actors, when a hegemony of corporations, billionaires, and compliant and often corrupt politicians within a broken system seems a better explanation?
Superstition feeds on ignorance to explain the world around us. Psychologically, attributing the unexplained to demonic forces offers the potential to find and neutralise the perceived source: i.e. a punishing god sending a flood; Jews 'causing' a plague in the Middle Ages; or radio waves 'causing' the 1917 flu.
The darker side of conspiracy theories are the political agendas they serve. Research suggests MAGA (Make America Great Again) was primarily driven by status threat and fear of cultural replacement (1). Bannon's plan was a working class political coup, to wrest control of the Republican Party from the ultra-libertarian elite . Trump was his 'armour piercing shell' (2).
Authoritarian world
Trumps is a 'malignant narcissist' (3), a brilliant communicator to his audience, and an authoritarian living by the dictum 'power… is about fear' (4). His strategy drastically reshaped the political economy in his image, using techniques laid out by Edward Bernays in 1928 in Engineering Consent (5), which enabled Hitler's rise: restructuring the state as a system of patronage, dismantling separation of powers, creating confusion; identifying enemies of the state; attacking free press; a relentless onslaught of lies; demonising all opposition; provoking violence, and then claiming victimhood; suppressing other voices – all designed to reshape minds and entrench his power.
Social media has become the new frontline, propagating conspiracies through 'revenue per click'. The QAnon smear campaign, which originated with Pizzagate in October 2016, alleging progressives to be paedophiles, is an example of a favourite Trump tactic; 'attack as the best form of defence,' standard operating procedure for the far-right.
Their claims, despite no evidence, that anti-fascists are to blame, are ludicrous, but sadly they will live on, just one more building block of the Trump cult's narrative of victimhood. The work of the likes of Max Igan, in both his presentation via the Turning Point Talks platform and through his posts on social media, like Trump, continues to feed the alt-right agenda.
References
Beyond Economics: Fears of Cultural Displacement Pushed the White Working Class to Trump | PRRI/The Atlantic Report -Daniel Cox, Rachel Lienesch, Robert P. Jones, Ph.D.,  05.09.2017
America's Great Divide: Steve Bannon, 1st Interview | FRONTLINE – Jan 13, 2020
The Cult of Trump: A Leading Cult Expert Explains How the President Uses Mind Control – Steven G=Hassan Publisher : Simon & Schuster (23 January 2020)
Apr 2, 2016 — Bob Woodward interview with Donald Trump – "Real power is, I don't even want to use the word is fear."
Propaganda – Edward Bernays (New York: Horace Liveright. 1928) ISBN 978-0-8046-1511-2