Ballina Shire Council's March meeting had a focus on water, climate, roads, aesthetics and police as the area continues to struggle with the benefits and challenges of accelerating growth.
Crs Nathan Willis and Sharon Parry were apologies and Cr Keith Williams was late (held up by a traffic jam caused by flooding issues). Two other councillors appeared via Zoom.
After a lengthy discussion about climate policy, debate moved on to a plan to extend Barlows Road to help deal with Ballina's increasing congestion. This would create a new cross road between Tamarind Drive and River Street. There are different options with different implications for environmental impact, traffic modelling and cost.
Cr Steve McCarthy said he looked at Barlows Road as a relief road, 'to help out the dual lanes getting in and out of Ballina. Will bridges be built first?' he asked. Staff said that would depend what came out of the investigation process that was currently underway.
Cr McCarthy said he couldn't see any negatives at all to the new road, which would make it much easier for people to access Aldi and the industrial centre from the main street.
Cr Ben Smith said the new road would be a worthy addition to the road network, but acknowledged it wouldn't have helped with the recent flooding problem at Tamarind Drive near the highway.
Cr Smith said he enjoyed looking at the traffic heat maps provided by staff. 'It reminds me of Sim City a little bit!'
He said that while the new road was not a 'magic solution that will solve every problem', it would solve some problems as part of council's wider road strategy.
Barlow Road important to community
Cr Sharon Cadwallader said the new road was very important for the community, and heavily supported. She noted that the cost would be around $8m, but only $2.1m would need to be found by council.
'Everything about this project points in the right direction,' she said, to help with the recent 'horrendous' congestion.
Noting his own experience being stuck in traffic that morning, Cr Keith Williams said, 'Financially it makes sense. The traffic modelling confirms what many have said.
'The sooner we can progress this the better, it will provide an immediate relief.'
Council staff noted that there were currently 18,000 vehicles a day on River Street, which is being duplicated to better cope. The motion to progress the Barlows Road to preconstruction phase was carried unanimously.
Underground water at Alstonville
The ripples from Rous County Council's decision to abandon the Dunoon Dam continued with a discussion about the Alstonville aquifers.
Brian Douglas from the Save Alstonville Aquifer group made a passionate deputation in support of a motion from Cr Eoin Johnston to invite senior technical representatives from Rous to brief Ballina Council about the ramifications of using new underground water at Alstonville, citing uncertainty about recharge rates and interconnectivity of aquifers and surface water.
He said there was evidence the Alstonville aquifer was under stress, saying, 'We need assurances from Rous that extraction will not harm wetlands and rainforests.' Irrigated macadamia farms are also a major concern.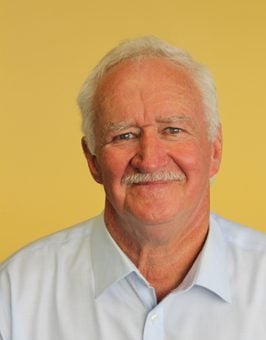 Cr Johnston was gearing up for a fight, and seemed somewhat deflated when Cr Keith Williams seconded his motion (Cr Williams is also Chair of Rous).
'You've stolen my thunder!' lamented Cr Johnston. 'I've rehearsed and studied and now Cr Williams agrees with me!'
He spoke on the issue anyway, saying 'I'm copping a bit of ridicule bringing such a motion when we've just had 600mm of rain last week, but I assure you that drought will come again and we must prepare for the vicissitudes of the future.'
Cr Johnston went on to speak about planning procedure and risk, which he said equated to hazard plus outrage.
'The outrage with the dam was clear to see and it should have been clear to the planners,' he said. 'When this dam proposal went on public exhibition, the outrage was overwhelming.'
Cr Johnston said underground water and recycled water potentially faced similar problems.
He also said there were no approvals in place to access the deeper aquifer at Alstonville, as proposed by Rous.
Cr Johnston then stretched his dam vs underground water analogy to professional athletics. 'It's like getting Usain Bolt lined up for the 100 meters at the Olympics, he's proven and has a history, he's done a bit of running.
'Then moments before the race starts, you bring in the reserve, an unproved athlete, and you say, can he run? He looks all right, let's put him on. We want to see the hard evidence!'
After five minutes of this, Mayor David Wright asked Cr Johnston to bring his remarks to a close. 'I was just warming up!' was the response.
'That's what I was worried about,' said the mayor.
More than two options
Cr Jeff Johnson said he disagreed with the premise of the motion, that groundwater should be used as major source of water supply.
He pointed out that there were a range of other options, including rooftop water harvesting on new developments (like Warrnambool), and increasing dual reticulation. 'Farmers could use that. It would be a win win for everyone.'
Cr Johnson said, 'There are better options which would lead to greater security. This motion frames the debate in the wrong way. We need to hear about other alternatives.'
But Eoin Johnston refused to add any of these ideas to his motion.
Cr Sharon Cadwallader accused Cr Johnson of ignoring cost with his suggested alternatives. 'Why the hell would you do that when we have such rainfall in our area?' she asked. 'Why not explore the option of Dunoon Dam?'
She said it was not an old school option, but a 'common sense' option, claiming the cost would be double for other options, which she described as 'toilet to tap' and 'raiding the aquifers'.
Cr Cadwallader concluded by saying, 'Why wouldn't we invite technical experts to come forward? It should be open to the public to hear what's happening too. We don't want them to get bill shock when they discover the cost of water.'
Rous Chair speaks
Cr Keith Williams said he supported the motion, which was not needed as the expert consultations were going to happen anyway.
He questioned the analogy of the Dunoon Dam with a champion athlete, saying the Dunoon Dam had never been the preferred source apart from the draft plan presented by Rous last year, which was soundly rejected by the public with a thousand submissions and 95% opposed.
Cr Williams said that in contrast, 'Groundwater has been the preferred source of water supply in the current integrated water cycle management plan since 2014.
'Nothing has changed. This was going to happen anyway for the next ten years.'
Cr Wiliams reiterated that the whole idea of going to the deeper aquifer was to reduce competition with agriculture. 'If we were to not proceed with this scheme, we would stay in the existing aquifers and when Rocky Creek reaches 60% capacity we will draw on them and shut down everybody else's use of that aquifer.
'That's the practical thing that happens now, and if we don't change, that will continue to happen. Ag will be impacted by our need to secure that water in dry times.'
Cr Williams reminded his fellow councillors that the current aquifer was 40 metres deep, and the proposed aquifer was 180m deep. '140m of rock is a lot,' he said, noting that state regulators would have access to all the science and to Rous testing results, which were not yet public as they were commercial in confidence.
'We need to secure town water supply before anyone else gets in there,' he said.
The vote was carried unanimously.
Development applications
After a break, council returned to approve progressing a commercial centre at Ballina Heights and a medium density two story DA as part of Aureus, in Skennars Head, with discussion limited to visitor parking numbers.
The focus then turned to a debate about whether money should be spent to beautify the northern entrance to Lennox Head, with the possible replacement of a retaining wall between the Byron Bay Road/North Creek Road roundabout and Allens Parade.
Brad Pollard from the Lennox Chamber of Commerce said, 'We appreciate there are other important footpath works, but we should be doing all we can to dress up our town to help with resilience in the long term, and having concrete barriers and wire fences is not going to achieve that.'
Cr Ben Smith asked staff what would be unfunded if the retaining wall was to be improved.
GM Paul Hickey said Cr Cadwallader's motion was silent about what would be taken out of the existing works program to pay for it.
Cr Smith said he was happy to support the motion to consider funding for improvements to the wall, but thought the economic impacts were exaggerated somewhat. 'Aesthetics are important but engineering-wise it does the job,' he said.
Cr Eoin Johnston said people in remote areas of the shire 'would not give two hoots about the aesthetics if the retaining wall is doing the job.'
In the end, all but Cr Meehan voted to progress the issue to the next finance committee meeting.
Surf schools and horses and carts
Following a tender process, a number of surf school and coaching licences were awarded for Ballina Shire, to the following businesses: Let's Go Surfing, Soul Surf School, Kool Katz Surf School, Surf Getaways, Ability Surf and Ballina Surf School.
A motion about council meetings transitioning away from digital conferencing, and back to in-person, was prompted by a directive from the Office of Local Government.
Cr Ben Smith went on a spray, saying, 'This is stupid. We're connected by zoom guys, we're not doing horses and carts anymore.
'This is why the state government is so irrelevant these days, seriously! Do they understand?
'What really bugs me about this is we're supposed to be about getting more women in local government, we want to make it a more democratic process, but they're making it harder for people who work part time or have a family to look after to be able to do the role of council. We need to be more flexible.
Cr Smith continued; 'I don't understand who came up with this policy, it's stupid and makes no sense. It's not good for democracy, its not relevant for 2021, and someone needs to send them a very strongly worded letter to explain that to them.'
Councillors voted unanimously to write a submission encouraging greater flexibility.
Cops are tops
Cr Cadwallader's motion to look at increasing police numbers in Lennox Head and Ballina to service the growing population, and take some pressure off the Alstonville Station, found unanimous support.
Mayor David Wright spoke warmly about police support at Ballina Airport during COVID, and said he supported increased numbers locally.
'Policing is not like it used to be. The first thing you hear is 10% of their staff are off at any one time,' he said.
'It's very complicated, very frustrating, and we've had some brilliant police commanders up here. They're disappointed not to get more cadets.
'I'll be supporting this. Mental health and domestic violence are the two main things on the whole north coast.
'We do need more police,' concluded Mayor Wright.
---
More stories about Ballina Shire Council: