An attempt to enlarge the list of approved 4WD beach users allowed to access South Ballina Beach failed to get the numbers to progress at the last Ballina Shire Council meeting.
The motion from Cr Keith Williams thanked the Minister for Crown Lands for closing the beach but asked that community consultation be undertaken to consider certain local beach users who have been excluded from 4WD access, such as members of fishing clubs, wildlife rescuers and the disabled.
There were no deputations against the motion (The Echo was contacted to say such requests were made, but not accepted for some reason), which left two supporters of the motion speaking instead.
First up was Lismore identity Big Rob, who said he enjoyed driving on the beach to relax, and complained about the lack of public consultation before closure, arguing that tourism brought trade to the area.
Mr Rob dismissed the hooning videos which have been circulating as 'people driving quickly to avoid getting bogged'.
Next up was Kevin Lockrey from the Ballina Peninsula Residents Association, who said he only occasionally went to the beach but was 'well placed to speak on the issue'. Mr Lockrey said the failure to consult undermined respect, with every new law infringing on the right of citizens.
'Regulation should be used as last resort,' he said, saying that the majority of 4WD users left no trace and extracted enjoyment from what they were doing. Mr Lockrey said the problem came from people outside the community.
No consultation
Cr Keith Williams said, 'I know much gets made of this stuff in political terms, but that's not the reason this has been moved.' He said he had always emphasised the need for specific exemptions for locals to access the beach.
Cr Williams said it was appropriate that there were exemptions for commercial fishers and Aboriginal people, but no allowance had been made for people with disabilities, seniors who are unable to walk long distances, recreational fishers and wildlife rescuers.
He said he had spoken to local fishing clubs and estimated there were 60 local recreational fishers who would now be denied access to drive on the beach, in spite of writing to the Council GM and then Crown Lands.
'I followed that up with phone calls, was assured a consultation and engagement strategy was being developed, but it wasn't,' said Cr Williams. 'They had the right to be spoken to before this decision was made.
'Management decisions like this are about managing people, and managing people's previous expectations,' he said.
Cr Cadwallader confirmed with staff that wildlife rescuers could be given a key to access via Patchs Beach in the case of a whale stranding or similar emergency.
Not up to Ballina
Cr Eoin Johnston said Big Rob was wrong in his suggestion that the land was under Ballina Council's control, and therefore council was obligated to conduct community consultation. Staff member Matt Wood confirmed that the relevant area was all under the direct management of NPWS and Crown Lands, apart from a small section at Patchs Beach.
Cr Ben Smith said, 'If it was under council's control, we wouldn't have had any problem in the first place. This might not be clear to people in Lismore, but it's certainly clear to people in Ballina Shire.'
He said the 4WD problem had been getting worse for years, and there had been extensive public discussion about it, particularly in nearby Wardell.
'At the end of the day it is Crown Lands and Crown has the call on it,' he said. 'Crown is not interested, because there's no money in it, to be blunt. The easiest, cheapest thing for them to do is close the beach, so that's what they've done.'
Cr Smith said the vast majority of the public were accepting of that, and any other issues would be worked out in the wash. 'It's not ideal, but that's how things work out,' he said.
Cr Cadwallader spoke about the risk to other beach users from speeding 4WDs, and added 'What about the wildlife? How do you with any conscience say that's not more important than four wheel driving on the beach. I can't do that. We've heard about the abuse and bad behavior for years.
'How do you regulate it?' she asked. 'I do feel for those people who were doing the right thing. It's a difficult decision, but I can't support the motion. Let's get South Ballina back to the way it was many years ago.'
Johnston divided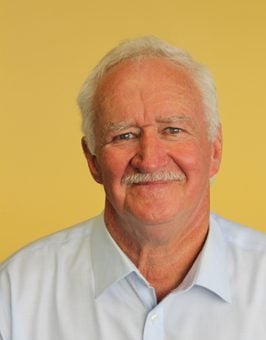 Although he seconded the motion, Cr Eoin Johnston confessed to having 'one foot on either side of the fence at this stage.
'When [Crown] actually make a decision, I'm loath to go thanks but no thanks. I also understand Cr Williams' deep convictions and those of decent users over there, and there are plenty of them. In the past we didn't have the problems that we do now,' said Cr Johnston.
As for the lack of community consultation, he said, 'It wasn't under our care and control, simple as that.'
Mayor David Wright said the 4WD hooning issue had been going on for many years, including when he was mayor in 2000. 'It wasn't Queenslanders, it was local yahoos doing it,' he said. 'The issue has been on the agenda of every Wardell Progress Association meeting for yonks. People were happy at Wardell with the decision.'
Mayor Wright went on to say, 'There were public meetings, there was consultation, this has been around forever. The state government has done exactly what we asked for.
'I've said it to recreational fishers, we've got a clean sheet now. If the community wishes to access the beach, they need to put their case forward. It's not up to council to say who can use it now.
'I think it's the greatest thing for wildlife down there,' concluded Mayor Wright, 'and a bit of a wakeup call for Queenslanders that you can't trash our country. That's what they were doing.'
Long term issue
Cr Jeff Johnson said he wouldn't be supporting the motion. 'We've all seen the videos of the long lines of 4WD users down on the beach, we've seen all the rubbish in the dunes, hoons doing donuts… we've been trying to address this issue for a long time.
'I'm in favour of a permit system, but the issue with South Ballina is we don't control the beach, and it's a long beach,' said Cr Johnson.
'I don't think this motion would achieve anything other than make council look a bit silly, after asking for so long, being frustrated about lack of action, and now saying let's open this to consultation now the decision has been made. It won't be successful.'
Cr Keith Williams reiterated that there had been a lack of consultation by Crown Lands, in spite of clear policies to the contrary. 'I agree with the broader question of reducing the thousands of vehicles on the beach. That doesn't mean the line has to be drawn exactly where it's been drawn.
'Imagine the guy who's retired, lived here all his life, has fished that beach his entire life, and we're now turning around and saying you can't do it. We're asking Crown Lands to talk, we're not asking for a new decision. This is overly simplistic,' said Cr Williams.
Ultimately the motion was lost, with only Cr Johnston and Cr Williams in support.
Meanwhile, there are reports from locals that endangered wildlife is already recovering and returning to the beach since it was closed to 4WD traffic. At the same time, anecdotal evidence suggests far more 4WDs are now accessing Seven Mile Beach at Lennox Head, which has a permit system.
---
More stories about Ballina Shire Council: