Tamara Smith MP (Greens), Member for Ballina, yesterday announced $50,000 in funding for a total of fifteen sports clubs in her electorate. Lismore's MP Janelle Saffin (Labor) has congratulated 10 sporting clubs across the electorate of Lismore for sharing in $50,000 while Tweed MP Geoff Provest (Nationals) announced $50,000 in grants for 16 Tweed sports clubs.
Ballina Byron
'This is fantastic news for not-for-profit grassroots sport clubs in Byron and Ballina shires,' said Ms Smith. 'This funding will directly help to increase participation and access to sport in our community.
'The Local Sport Grant program will enable clubs to hold events that promote participation in sport and active recreation and provides a focal point for community building and engagement,' she said.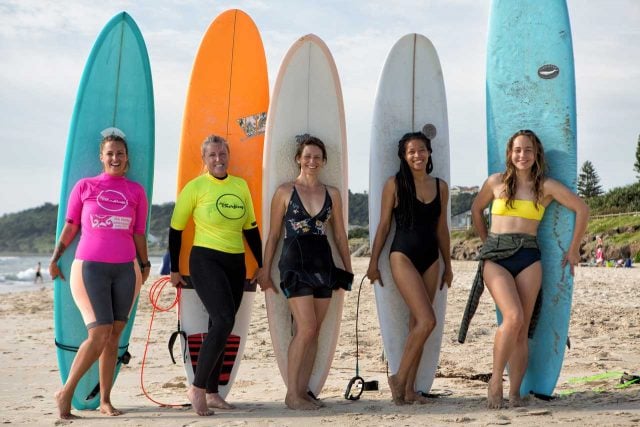 'Clubs such as the All Girls Surfriders Inc will be able to assist women and girls to gain the skills and knowledge to participate in club activities. This is a great outcome for girls and women in our community.'
Couldn't come at a better time
Tamara Smith said, 'It is exciting to see some clubs purchase and install equipment that will improve engagement of their teams.
'For example, Ballina Rugby Club will be able to use this grant to purchase training equipment for skills and drills sessions for their junior inclusion project.
'Many sports clubs in our community were faced with a lot of challenges at the peak of COVID-19. Most were unable to hold fundraising events or boost participation. This grant will enable some of those clubs fill in the financial gaps created by the pandemic.'
Ms Smith said she congratulated all of the clubs that were successful in their application and looked forward to seeing their projects making a real difference to sport in the local community.
Successful clubs and their projects in the Ballina electorate for 2020/2021:
All Girls Surfriders Inc (Assist Women and Girls to Gain the Skills and Knowledge to Participate in Club Activities): $1,100
Alstonville and District Cricket Club (Local Sports Grant Program 2020 – Sport Access):
$3,397
Alstonville Water Polo Club (Alstonville Water Polo Swimmers): $4,963
Ballina Rugby Club (Junior Inclusion Project): $5,000
Bangalow Rugby Club (Coaching Resources and Support): $2,000
Brunswick Byron Netball Association (Provision of Training and Development Courses for Coaches and Players): $2,000
Brunswick Valley Bulldogs Junior AFL Club (Brunswick Valley Junior AFL Local Sport Grant Program): $2,000
Byron Bay Cycle Club Inc (Provision of Coaching and First Aid Accreditation): $2,000
Byron Bay Football Club (Acquisition of Equipment to Maintain Grounds and Facilities):
$2,985
Byron Bay Football Club (Acquisition of Sporting Equipment to Facilitate Participation in Sport in The Byron Bay Local Area): $2,315
Le-Ba Boardriders (Water Safety Project): $2,000
Lennox Longboarders Club (New Club Equipment Trailer – Transport & Housing of Club Equipment, Tents , Comp Gear and First Aid): $5,000
Mullumbimby Brunswick Valley Football Club (Ball Stop Netting and Post System): $6,409
Mullumbimby Tennis Association Inc (Tennis Court Windbreakers): $2,545
Tintenbar Tennis Club Inc (Repair & Repaint Existing Tennis Shed to Upgrade to a Quality Tennis Club House Facility): $6,050Lismore
Lismore
Ms Saffin said this small grants program, administered by the NSW Office of Sport, would assist successful recipients to upgrade their sports infrastructure, outfit players, hold clinics or stage events.
'Our region is renowned for its high level of active participation in so many sports and for being a nursery for developing great sporting talent, and every little bit of funding helps towards realising projects,'" Ms Saffin said.
Successful recipients in the 2020-21 program include:
Far North Coast Hockey Incorporated, junior participation workshop $1950.
Goonellabah Tennis Club, upgrade of tennis court lighting $15,000.
Kyogle Golf Club Limited, installation of bottle filling station and drinking fountain on the golf course $3470.
Lismore Croquet Club Incorporated, installation of solar panels and air-conditioning $5356.
Lismore Rowing Club, host the Lismore Regatta 2480 $5000.
Lismore Workers Softball Club Limited, purchase of new uniforms and softball equipment $2092.
Murwillumbah Colts Junior Rugby League, training equipment and uniforms for girls' league tag $4000.
Murwillumbah Tennis Club, purchase of uniforms for female and junior players  $4332.
Northern Rivers Football Academy, coach mentorship program for Under-14s and Under-16s, and competition kits for junior players $6800.
Tweed Border Hockey Association, provision of workshops run by qualified hockey coaches and umpires $2000.
Ms Saffin reminded all local sporting clubs of that applications for two other very handy grant programs close on Monday, 12 April, 2021.
The Local Sport Defibrillator Grant Program allocates money to assist sporting clubs across NSW in the purchase and maintenance of Automated External Defibrillators (AEDs). Grants are available up to 50 per cent of the AED package in Zones 1 and 2 and up to 75 per cent in Zone 3.
Tweed
Member for Tweed, Geoff Provest said the grants would provide essential funds to sixteen local sporting organisations to increase participation, purchase equipment and improve facilities.
'Sport is a way of life in our community and the Local Sport Grant Program is another excellent example of the NSW Government delivering for the people of Tweed,' Mr Provest said.
'These grants provide vital funds to our local clubs to help with the purchase of uniforms, shade shelters and training courses'.
These grants provide a welcome lift to communities as NSW emerges from the challenges of the COVID-19 pandemic.
Some of the successful sporting groups include:
Cabarita Boardriders, Pottsville Cricket Club, Casuarina Beach Hockey Club and Pottsville Beach Soccer.
Full a complete list of successful applicants visit the NSW Government's Local Sport Grant Program for more information.