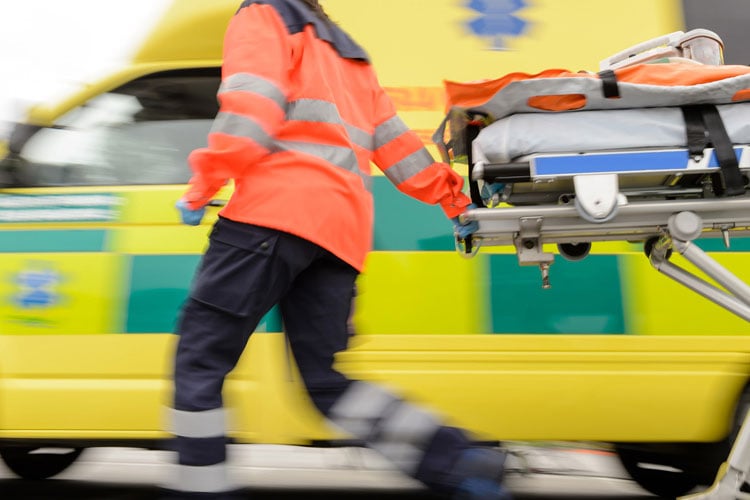 Every time a paramedic goes to work, there is a pretty good chance they will save someone's life.
It's not like a tennis pro winning a tournament, or a rock star writing a hit.
A paramedic's job impacts on lives and families – they are the first responders to events that can change the course of a person's existence.
Yet, paramedics both nationally and locally, are struggling to keep their own heads above water, particularly in the Byron Shire area, as a combination of low wages and unaffordable housing is making life tough.
A local paramedic thinks the sacrifice paramedics and their families have to make is asking too much.
'As the 2.5 per cent NSW public sector wage rise freeze battle is fought in the Industrial Relations Commission, Premier Berejiklian's argument that we "all need to make sacrifices" is an insult to health workers around the state who make personal sacrifices daily', says the man, who wishes to remain anonymous.
'I'm among 4,000 operational paramedics in NSW, working regular weekends and evenings, away from our partners and children.
'Our absence puts pressure on relationships, many ending in separation and divorce. Most of us have spent years posted to remote areas of the state, serving communities away from our own.
'We miss meal breaks and finish late. The fatigue of night shifts and the physical demands of the work impacts on our health and longevity. We routinely face occupational violence. Hundreds of us have been kicked, punched, or spat on. And most of us have been psychologically affected to various degrees by the tragedies and cumulative trauma we witness.
'Our rates of PTSD are comparable to those of the military, and our suicide rate four times higher than in the general population'.
The paramedic says that COVID-19 has arguably become the greatest test of resilience. 'We watch anxiously as colleagues around the world acquire the virus, some dying, knowing it may one day be us'.
'People die in our arms for $36 an hour'
The man says that few, if any, do this job for money alone. 'Why would we? Why routinely be exposed to blood and vomit, threatened by ice-addicts, or have people die in our arms for $36 an hour?' 
This paramedic says that local affordable housing for local workers, in particular essential services workers, is impossible to find. Approaching his mid-forties with a wife and three children, he says he sometimes wishes he and his family didn't have to live in a run-down rental, on a main road, with trucks shaking the walls. He says he spends 60 per cent of his fortnightly income on rent. 'It would be nice to have takeaway once a week with the kids. Or visit the cinema. Or shop somewhere that wasn't the Salvation Army store.
'Even some young paramedics in Sydney, with no attachments, are dossing on friends' lounges or flat-sharing with half-a-dozen others to make ends meet. Either that, or they drive an hour or more to work and back from more affordable suburbs'.
President of the Australian Paramedics Association (APA) for NSW, Chris Kastelan, says that paramedics are highly skilled and highly trained care providers.
'I think there's a good level of recognition and understanding of that in the community.
'Unfortunately, we don't see this same level of recognition in the wages paid to NSW paramedics – which are some of the lowest in the country, despite high costs of living in many places around our state'.
Mr Kastelan says that when you work for NSW Ambulance, you can be posted anywhere within the state: so paramedics tend to move around a lot, including between metropolitan and regional or rural NSW.
'Very often, paramedics find themselves locked out of local property or rental markets owing to their base salary, and that's going to become a real problem in a lot of areas in coming years.
'If the essential service workers you rely on can't afford to live in your community, who do you call when you're in need of help?'
Mr Kastelan says there are also often paramedics posted to new stations, especially to regional stations, at short notice who find themselves unable to secure housing of any sort – because there are simply no vacancies. This has been exacerbated by the increase of 'sea-changers' during the COVID-19 pandemic.
Govt pay freeze
'Our union has been fighting for a major pay increase for paramedics for years, and we currently have a major award case before the IRC. For this case, APA (NSW) gathered hundreds of pages of evidence, including expert economic evidence, and had five days of hearing with a barrister before the Full Bench of the IRC.' 
The local worker says that most paramedics hold degrees, many post-graduate qualifications, yet earn less than your average tradesperson.
'The state government's pay rise freeze not only comes at a time of increased risk and pressure on health workers during COVID-19, but arrives in the context of an existing wage disparity. Paramedics in neighbouring states earn at least $10K more per annum. But instead of bringing NSW paramedics in line with their counterparts, the basic 2.5 per cent is under threat. 
'For the NSW Government to try to suspend this modest pay rise is a step in the wrong direction.
'What happened to looking after the people who look after you?'