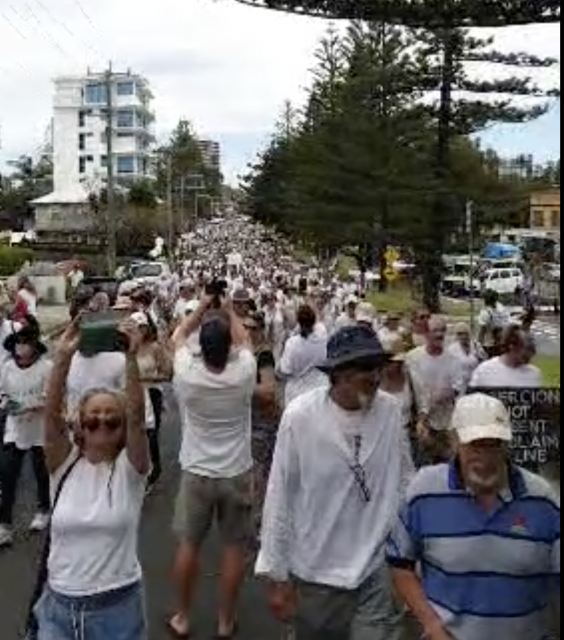 A peaceful protest against forced vaccinations and passports was held Friday at noon at the NSW/Qld border, in front of Twin Towns. 
It attracted up to 1,000 people, and included speakers, as well as a strong Indigenous presence.
Activist Tom Barnett streamed it live from his social media account.
QANTAS pilot Graham Hood spoke to the large crowd before the march. His recent viral video condemning government policy around vaccination is available on Youtube (for now) – 'Qantas Pilot Speaks Out About Vaccine Mandate'.
As a pilot for 53 years, and 32 years with QANTAS, Mr Hood told the gathering: 'The spirit of Australia has been decimated by politics, bureaucrats and big business'.
He called for Indigenous sovereignty and said Australians have forgotten the sacrifices that previous generations made, particularly in wars.
Mr Hood was critical of MP Jackie Lambie's pro vaccination stance, and said the 'PM is missing in action'. 
'What will he will do with the ten to 20 percent of us who will not agree to being vaccinated?'
'Will we be under house arrest?
'Hundreds of police officers in all the states are saying "nup".' 
'They thought they signed up to serve and protect', he said to crowd cheers.
'There are 20,000 teachers saying no to forced vaccination'.
'Around 200 Victorian police contacted me saying they don't want to be part of this [pro vac agenda], ' he said. 'A new national police union is about to start. There's 9,000 doctors and nurses have joined.' Mr Hood then mentioned the website www.policeforfreedom.org.
He also claimed that PCR tests don't work, then led a Christian prayer and song.
The protest started at 12noon, with a march up to the headland.
Many of the protesters were wearing white shirts, with a range of occupations inscribed on their backs, including the years they have worked. 
At the march, video footage depicted police being hugged by protesters. There was strong support for their presence at the rally.
Meryl Dorey speaks
Meryl Dorey, who was introduced as being from the AVN (now correctly known as the Australian Vaccination-risks Network Inc) spoke after the march. 
She said she started [what was then known as] the AVN with others in 1994, as her son 'was injured by his vaccines'.
She said, 'There was no info available at the time'.
'It wasn't right to make a decision without having information, especially when it can kill'.
She also made the controversial, (and incorrect insofar as she was referring to COVID-19), claim that the 'virus doesn't exist'. 
'Media and politics is the virus', she continued.
Ms Dorey later told The Echo her full quote was: 'Over a virus that, as far as I've been able to see, does not exist'. 
A link was provided by her to support her claim of a 'Lack of isolation or purification of the SARS-COV-2 virus'.
She told The Echo, 'The AVN has sent two requests in to our Commonwealth health department and received the same answer – no records can be found to prove that we have ever identified, isolated or purified this particular virus'.
The full link is: https://www.fluoridefreepeel.ca/fois-reveal-that-health-science-institutions-around-the-world-have-no-record-of-sars-cov-2-isolation-purification/
Her claim of a non existent virus are at odds with the millions of reported cases worldwide and the views of the majority of the scientific community. 
She told the crowd on Friday that the government messaging had changed: 'They say died "with" covid, not "from" covid'.
Ms Dorey also encouraged the crowd not to vote for major parties, including the Greens.
'Your rights stop at my skin, and at the skin of my children' she said to applause.
Ms Dorey also pointed to the recent Fair Work Commission judgement on an unfair dismissal case.
In a recent case Jennifer Kimber's employer told her that she needed to take an influenza shot to continue working. She lodged an unfair dismissal claim and lost, a decision confirmed by the Full Bench. However at the rally Ms Dorey claimed that pages 32-44 of the FWC judgement (possibly referring to the dissenting judgement of Dean) show it is illegal for an employer to require vaccination for employment in Australia.
Later, she told The Echo, 'I realise that the first half of the decision did not save Jennifer Kimber, but the second half – from page 32-44 as I stated – was a great victory. That dissenting opinion should open the door to an appeal against the requirement to receive a vaccination in order to work – a breach of international treaties, natural justice and, quite possibly, the Commonwealth Constitution'.
The view that 'international treaties, natural justice' or the Constitution can override emergency health orders during a pandemic have not been supported by the legal fraternity.
Law firm McCullough and Roberston published their view on the matter here: www.mccullough.com.au/2021/09/29/dont-believe-the-hype-dismissal-of-employee-who-refused-to-be-vaxxed-was-not-unfair/
Reasonable and proportionate response to the risk to human health
Meanwhile, legal expert and academic at UNSW, Professor George Williams, told The NSW Council for Civil Liberties in July, 'The Constitution protects only a few rights in Australia, and none of these rights have been affected by the lockdowns. (We are the only democracy without a national Charter of Rights or human rights act, though some States do have their own human rights Acts)'.
'And our Governments are empowered to take these measures. Under the Biosecurity Act 2015, orders can be issued to prevent the spread of disease. For example, these can require individuals to remain in isolation, be subject to medical examinations, and submit to treatment. Failure to comply can result in a fine or a jail sentence'. 
Professor Williams said, 'The parliamentary Statement of Compatibility on the Biosecurity Bill noted that 'some provisions of the Bill would appear to infringe personal rights and freedoms', particularly in the case of any outbreak of a listed human disease where individuals 'may be required to comply with certain biosecurity measures'. Nonetheless, the Parliamentary Joint Committee on Human Rights, having considered the provisions, was 'satisfied that they are reasonable and proportionate to the risk to human health'.
And regarding whether the UN Charter of Human Right would 'provide rights inconsistent with these lockdowns', he said, 'In the absence of a federal Charter of Rights, these [human rights] are only enforceable at the international level, and not within Australian law'.
This article was amended on Sunday October 3 to include extra clarification around Ms Dorey's claims.