A key part of future planning both for agriculture, ecosystem resilience and where we put our population will be dependent on water – who has the right to access it and at what level.
Independent NSW MLC Justin Field has slammed NSW Water Minister Melinda Pavey for caving to the vested interests in the horticulture sector when she announced a tripling of water harvesting rights which he says will strip billions of litres of water from NSW's coastal rivers from the Bega to the Tweed and increase the risk of coastal communities running out of water in future droughts.
The review of the coastal water harvesting rights has seen the increase of water harvesting rights for some horticulture operators and graziers along the NSW coast increase the volume of water they are legally allowed to capture in farm dams from 10 per cent of what falls on their land to a massive 30 per cent.
Risk to fish breeding
'The new regime also presents a particularly significant risk to sensitive coastal lakes which require regular flows of fresh water for fish breeding, ecosystem health and to maintain natural openings,' said Mr Fields.
'This will triple landholders rights to harvest water on their properties, stripping it before it flows into our coastal rivers, streams and lakes and taking water away from other users and communities as well as the environment.'
Not scientific
The Chair of Rous County Council (RCC), Keith Williams, and Mayor of Lismore, Vanessa Ekins, have both pointed out the need for local councils and RCC to look closely at development applications (DA) that relate to water harvesting and extraction.
The Cr Williams, says he has 'cautiously welcomed an increase in harvestable water rights in coastal areas' but warned 'the devil will be in the detail as local Councils will be required to approve individual DAs'.
'The current 10 per cent limit is not based on a lot of science, but then neither is a sudden increase to 30 per cent. A blanket approach would be disastrous, we will need good data to assess limits on a catchment-by-catchment basis and we will need additional resourcing and support to enable Councils to asses individual projects.'
Lismore Mayor Ekins has gone one step further and told The Echo that 'the State Government needs to complete detailed assessments of each catchment and address the problem of non-compliance in the horticultural sector before water harvesting is expanded. Water and how we use it is becoming a crucial issue in the Northern Rivers, especially with changing weather patterns and unreliable rainfall. Increasing harvestable [water] rights before understanding how water is being managed is a disaster waiting to happen.'
Mr Fields pointed out that where landholders have a water harvesting right they 'currently have a 10 per cent harvestable right that the landholder can use for anything.' However, there are restrictions on how the other, newly announced, 20 per cent of harvested water can be used.
'How does she [the minister] intend to differentiate from the extra 20 per cent? We know it is currently being used on blueberries on the North Coast so how is that going to be monitored?
'This is a gift to the loud voices in the industrial horticultural sector in the Water Minister's local area on the North Coast and in particular the blueberry industry who have been found by the water regulator to be flouting existing rules around harvesting rights.
'The NSW Natural Resources Access Regulator (NRAR) highlighted significant non-compliance in the Coffs region in its January to March 2021 Quarterly Report noting "oversized dams which exceed maximum harvestable rights" was the most common offence and was found on 32 of 52 horticultural properties inspected.
'Here we have a situation where substantial breaches of water rules were identified by the regulator so the NSW Government under the Nationals Party are changing the rules rather than enforcing them.
'This will lead to bigger dams being built, more water being taken for irrigation and less water for communities, other water licence holders and the environment.'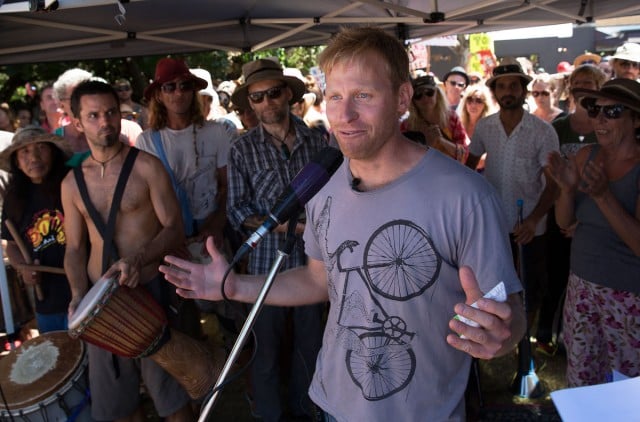 Improved water efficiency needed
Rous County Council Chair Cr Williams told The Echo 'I'm all for expanding horticulture and other agricultural activities but growth should come from improved efficiency of water use, not allowing for increased take.
'Many coastal communities remember what it was like in the last drought when coastal rivers had almost no freshwater flows. This announcement means they are more likely to run out of water in the next drought.'
Mr Fields said that 'we should be encouraging agriculture to be more efficient not allocating more water. This is new water being allocated to farmers. It is unlicensed and not within the long-term annual extraction limits or water plans.
'In an age of climate change how can we afford to allocate more water to agriculture? It will leave communities short. We should be encouraging agriculture to be more efficient not allocating more water. What this will mean is that water will not make it into our creeks and rivers. There is no clear science that indicates this won't negatively impact on our coastal rivers,' he said.
'The Government's promise to do detailed assessments of each catchment after the new rules come into place in 2022 is too little too late and the community should have no confidence in it.'
This concern was echoed by Cr Williams who told The Echo that, 'My fear, based on previous experience, is that we will get a new State Environmental Planning Policy (SEPP) that gives Councils little effective control, but requires substantial time and resources to administer. A lose – lose situation in my view.'
Store more water
'The Northern Rivers Watershed Initiative developed by Rous proposes that adapting to a hotter, dryer climate with more intense (flooding) rains means we need to slow and store more water in the landscape than traditional farming methods allow,' said Cr Williams.
'The average grazing property sheds substantially more water than a pre-development forested area, this leads to less water entering the soil profile, more downstream flooding and the gradual desertification of the area as rainfall declines.
'Increasing on farm storage is one small part of the solution, particularly if it can be coupled with excluding stock from natural watercourses, the adoption of regenerative agricultural practices to increase soil carbon and moisture content and natural sequence farming methods (creation of soaks and leaky weirs) that enable the landscape to absorb more water.
'This is work that many farmers in the Northern Rivers are willing and eager to do. Supporting this transition should be encouraged.'