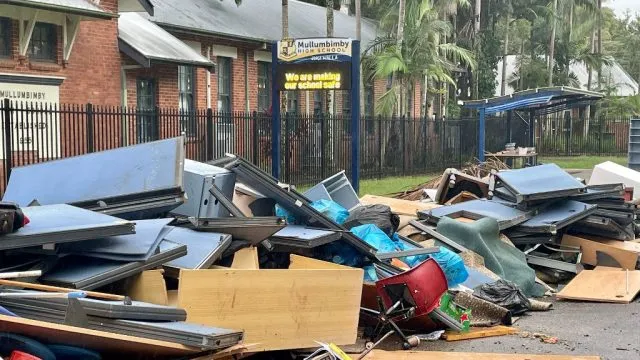 Mullumbimby High School, like many other parts of the town, was severely damaged after the March 1 floods. 
In response, the school's P&C Association is holding a flood appeal so 'students get back to learning, sooner'.
According to www.justgiving.com/campaign/mullumhighfloodappeal, 'The flooding across the school has been widespread'. 
'Our library and books have been lost, our drama room with its stage, sets and costumes collected over generations has been wiped out, our three pianos and musical instruments are irreparable.  
'Our sports shed was inundated and all the equipment has been condemned. 
'Our vital Breakfast Club kitchen, used for serving free breakfasts to our most vulnerable students has been destroyed, including fridges, microwave, kettles, toasters.  For some of our students this is their most nutritious meal of the day.
'Our focus is getting our kids back to school and learning as soon as we can, and we need funding now to replace all the items that won't be covered by insurance'.
Just over $20,000 was raised as of Tuesday. To help the school, visit www.justgiving.com/campaign/mullumhighfloodappeal.