After a long delay, the Australian Prime Minister Scott Morrison spoke to the media this afternoon about the government's response to the flood disaster which has engulfed the Northern Rivers of NSW and beyond.
Mr Morrison spoke from the Lismore City Council Chambers accompanied by local councillors, Member for Page Kevin Hogan, military and emergency response leaders. He began by thanking those assembled for their strong leadership over the previous week and a half.
'This is not just a flood event here in the Northern Rivers. The Northern Rivers is very used to flood events. There have been many flood events and people in the Northern Rivers have prepared for flood events. Had this been a flood event then I don't suspect we will be looking at anything like the impact that we are now looking here at here.
'This is a major catastrophe of a natural disaster at national proportions, like other such catastrophic natural disasters that I've seen, frankly as Prime Minister in too many places around this country over the last three and a half years.
'But what I've seen in every room like this that I've walked into, in those situations, is a dedication, a selflessness, a resolve, a calmness; as you just work methodically through the things that you're trained to do, that you understand how to do. You do it with great compassion and at the same time with a real professionalism.'
After speaking about the ADF, Scott Morrison said, 'The feelings or raw emotions are understandably real. And we must continue to work as we have been and as quickly as we possibly can help people regain that confidence to get that sense of confidence about the future and to start rebuilding and recovering their lives as they do that.
'So there's a lot to do, and I thank you for everything you've done up until now. And my sympathies to all those who've had direct loss suffered through these terrible floods. Yet here you are. That is one of the great things about this country.'
But wait, there's more
A little later, there was a more formal press conference in another part of the building.
Kevin Hogan opened proceedings by welcoming the PM and the Minister for Emergency Services, Bridget McKenzie. along with local mayors.
'We've had some great visits today with farmers in our region, with householders in South Lismore, and we went to a number of small businesses in the region as well,' said Mr Hogan. 'As you know, it's been an unprecedented natural disaster. We are not saying this is a flood. This has gone beyond a flood.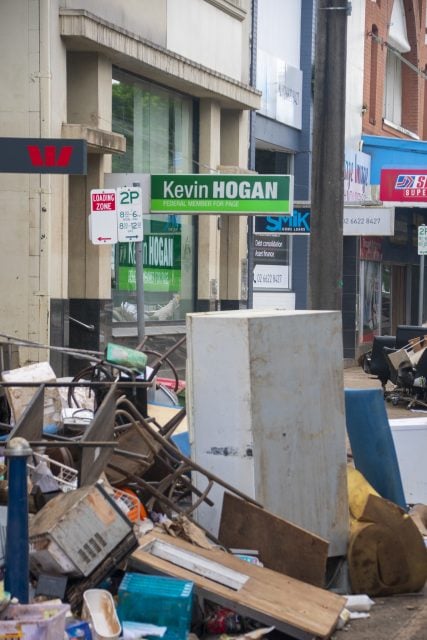 'We know how to deal with floods, in Lismore and the Richmond Valley and elsewhere, but this was a natural disaster of unprecedented destruction… I do want to make the very important point that these announcements today are not the end.
'This is going to be not a week or a month, this is going to be a multi-year journey for this community and we are aware that we have issues like homelessness, rebuilds and flood mitigation that we need to deal with,' said Mr Hogan.
'We are hurting and we are hurting bad. And this today is about getting everyone on the same page…
'So our communities have faith in that they will they will reinvest and they will stay to live and thrive in this community.'
Scott Morrison began by talking about the preceding disaster in Queensland. 'While I was still there in Brisbane, that event was already unfolding here as the rain was pouring down, particularly on that Sunday night, which was the most devastating night here in the Northern Rivers that has ever been seen, when it comes to a flood event.
'There is no flood event that has occurred in this part of Australia like this in any one's living or recorded memory. And that is a profound statement… Here in the Northern Rivers people prepare for floods. And in the Northern Rivers here people prepared for a flood event on this occasion.
'Whether it was where they move their dairy herd to, whether it was how they shift their stock and their supplies up to a higher shelves or move things from downstairs up to upstairs expecting what the flood heights might be.
'But that's not what happened. It overwhelmed everything. And it did it in an alarming and disturbing pace. And so that is the national catastrophe that we're now dealing with here,' said Mr Morrison.
Money
The Prime Minister said, 'Right across New South Wales and Queensland, the Commonwealth government together with the Queensland state governments have committed a billion dollars and that is for the normal flood event response at a very severe end called Cat C and cat D funding.
'And that involves providing grant support delivered through the state government to small businesses about $50,000 up to $75,000 for primary producers. This is the high end of the normal Cat C and D response that we provide in response to natural disasters such as this, that will not be enough here in the Northern Rivers…
'We know very clearly that what we're seeing here, particularly in Clarence Valley, Richmond Valley and Lismore is on a whole other scale to the floods being experienced in other parts of the country. as bad as they are… and Kevin is absolutely right. You have to see it. You have to smell it. You have to feel it. And most importantly you have to feel the incredible emotion.
'I stood in a dairy farm today that they have worked on for about 30 years… And today that milking shed is a disaster zone. They no longer have a farm.'
Back to Lismore
'This is a tough town and they've responded in an incredible way in compassion towards one another. So the Commonwealth has responded with a billion dollars in what would call the expected normal response to a natural disaster. But we must go further.
'The Commonwealth disaster payments that we've paid around the country now total, some $385 million that's money already. Paid by the Commonwealth 100% directly in the people's bank accounts. And that's some 330,000 claims that has been done in one week. And that will continue as those claims continue to come forward.
'But in the first instance in the Council areas of Richmond Valley Lismore and Clarence Valley, we will be extending those Commonwealth disaster payments for a further two payments. So those who have already received that $1,000 payment or $400 for their children for each and every child automatically from the 15th and the end the 22nd of this month, they will receive exactly the same payment again into their bank accounts.
'On average, those who have received payments on each claim are pulling in about $2,300 to $2,400 in those Commonwealth disaster payments… For those with more children, obviously the payments are higher… That's on top of what is already the $16.5 million that has already been paid. So that's $50 million directly going into the pockets of those most affected in just three council areas.
'The national recovery and resilience agency will be assessing whether that will be extended to any other council areas in this what we call this high impact zone, this high catastrophe Impact Zone and they will make further assessments and the minister will make announcements subsequently as to how we might do that.
'In addition, I'm announcing today that we will be providing together with the New South Wales Government… a bespoke business support package. We are identifying and be working with the local councils to identify what I'd call other anchor businesses that are so critical to the future of the Northern Rivers economy. To help them get back on their feet and ensure we're providing tailored economic business support…
'In addition, there'll be $10 million of support for mental health of school aged children in the Northern Rivers. There's some five and a half million dollars to boost existing legal assistance services, which will be matched by the state government for operating within affected communities.
'There's a lot of legal support you need to go through when you're dealing with a disaster such as this and we'll be providing that support this $25 million additional to the emergency relief and food relief and financial counselling services.
'These supports going over the entire New South Wales and Queensland flood affected areas. There's $31.2 million to deliver immediate longer term mental health support services in for individuals, families, and communities.
'There are other measures that are set out in the statement which I won't go into detail about the point is economic support, mental health support, helping businesses get back up on their feet, providing that immediate cash flow assistance right now over the next few weeks.
'Why are we doing that? We're doing that to give the breathing space so people can have the confidence that tomorrow morning they'll be able to put food on the table in those most affected areas. They'll be able to put petrol in the car if they indeed have a car, or they'll be able to make some other arrangement and they won't be completely devoid of economic resources to do those things over the next couple of weeks.
'Over the next couple of weeks that will enable the federal government the state government to put in more sustainable arrangements for income support for business support to see those grants processes following the national recovery allowance, the disaster recovery allowance which is a 13 week payment for those who actually can't work because work is not there, or they can't get to work because they're cut off that payments already in place now, and we'll be looking at its adequacy over a longer term period,' said Scott Morrison.
Flood mitigation
'We've also got to give people hope about the future of the Northern Rivers now,' said the Prime Minister. 'We need to get this sorted. We need to ensure that once we can finalise the works that need to be done as part of managing the flood mitigation impacts here in the Northern Rivers get done…
'People knowing what needs to be done for a long time that needs to be driven by the local decisions here by the council. If further hydrology work is required, then we will support that with additional funding to get that completed…
'And I can give you an absolute commitment on behalf of my government, that we will fund those works together with the state and government and the local government to ensure that people can have confidence about rebuilding here in the Northern Rivers.'
The PM announced his intention to recommend to the government a general and national emergency declaration covering the severe weather and flooding events across both New South Wales and Queensland 'to ensure all our emergency powers available and that we cut through any red tape that might be faced'.
The press conference closed with a flurry of questions from media, with the elephant in the room making a brief appearance at the very end of the event, when Mr Morrison batted away a question about net zero emissions, saying Australia was doing better than other countries.
With that, Scomo picked up his papers and left the lectern, without providing any opportunity for further awkward questions.