'They' say the little things mean a lot. 'They' are right.
There are smaller towns in the Northern Rivers that aren't Lismore and that aren't Murwillumbah. Towns like Mullumbimby are starting to feel like a poor cousin when it comes to help post floods.
But there are towns even smaller than Mullum that are so used to doing it for themselves that they are really good at it. Yet, many smaller towns in the region are really struggling.
Where is the Corndale Hall? It was there and now it's not, but unless you live in Corndale, or had a smashing wedding there, you wouldn't know it. It's an important venue for this small village.
Wardell is just starting to come out of the shadows of its Lismore cuzzo, but it took a fair bit of imagery for people to know who and where they are.
Just another small town?
The Channon is another small town that knows how to look after itself. Within just a couple of days, The Channon Hall had become a centre of rescue and recovery activity.
Annie Kia says she didn't realize how big the disaster was because like so many in the area, her phone was cut off. 'Then  I found out what was going on and that Robyn (Kelly) was organizing things.
'When I arrived I found that she had already collaborated with some terrific people from Dunoon who came to help. They had set up an emergency centre in the school and Rob Gatt was doing intelligence on the roads and liaising with the engineers to come and assess the situation so that they were logged.'
'Then Robyn asked me to figure out a way of knowing who was on these roads so that we could get food and supplies to them. And because they were cut off beyond Branch Creek, on Terania Creek Road and Wallace road had the big slip.'
A mud map on butcher's paper
Ms Kia says they drew a mud map on butcher's paper. 'We didn't have any communications. Nobody here had phone service or the internet. It was very difficult without roads that you could use.
'We crowdsourced information about houses and how many people were on the roads, and then we kind of clustered them and were able to organize some point people for each cluster. Then we put together a very big food drop on Terania Creek Road, we got them to the point where people who had four-wheel drives could drive these bundles to the homes.'
Ms Kia says that initially they looking after 205 people on Terania Creek Road and 72 people on Wallace Road.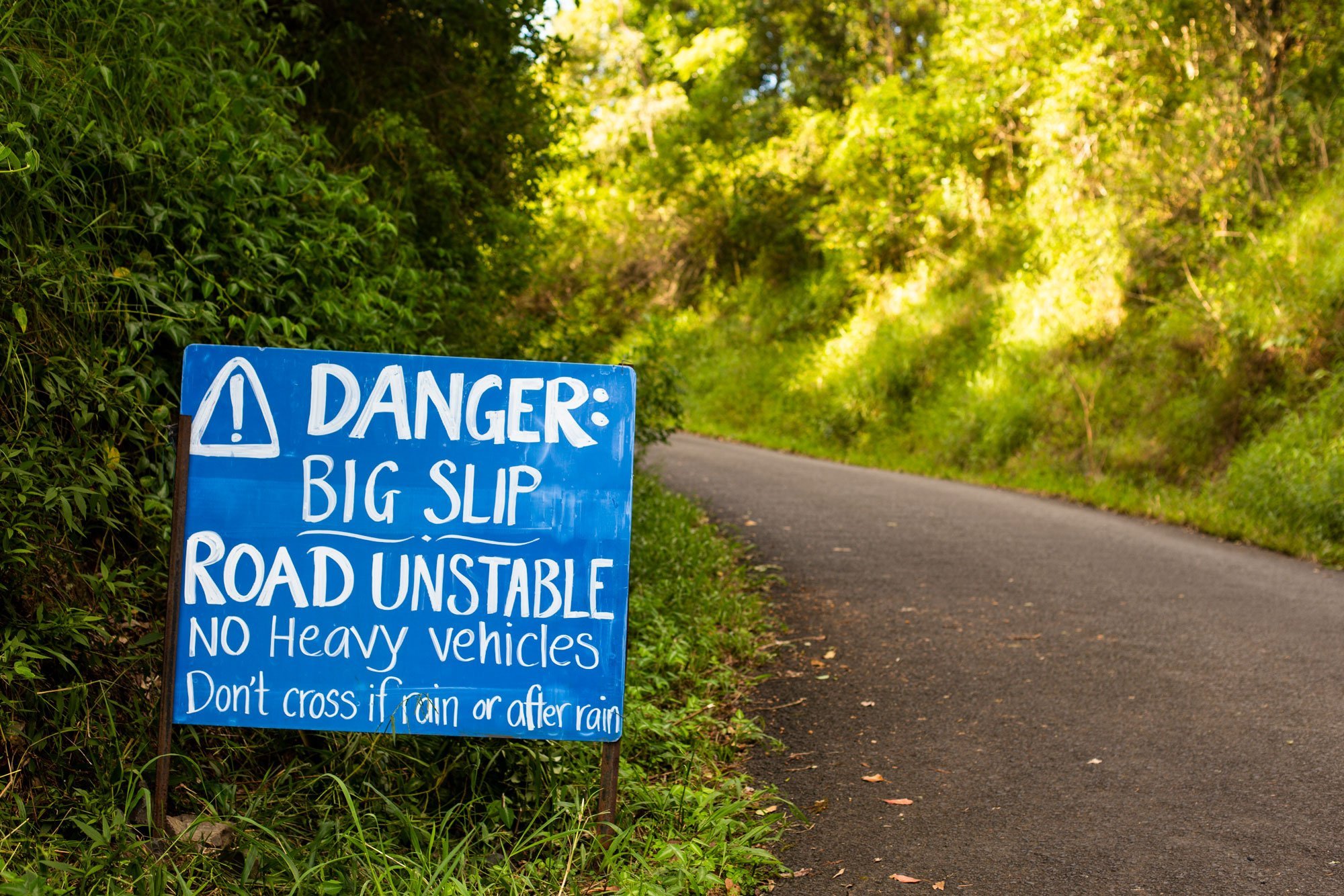 The group also made up safety signs for road verges
'Wallace Road is considered unstable. Work has been done on it and it's better than it was, but it's still considered it could be unstable, especially in rain. So we've made up some signs.'
Impressing the pros
Ms Kia says that even the professionals were impressed. 'We had two army officers come out – they were reservists. They were very impressed with our setup here.'
The set-up is like a war room – tables of supplies, charts covered with names and addresses and a list of priority residents.
Annie Kia says it's not just homes and families that need the roads fixed. 'Terania Creek Road is an essential road for tourism, which is a major industry in the region. People come from all over to go to Protesters Falls. We need access.'
For many small villages, the clean-up and recovery will take many months if not years – and the locals will keep plugging away. Many residents are still all but stranded at The Channon and the community is enfolding them with as much love and support as they can.
A shout out
The Echo asked its Facebook audience of flood-affected readers what town they were from if they were outside the big centres that were in the media. The list is long.
Uki
Larnook
South Golden Beach
Stony Chute
Mount Burrell
Bora Ridge
Ocean Shores
Byrril Creek
Billinudgel
Tumbulgum
Cawongla
Burringbar
Bungawalbin
Tyalgum
Eureka
Dorroughby
Cabbage Tree Island
Casino
Stokers Siding
Upper Burringbar
Brunswick Heads
Tuntable Falls
Woodburn
Coraki
New Brighton
Durrumbul
Lennox Head
Wilson's Creek
Goonengerry
Tyagarah
Whian Whian
Upper Main Arm
Broadwater
Bexhill
Eltham
Rock Valley
If you have a photo from your town and 100-200 words we'd love the publish them.