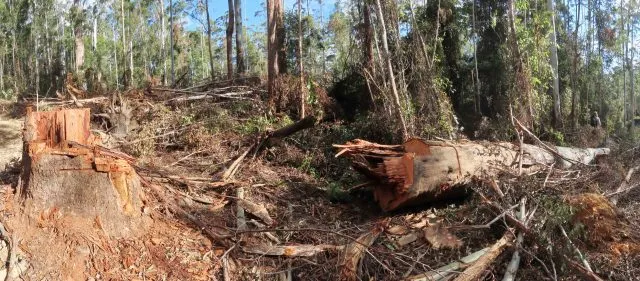 Yesterday NSW Forestry Corporation was fined $135,600 fine for destroying high use koala habitat on the NSW North Coast, dating back to 2018, and then ordered to pay $150,000 of the Environment Protection Authority's (EPA) legal costs.
The total cost of the government logging company's wrongdoing came to $285,600. The fine was a result of logging in high-use koala exclusion zones including rainforest and a rainforest buffer in Wild Cattle Creek Forest near Coffs Harbour since 2018.
Nature Conservation Council Chief Executive Chris Gambian, Independent NSW MLC Justin Field, and the North East Forest Alliance (NEFA) all welcomed the decision but pointed out that the fines will never replace the critical koala habitat destroyed by Forestry Corporation.
Fines, no matter how large, can never replace critical koala habitat destroyed by Forestry Corporation.  
EPA Executive Director Regulatory Operations Carmen Dwyer said the prosecution sent a clear message to the forestry industry and operators.  
'All forestry operators have a responsibility to protect the environment and comply with the law when carrying out tree harvesting activities,' Ms Dwyer said.
'Breaches of the forestry laws will be investigated and those responsible will be held to account.'
Review needed
'Regrettably, today's fine is another instance of destructive and unlawful behaviour by a company entrusted with managing two million hectares of forest,' said Mr Gambian.   
'This is not an isolated instance – Forestry Corporation is a repeat offender, with six major breaches successfully prosecuted since April 2020 [See end of article for instances]. In March 2021, the EPA had 16 live investigations into alleged breaches by Forestry Corporation and its contractors.
'The government must establish a comprehensive independent review of Forestry Corporation to ensure it acts lawfully and sustainably. There is little evidence the corporation is meeting these basic standards under the existing arrangements.'
Dalian Pugh from NEFA said 'The Forestry Corporation have got away for too long flouting the logging rules, so it is past-time that they were prosecuted for one example of their illegal activities in north-east NSW's public forests'.
Reinstate pre-logging surveys
In light of Justice Robson's finding that the removal of four feed trees and construction of logging tracks within a Koala High Use Area would result in actual harm to koalas NEFA are calling for the reinstatement of the requirement of pre-logging surveys and Koala High Use Areas to be excluded from logging.
In his judgment Justice Robson states:
'I find beyond reasonable doubt that the felling of the large Eucalyptus trees and the construction or operation of snig tracks were highly likely to have had an adverse impact by reducing the size and the quality of the habitat available to the breeding female and offspring. As such, I accept the position adopted by the prosecutor and find that there has been actual harm.'
'… I accept Dr Crowther's evidence that the harm is related to the size of the removed trees, their significance for food and shelter, and the fact that koalas often revisit trees within their home range'.
'Soon after these offences occurred the logging rules were changed to remove the need to identify Koala High Use Areas, and instead allow them to be logged indiscriminately with at best the retention of 5 or 10 small koala feed trees per hectare,' said Mr Pugh.
'Now if the Forestry Corporation see a koala in a tree, including with a joey, they just have to wait for it to leave before cutting it's tree down. To log the highest quality koala habitat is no longer an offence so the Forestry Corporation can continue to cause actual harm to Koalas unchecked.
'The evidence is clear that koala habitat must be protected from logging, the Ministers for Forestry and Environment must immediately restore the need to look before they log and protect Koala High Use Areas.'
Logging increases fire risk
During his judgment Justice Robson accepted that the impact of logging increased fire risks stating that:
'I find in accordance with Dr Kooyman's evidence that the exclusion zone was dominated by warm temperate rainforest (as Mr Peake conceded), and I consider that the removal of the two trees and the disturbance of an area at least of 120m² resulted in ecological impacts and environmental harm. I accept Dr Kooyman's evidence that this would have a deleterious effect on the rainforest in that it causes disruption, opens the edges of the forest, causes changes in microclimates and causes drying, which exacerbates the potential for bushfire penetration into the warm temperate rainforest (Bentley at [174]-[175]).'
Mr Pugh highlighted the fact that a third of NSW's rainforests burnt in the 2019–2020 Black Sumer wildfires.
'This finding emphasises the need to exclude logging from wide buffers around all rainforests (not just warm temperate rainforest) to reduce the threat of their being burnt in future fires.
Given the evidence that it "will take centuries rather than decades to recover" we need to urgently protect buffers around all rainforest in this era of rising fire frequencies and intensities,' Mr Pugh said.
End logging in koala habitat
'I welcome the fine after a four-year-long investigation and legal battle, but it will do little for those displaced koalas that have lost their homes, which will take 40, 50 or more years to recover,' pointed out Mr Field. 
'The real story here is why Forestry Corporation is allowed to log in koala habitat at all? 'With the koala officially declared "endangered" last month, and with the Government planning to spend over $100 million in the next decade to purchase or protect koala habitat, why is the Forestry Corporation being allowed to log public land with some of the most important remaining koala habitat in the state?
'Forestry Corporation have plans over the coming months to log substantial areas west and southwest of Coffs Harbour which is known to be some of the most important koala habitat in the region, including areas that form part of the Headwaters Nature Reserve and Great Koala National Park proposals.
'I'm calling on Premier Perrottet and NSW Environment Minister James Griffin to put an end to logging in koala habitat now. Any koala conservation efforts in the NSW Government's $193 million Koala Strategy are undermined while Forestry Corporation, a state-owned corporation, is allowed to log these important areas,' Mr Field said.
Recent Forestry Corporation NSW fines: 
May 2022 — $138,000 – Wild Cattle Creek State Forest 
Apr 2022 — $45,000 — Mogo State Forest  
Feb 2021 — $15,000 — Olney State Forest  
Feb 2021 — $30,000 — Ballengarra State Forest  
Mar 2021 — $33,000 — Boyne, Bodalla and Mogo State Forest  
Apr 2020 — $31,100 — Tantawangalo and Bago State Forest