NSW Labor leader Chris Minns has promised concerned parents, teachers, and the community that if Labor win the next election they will not follow through with the mega-school merger that is currently underway in Murwillumbah when he addressed a public meeting in Murwillumbah on Monday evening.
The merger of the two Murwillumbah primary schools Murwillumbah East Public School (MEPS) and Murwillumbah Public School along with the two high schools Wollumbin High School and Murwillumbah High School (MHS) at the current MHS site was announced late October 2020 but has since met with significant community opposition.
At the meeting Marty Wheatley said that it had been the fact that MHS had grown to 1,300 students that had led to Wollumbin High School being established 20 years ago. 
'What are the benefits of merging these schools together?' asked Mr Wheatley.
'There are none.'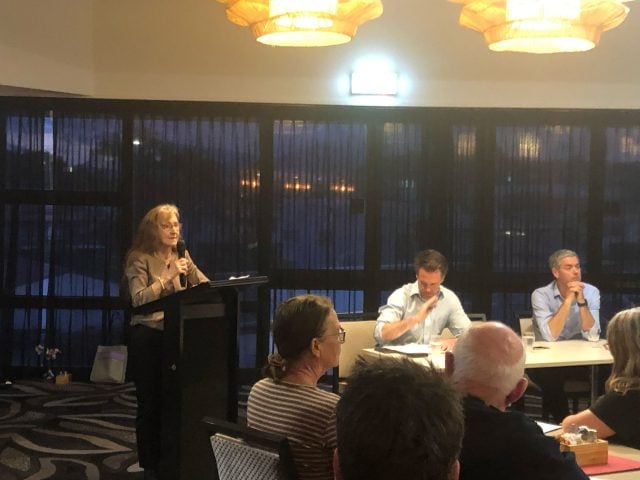 Local Member for Lismore Janelle Saffin told The Echo that she had gone to the Minister of Education when the merger was first proposed and said 'if you can show me the beneficial educational outcomes of the merger then I'll work with you' but they have yet to demonstrate that.
Parents and school representatives, including  Murwillumbah East Public School (MEPS) P&C President Kylie Rose, outlined the failings of the merger highlighting the fact that there would be less class rooms, less green space, loss of sporting fields, less teachers, support teachers and admin staff, less parking etc. 
'What we were being sold was an upgrade, but what we were really sold is a downgrade,' said Ms Rose. 
Life long local Phil Taylor who is a former local bus driver said that 30 years ago the congestion of accessing the MHS site was a massive problem and said that he'd 'never heard anything so stupid as these plans.'
'There will be 140 teachers turning up with only 50 car parks on the site' said Mr Wheatley pointing out another failure of the current development plan for the new mega-school site. 
Lack of options 
Mr Minns and parents highlighted the importance of options for children to move schools if a school and culture didn't suit a student with Mr Minns highlighting that he had 25 schools in his electorate that provided a range of choice to students depending on their educational requirements and preferences. 
'There needs to be parity and equity when it comes to educational facilities,' said Mr Minns. 
'I'm really concerned that the government haven't come back to the table and discussed the benefits of the amalgamation.'
Sam Dawson, Coordinator of the Caldera Environment Centre, who is an alumni of Wollumbin High School said that Wollumbin had been started because there were too many students at MHS. 
'I'm outraged by this decision to merge the schools and at the complete lack of consultation with parents, lack of communication and the short time frames to join reference groups and steering committees. This has been really poorly handled consultation,' he said. 
Doing it differently 
Responding to a question on how they will manage the future of the schools Saffin and Minns both committed to community consultation on the schools and how they would move forward to provide the most effective education for students in the future if Labor wins government. 
'I would want to host an education forum with broad representation,' Saffin told the meeting. 
'What you are saying is that you want to be consulted and engaged and that is not what is happening with the current school merger.'
Mr Minns agreed saying that 'public education reference groups would be the type of  group we would consult with'.