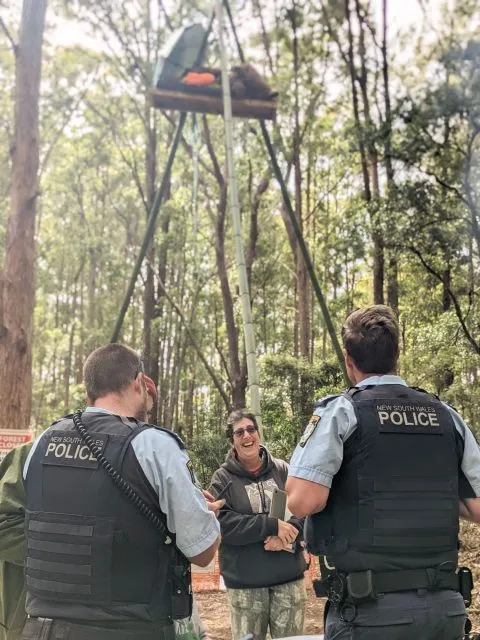 Locals from the Bulga Plateau have vowed to resist attempts by what they say is the State-owned logging corporation's carnage in Bulga State Forest, and to that end this morning they blocked access to the logging zone.
At the time of writing, NSW Police have arrived at the blockade and there are discussions underway about safe removal of tripod – the protestor has been up on the tripod's platform since dawn.
Long-time local forest campaigner Susie Russell, who was also the creator of the Trees Not Bombs café in post-flood Lismore, said the logging is totally unsustainable. 'Logging has been systematically eating away at this special place for decades. 
'The community of NSW, the real owner of these forests, is the poorer. We lose the diversity of plants and animals that should be living here and that haven't recovered from the 2019/20 fires.
Ms Russell said are, which is at the very top of the Hastings catchment will see the community lose the huge volume of stored carbon in the trees and the soil. 'This at a time we need to stop emissions. We lose the integrity of the upper catchment, which as we face wild weather and extreme rainfall is key to slowing floods.
'We lose the cultural heritage value. This area is on the walking track used by First Nations peoples for thousands of years as they moved between the western plains and the coast. In those days it was shaded by giant trees on either side and clean spring water was plentiful just below the ridge. The trees being left now are barely more than saplings.
Ms Russell said the Secretary General of the United Nations is urging the world to strong action to both defend nature and stop emissions. 'Protecting our largest, oldest trees is absolutely critical, now more than ever.
'If Dom Perrotet won't stand up to the National Party cabal that make the resource decisions in NSW, we will.
'It's time for ordinary people, all of us to #StandUp4Forests and #SaveBulgaForest.'