I have often wondered why the acronym NIMBY (Not In My Back Yard) is used as a term of abuse.
Humans have evolved for the last two million years deeply embedded in their natural surroundings. We must have known from the start that we were a part of nature and couldn't be separated from it.
We haven't changed. That is why someone living in a high-rise apartment in a big city has a pot of parsley on the balcony, a picture of a flower, and a budgie. When we ask people when they are happiest, they nearly always say 'When I am in a natural place that I love'.
Caring about our surroundings is built into us. We have always worked together to protect whatever landscape we inhabit because it sustains us and our group (call it community). 
We have always been required to look after our backyard. Those who were disconnected from land and nature perished.
No shame in that, just pride
We are all NIMBYs − there is no shame in that, just pride.
For this reason, I am grateful for living in the Northern Rivers. This community seems to understand, largely, that natural places don't stay safe – they need to be fought for. And, as Red Gum said, 'If you don't fight you lose'.
We battled to save our backyards from fire in 2019/2020, working together to protect people and forests. Most fire-affected folks helped other people in neighbouring communities to save their fire-threatened backyards.
In March 2022 we leapt into dealing with major flooding and landscape collapse in all of our backyards, quickly organising community rescue, emergency accommodation, food relief, transport, repairs, emotional care and support of every kind.
Everyone I have spoken to since these two disasters has been involved in some way in helping people with rescue and recovery, and restoring farms, forests and waterways.
Terania Creek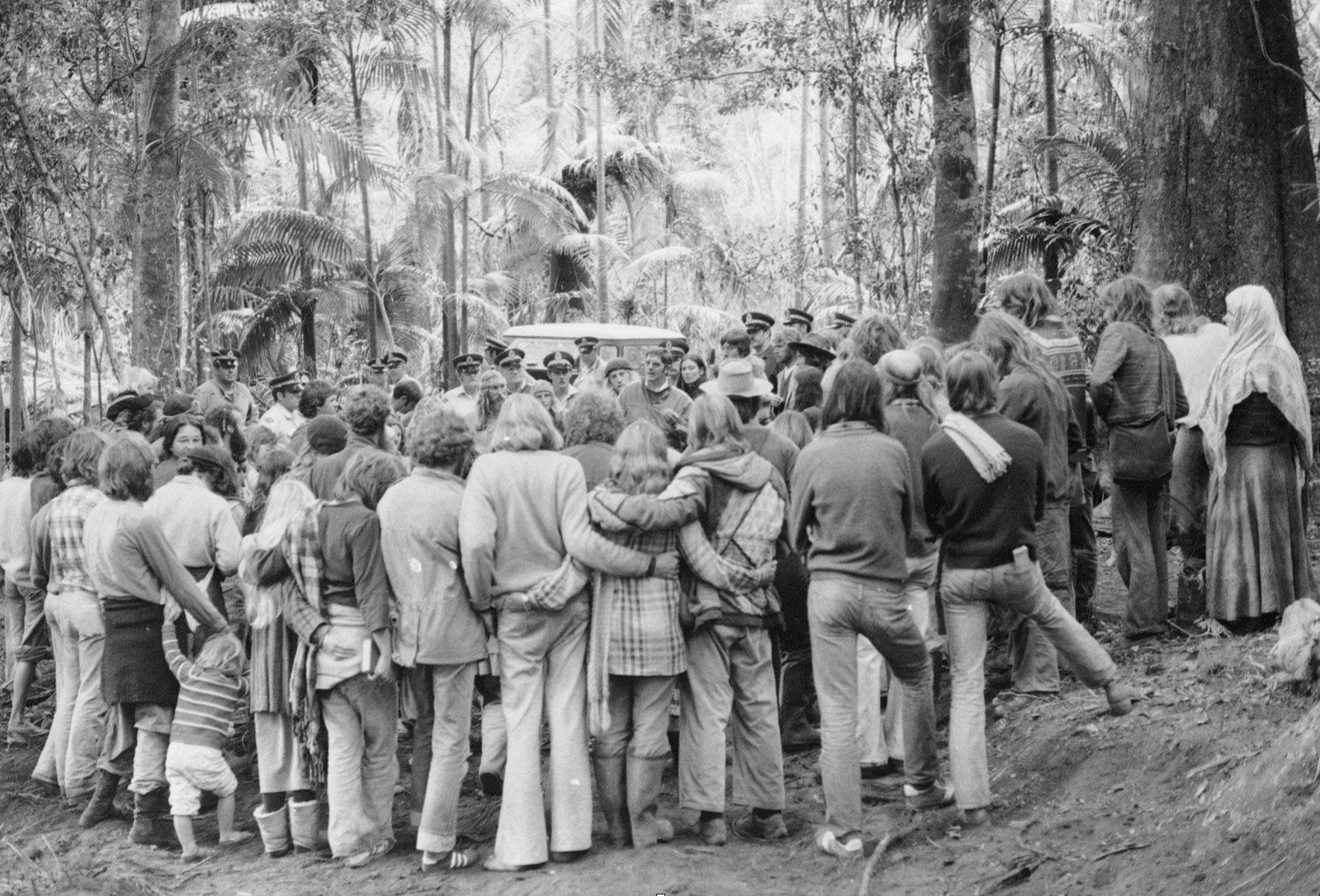 Back in 1974, the Northern Rivers was in the lead in the defence of nature, teaming up with First Nations people to save local forests, starting with the rainforest at Terania Creek, in the Nightcap Range.
This resulted in the declaration of the Nightcap National Park in 1983, and finally in the protection of 120,000 ha of our most important rainforests and old-growth forests across NSW in 1982.
Bentley and beyond
In 2012, the Northern Rivers initiated the Gasfield-free Communities movement that succeeded in booting the destructive gas industry out of our region in 2014.
We organised, educated ourselves, and trained in non-violent resistance against an industry that threatened everyone. We then shared our method with other communities across Australia to help them defy the gas industry.
Now the Northern Rivers is resisting the proposed Dunoon Dam, a disastrous, uneconomic project which cannot protect us against droughts or floods and which would cause the destruction of Widjabul Wia-bal heritage, a rainforest Endangered Ecological Community and critical koala and platypus habitat. It would inflict further damage on a river system that is already at risk and which cannot afford further degradation.
The defence of nature and of First Nations rights
Local citizens have been able to demonstrate that they won't let up in the defence of nature and of First Nations rights.
All of these battles started small and then enlarged their scope. The backyard grew. The people ignored political boundaries and worked hard to protect each other and the land. These were great NIMBY efforts all round.
In the end, the whole planet is our backyard, and it is in more trouble than ever before. We need more NIMBYs, not less, especially those who realise that they are fighting for everyone's backyard. I guess we could call them NIABYs: Not In Anyone's Back Yard.
As a proud NIMBY/NIABY, I intend to keep working with others to get us onto the war footing required to tackle the really big issues threatening us all: global heating and climate chaos, both driven by a perverse, self-destructive fantasy of growth without limit.
Welcome to any new NIMBY/NIABY who wants to help. There is no time to lose and no shortage of issues that you can get stuck into.
When anyone accuses you of being 'just a NIMBY', you can simply respond: 'What?! You mean you don't look after your backyard?!'