Headlining Newcastle Surfest are Gold Coast duo Joel Parkinson, 2012 ASP world champion and reigning Burton Toyota Pro champion and five-times ASP women's world champion Stephanie Gilmore, but it was Codie Klein from Kingscliff who yesterday set the ball rolling.
Klein surfed a brilliant Round 1 Heat 5 at the Hunter Ports Women's Classic.
Klein scored the morning's two highest scoring rides, an outstanding 9.33, and backed it up with an excellent 8.43 to comprehensively thrash her opponents with Tia Blanco (USA) advancing also in second place.
The event's international field of competitors features Wiggolly Dantas (BRA), Granger Larson (HAW), Dane Reynolds (USA), Marc Lacomare (FRA), Alana Blanchard (HAW), Bianca Buitendag (ZAF) and many more of the top surfers in the world who are looking to get off to an early lead on the 2014 ASP Qualifying Series.
Yesterday the event ran through another long day of competition to take full advantage of the pulsing five-to-six-foot surf on offer. The opening Round of the Hunter Ports Women's Classic was completed as well as the first 18 heats of Round 2 of the Burton Toyota Pro, as competitors fought hard for the valuable ASP 6-Star Qualifying Series ranking's points that are on offer.
Parkinson, who is the defending event champion, survived a last-second scare in his opening heat at Surfest during the morning morning. The high tide conditions saw the surfers struggle to post big scores and Parkinson uncharacteristically finished the heat in second place behind fellow Gold Coaster Brent Dorrington and only 0.14 ahead of third-placed Ty Watson (South Coast, NSW).
'It's good to dust the cobwebs off. I haven't surfed a heat for a couple of months,' said Parkinson. 'You're only as good as your last result and I pretty much got smoked by Brenno (Brent Dorrington) in that one.
'Hopefully he can keep going through the draw and I can go with him. I love this event; of all the events that I did last year Surfest was one of the best, not only because I won, but because of that great day of surfing we had in the harbour. It's moments like that that I love about surfing events, and it's people like Warren Smith and Burton Toyota that will keep me coming back to Surfest.'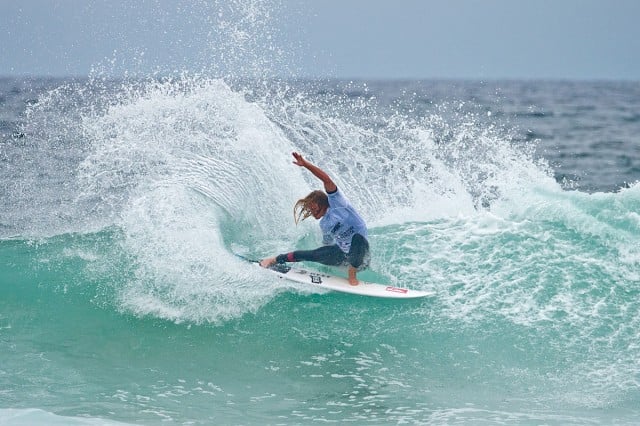 Jake Sylvester (Merewether) had his hometown crowd on their feet when he took out his heat at the Burton Toyota Pro yesterday.
Sylvester perfectly positioned himself to catch some of the best waves in the heat, but that is only half the job. Once on the waves he left nothing to chance, carving and tearing the waves apart to finish with a two-wave heat total of 15.40 (out of a possible 20).
Sylvester finished ahead of Evan Geiselman (USA) who advanced in second position, while Fredrick Patacchia (HAW) and Kanoa Igarashi (USA) were eliminated in third and fourth.
'I couldn't really hear the scores, but I could hear all the boys cheering at the end of my waves,' said Sylvester. 'I have surfed this place pretty much every day of my life, so it's good to be out there knowing where to sit and what waves to catch.
'It was great to be up against Kanoa (Igarashi) again. I surfed against him in the final of the Pro Junior at Surfest last year, it's great to see him back in Newey.
'Then to also be up against guys like Freddy Patacchia and Evan Geiselman is unreal. It's cool to be out in the water with them and give them a run for their money.'
Granger Larsen (HAW) posted a monster 9.60 (out of a possible 10) when he stroked into a nice looking wave and then unloaded two beautifully destructive turns, winning the heat and advancing into the next round with Cahill Bell-Warren (Torquay, VIC/AUS) also advancing in second position.
'When I heard my score I was surprised,' said Larson. 'They gave me a nine I was so stoked! Cahill (Bell-Warren) got a really good wave before me and that made me nervous, then I caught the wave behind and it was super clean. My first turn was a normal snap and the wave tweaked me a little and I was in perfect position for the second turn.
'It was this big wall and I think I threw a bunch of spray and that's what the judges like. I hope the waves hold up here and I can make a run at it.'
For more information, live webcast and photos log on to www.surfest.com.