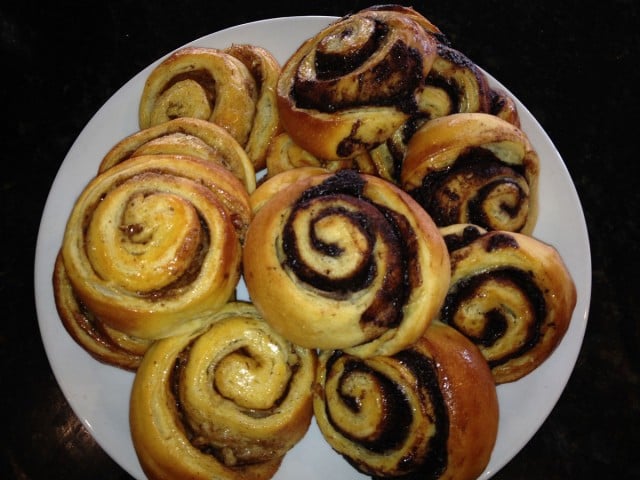 Zohar Flantz and his family are the new owners of Luscious Foods in the Byron Arts and Industry Estate. His culture welcomes visitors with hospitality and generosity, and he wants to be known for his excellent wood-fired pizzas as well as the freshness of his Middle-Eastern cuisine.
How do you start your day in the restaurant?
Every day the hummus is made here, every day the felafel is made fresh; the mix is done on the spot. This is the way that I grew up, making it all myself in the morning. If you come in the morning you'll see us making the pizza base, making the babka cakes. Babka is a unique eastern European half-brioche, half-croissant cake, and as soon as they come out of the oven, they're often gone.
How would you describe your restaurant?
I think we have a warm family feel; my wife Tali works in the business (and on me!) a couple of days a week; even my young children like to come in and help with the pizza dough. It's a tradition to be very welcoming in Israel – the doors are always open and as soon as you come in, straightaway you are offered food with hospitality and generosity; that's something that we believe is a cultural thing.
If you are looking for Middle-Eastern flavours or wood-fired pizzas, this is the place. We are specialising in that. We have an oasis in the industrial estate! Our outdoor garden courtyard has a bit of that Middle-Eastern look already with a cushion-covered area and we want to improve that.
How did you come to live here, Zohar? 
I moved to Byron Shire 14 years ago after spending eight years on the Sunshine Coast. I have always been attracted to this beautiful area and when my parents and my brother's family moved to this shire it all fell into place.
In 2002 I started my first business (Energetic Greens) with my sister-in-law growing organic sprouts for seven years. Then I began my food career, as food was always one of my biggest passions. In the past five years I have been involved with markets and festivals as a food vendor. Now we are also offering a professional catering service for all functions. We have done some amazing Middle-Eastern themes for our catering – it's great for a unique celebration.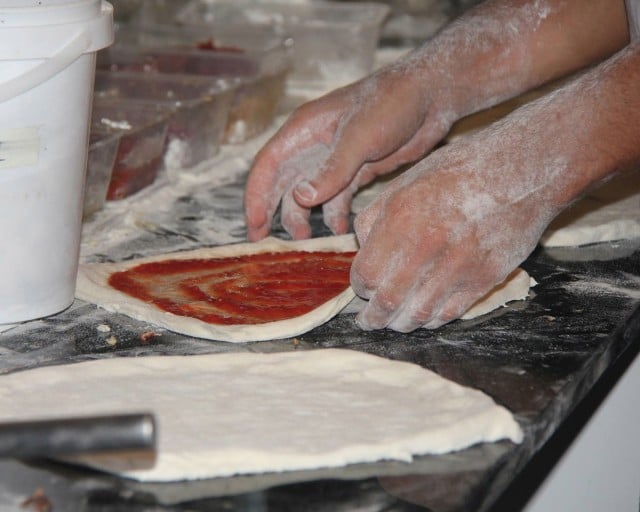 Do you cater for gluten-intolerant diners?
You can get gluten-free wraps; my wife is gluten intolerant so I can't have a kitchen that doesn't cater to her! Usually tabouli comes with cracked wheat, but making it with quinoa is an innovation I made, and I think it's a bit healthier.
Who/what is your greatest influence?
Growing up in Israel exposed me to abundance of authentic cuisines: Moroccan, Yamani, Iraqi, Persian, Lebanese, Egyptian – all packed with unique flavours. I'm influenced by the food from the homes of my mum's friends, the street food, my father-in-law's Persian kitchen and the wood-fired bakeries.
What advice have you been given that has served you well in the kitchen?
The order in which the ingredients are combined and a dish is created is of great importance, and of course you have to taste what you make!
What is your most popular dish?
Sabieek is a traditional Iraqi wood-fired pita bread sandwich filled with homemade hummus, tahini, roasted eggplant, free-range hard-boiled egg, spicy pickled mango spread and tabouli.
What is your personal favourite?
Seneeah in a pocket is a Egyptian-style mixture of beef and lamb mincemeat, caramelised onion and pine-nuts with our homemade hummus, tahini, and tabouli salad in a wood-fired pita bread.
Do you have any regular music performances or events at your restaurant?
Live music on Friday nights, mostly acoustic, creating an intimate vibe so people can sit and talk. We use local artists.
What are your opening hours?
7.30–3.30 breakfast & lunch Mon–Fri,
Pizza nights 5.30–8.30 Wednesday–Thursday.
Friday night we offer a full menu and live music 5.30–8.30.
We are BYO.
LUSCIOUS FOODS 1/6 Tasman Way, Byron Arts & Industry Estate. 
Ph: 6680 8228
---
Recent stories tagged Food & Wine: