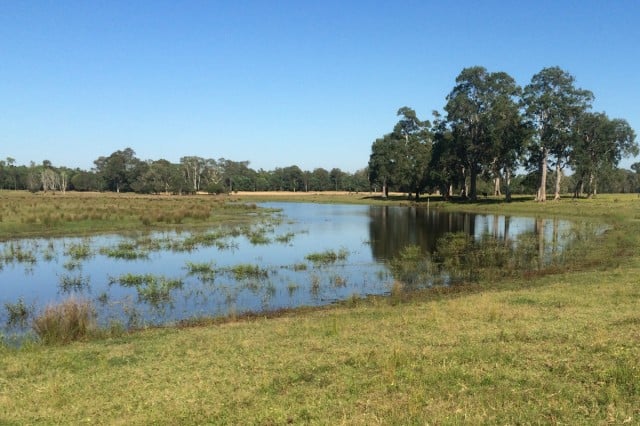 Four farmers on the north coast have put life back into drained swamps on their properties by participating in a Department of Primary Industries (DPI) program that allows them to regulate the amount of water that enters wetland areas.
The so-called 'Go with the Flow' program, which was assisted by funds from the NSW Environmental Trust, is continuing and more farmers in the region are being encouraged to sign up.
DPI fisheries manager, Simon Walsh said the program allows the farmers to continue to use the once dried-out swamps for grazing land, at the same time improving natural wetland conditions on land along the Richmond River.
'Many privately owned artificially drained wetlands along the NSW coast suffer from poor quality thin soils, which produce sulphuric acid when they dry out,' Mr Walsh said.
'The acid from the soil then moves out into the river, where it can directly kill fish and oysters or reduce their ability to thrive.
'Dry swamps also encourage growth of unsuitable plants that decompose quickly once flooded, leading to blackwater events that in recent years have caused fish kills.'
Mr Walsh said as part of the 'Go with the Flow' program, DPI installed simple structures on four properties near Coraki on the Richmond River.
'This gives farmers the opportunity to regulate the amount of freshwater in the swamp to meet their changing needs,' Mr Walsh said.
'In very wet periods, these farmers will now be able to let excess surface water leave the swamp areas, while during dry seasons and droughts they will be able to hold more water in the area.
'By assisting farmers to maintain higher groundwater levels in swamp country, they can encourage the establishment of nutritious native grass species which cattle thrive on.'
Mr Walsh said more water in swamps also has a range of environmental benefits for wildlife and water quality for the catchment.
'Around 300 hectares of wetland area now have higher surface water levels as a result of this program,' Mr Walsh said.
'This has seen significantly improved conditions for water dependent wildlife, including fish, prawns, frogs, insects and waterbirds.'
Landholders with drained swamp country that are interested in participating in the program should contact Simon Walsh on 6626 1256.