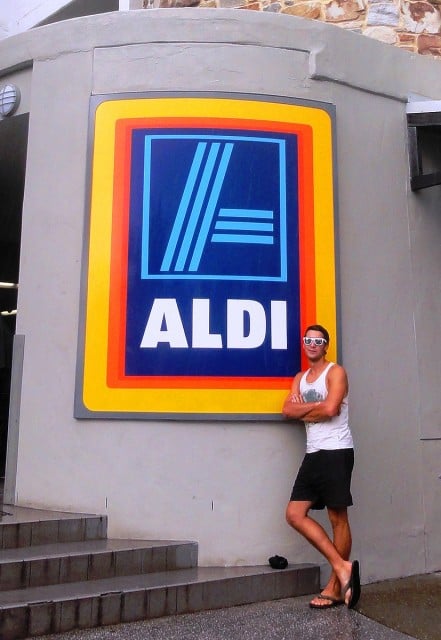 Chris Dobney
Multinational supermarket chain Aldi has moved one step closer to putting liquor on the shelves of its Byron Bay store after lodging an official application with the Independent Liquor and Gaming Authority (ILGA).
While accepting that the licence would be granted in the context of a holiday town that already struggles with the effects of alcohol-fuelled violence, the supermarket's lawyers say the method by which it is sold would ensure that it was mostly locals who would buy the home-branded product.
Hatzis Cusack Lawyers, who describe themselves as 'the liquor and gaming specialists', say the small number of lines (less than 100), the inclusion of the liquor area within a larger supermarket, the lack of refrigerated beverages and limited opening hours would all point to the product's main market being local residents who buy alcohol as part of a larger shopping trip and plan to consume it at home.
Room temperature
And one of the councillors who was instrumental in opposing the supermarket's proposal when alcohol-fuelled violence was rife in the town last year, now says 'Aldi's room-temperature grog I don't think is the issue.'
'In terms of the licence application it is such a tiny blip in a sea of problems that essentially I don't have any objection to what they've applied for and how they've applied for it,' Byron Greens Cr Duncan Dey told Echonetdaily.
'If you look at the way it's been done, with none of it being cold, it would probably be the least offensive licence in the Bay. But I don't think we can depend on Aldi to create social change.'
'And the conditions need to be written into the licence, such as the fact the alcohol would not be cooled.'
Cr Dey says the state's Byron Bay Alcohol Action Plan is 'mute on the subject of alcohol licences'.
'The only alternative to penalising individual applicants would be to consider whether a moratorium should be issued on licences in the town.'
'It all comes back to the state. If the state wanted to make changes to the misbehaviour of people due to alcohol it would look at changing the way it is provided through means like pricing, but that shouldn't be used to penalise one particular application.'
Cr Dey said the biggest factor driving alcohol-related violence in the town 'is not the number of licences but the reputation the town has, which is driven on the back of its nightclubs.'
He added that he believed licensed premises should be 'required to pay for CCTV as a condition of their licence.'