The dawn service for the Anzac Day centenary on Saturday at the Brunswick Heads Cenotaph was marked by a special ceremonial placement of crosses by local primary-school children.
Students from Brunswick Heads, Ocean Shores and The Pocket schools decorated the small crosses and rehearsed for the occasion on Friday, when they had also held a ceremonial watering of the town's historic memorial pine trees in the Terrace Reserve, followed by a tree planting.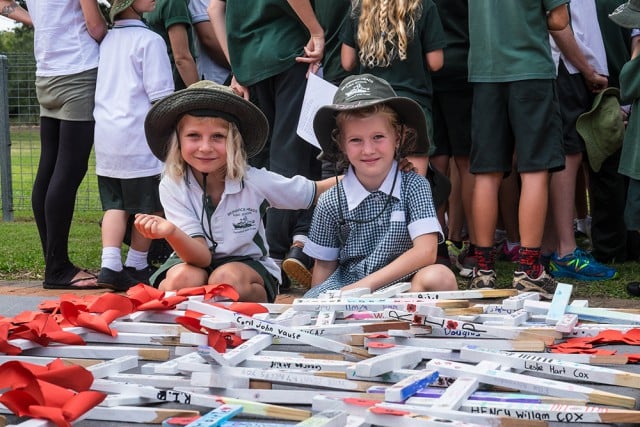 The watering ceremony for the coastal cypress pines at The Terrace was led by one of the original 'water boys', former Brunswick Heads Public School student, 84-year-old D'Arcy O'Meara, who helped water, replant and look after the pine trees as a child.
Mr O'Meara, who travelled from Brisbane for the occasion on Friday, told the students the moving story of the pine trees planted in memory of locals killed in both world wars. (see the whole story at   http://www.savebrunswickforeshore.com /Save_Brunswick_Foreshore/Historical_Significance.html)
His grandchildren were part of the group watering the trees, the first of which were planted 100 years ago.[photo]
Mr O'Meara also spoke about the significance of the Terrace park to both Aboriginal and whites, the middens and the trees' history.
He said that as a young student at the school, he and the other kids were tasked with carrying buckets of water a good distance to keep the young pines growing as a living memorial.
The laying of the crosses at the cenotaph was a community effort, according to president of Mullumbimby Rotary, Helen Carpenter, who told Echonetdaily the club organised for the small white crosses to be made by volunteers from the Mullumbimby Men's Shed and decorated by the schoolchildren.