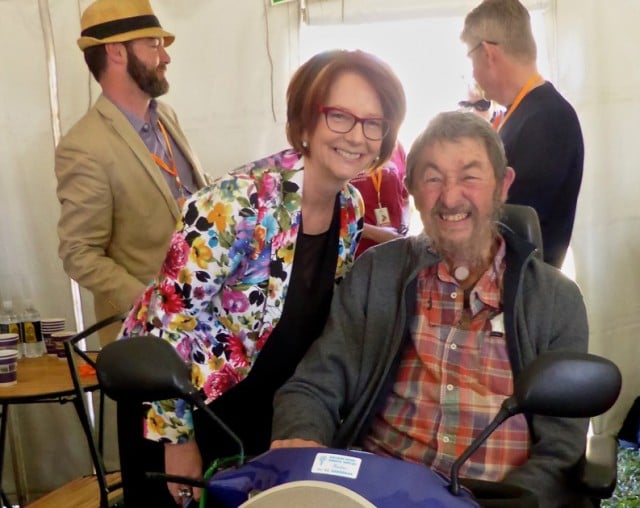 The Byron Bay Writers Festival has been a huge part of political commentator Mungo MacCallum's life since its inception 17 years ago.
Last year ABC presenter (and also a northern rivers local) Kerry O'Brien launched Mungo's latest book, and this year Mungo's cryptic crossword book was on sale at the festival bookshop, keeping his participation intact.
According to Mungo's wife Jenny Garrett, the 'fine purple Zoom Zoom scooter made it possible'.
The scooter was hired for the occasion and gave Mungo, who is slowly on the mend from a laryngectomy and pharyngectomy last year, much independence and mobility, and also front-side seating for the festival.
'Only one tent looked in danger, but the festival organisers made it very easy and no-one was collected, but a few looked anxious,' Jenny quipped.
Mungo moved with ease among friends, fellow authors, pollies and many stopped to thank him for his writing.
'So we thank all involved: Northern Rivers Mobility scooters were terrific after Zoom Zoom missed a beat on Friday morning… they sent a spare and a mechanic immediately; Vicky for taking care of our dogs; and the festival for being so obliging'.
Jenny said the fact that Mungo's voice is being used in very short sentences 'is a wonder'.
Colleagues and admirers say Mungo may be speechless but will never be silenced.
For more writers festival photos, see Jeff Dawson's snaps below.