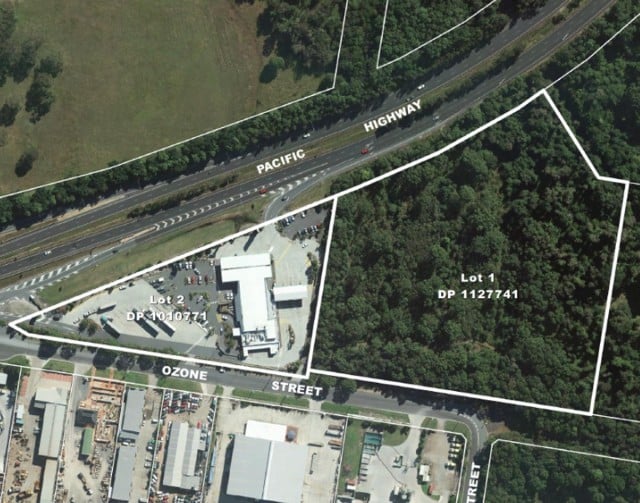 By Luis Feliu
A plan for a major expansion of the 24-hour BP highway service centre at Chinderah has again been rejected by Tweed shire planners who say the company has failed over five years to address concerns about removal of koala habitat and noise impacts on surrounding homes.
A recommended refusal of the $4.5 plan, which involves building an extra 30 truck parking bays, will be considered by Tweed shire councillors next Thursday, at their last meeting before the 29 October council election.
Council's chief planner Vince Connell says the proposed expansion over two lots on the Pacific Highway and Ozone Street, Chinderah, would create 'unacceptable impacts on the natural and built environments' and BP Australia had been given 'more than sufficient time' to address those concerns.
The plan had been recommended for refusal by planners in 2012 and 2014 due to the oil giant's subsidiary failing to address the site-impact concerns, but on both occasions councillors deferred a decision to allow the company more time to respond.
In August this year councillors again decided to call for a further report 'with a more detailed assessment and recommendation for determination'.
But the latest plan, Mr Connell says, also fails to address ecological, traffic and noise impacts despite shire planners trying, since May 2014, to resolve outstanding issues.
And, in an embarrassing blunder, the company provided a traffic-impact report based on Queensland-based guidelines, not NSW rules on traffic-generating development.
Its noise report also falls short, Mr Connell says, because it 'fails to acknowledge' homes closer to the site and 'fails to address noise generated by the braking of trucks on the adjoining motorway when entering the site'.
The noise report was 'largely based on the understanding that the proposal would not generate any additional truck movements entering the site, which is still a point of contention'.
In his report to next week's meeting, Mr Connell said the 'DA for this proposal has now been in council's system for over 5 years' and council had expended an 'extensive amount of staff resources' on it 'without any immediate prospect of resolving outstanding matter'.
The meeting next Thursday will be held in council's administration building in Brett Street, Tweed Heads, from 5pm.
See previous story at https://www.echo.net.au/2015/11/chinderah-highway-servo-set-for-big-expansion/