Hans Lovejoy & staff reporters
Byron Shire Council's new Greens majority has, not surprisingly, rejected two shark net proposals: one from Cr Alan Hunter (National Party) and Cr Paul Spooner (Country Labor) in favour of pursuing non-lethal shark mitigation measures.
After Cr Hunter's attempt to simply ask for nets, Cr Spooner proposed a more detailed plan, which aimed to respond to entangled sea life through alert beacons.
Those four who voted for shark nets were Crs Basil Cameron (Our Sustainable Future), Crs Jan Hackett and Spooner (both Labor) and Cr Hunter.
The vote came despite Neil Cameron, president of Byron Bay Boardriders, telling the gallery in morning access that his club of around 100 members support nets and feared that if nothing was done more lives would be lost.
Community feeling vulnerable
Mayor Simon Richardson said 'The issue of sharks in our ocean has again come to the community forefront following the attack at Broken Head on Monday morning, 24 October 2016. This is the third shark attack in the region in the past month; two having occurred in Ballina Shire.'
'From Byron Shire Council's perspective, frustratingly and disappointingly, to date requests for ongoing state government funding support for shark spotter and gyrocopter programs has not been forthcoming and our community is left feeling vulnerable and unheard,' Cr Richardson said.
'The urgency motion seeks to address community concerns and provide way forward for non-lethal shark mitigation program that provides surveillance, alerts and contributes to shark research.'
The urgency motion passed by Cr Richardson calls for 'non-lethal shark mitigation measures'.
It reads that council will 'liaise with Sea Shepard and Shark Watch Ballina to conduct shark spotting trials at the Pass, Cosy Corner and Broken Head, and to prepare for summer holiday spotting program at Waters.'
The state government will also be asked to 'allow a trial gyrocopter surveillance program for beaches in the Byron shire working in collaboration with surf lifesaving services.'
Drone trials for Byron sire were requested, and if these trials are successful, a 'funding partnership with the state government to establish the program over the summer holiday period.'
Funding for a 'coordinated spotter and drone program' at a 'shark listening station located off Clarkes Beach', was also requested.
But wait – there's more – a meeting was requested with the Department of Primary Industry to discuss non-lethal shark mitigation measures and the mayor, in collaboration with the general manager, have now been authorised to 'negotiate and resource appropriate shark spotting/mitigation measures to ensure that Byron's beaches are as safe as possible for the coming summer season.'
Lastly, staff have been asked to produced a report on 'shark spotting/mitigation measures introduced as a consequence of these initiatives.'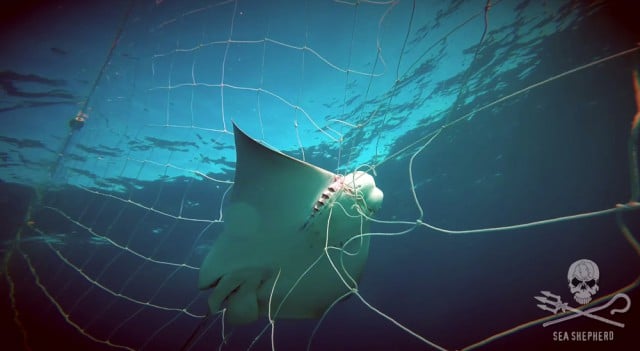 Shark-net trial survey
Meanwhile the NSW Department of Primary Industries (DPI) has invited north coast residents to complete an online survey canvassing community views on a trial of shark nets in the area.
The survey is available on the DPI website but only until this coming Saturday (November 6).
DPI Fisheries deputy director general Dr Geoff Allan said that consultation with the north coast community about what measures it should use to reduce the risk of shark bites had 'been a feature the Shark Management Strategy since it began last year.'
'The government understands this is an issue that generates strong feelings, and we're committed to finding solutions that reduce the risk for beachgoers while respecting community wishes in regard to environmental impacts,' he said.
'In light of the extraordinary circumstances we've witnessed in this area over the past 12 months, we need to prioritise the safety of our community. To do that most effectively it's important for us to understand community views on this matter, so I would encourage everyone to make those views known via the survey.'
Dr Allan said the six-month trial would use the 1937-model nets in use from Newcastle to Wollongong under the NSW Shark Meshing (Bather Protection) Program, with some adaptations.
The 150m long nets are 6m deep with 60cm mesh, and are typically placed about 500m offshore and parallel to the beach near surf-clubs or patrolled swimming areas.
'Shark nets are not a barrier system and do not create an enclosed area to separate swimmers from sharks. They are designed to reduce the likelihood of shark interactions by catching large, potentially dangerous sharks aggregating near the netted beach,' Dr Allan said.
'The nets are fitted with "whale alarms" and "dolphin pingers" to deter marine mammals from the netted area.'
Dolphins die in 30 minutes
But DPI admitted in a Q&A document distributed to media that 'if dolphins or green turtles are inadvertently caught, it is 'unlikely they would survive for more than 30 minutes.'
'Loggerhead and Leatherback turtles are likely to be able to survive for considerably longer than this,' according to the document.
DPI also said it is possible that endangered Grey Nurse Sharks might be entangled during the course of the trial.
'These sharks generally have a relatively good survival rate in the Sydney meshing program and can usually be released alive,' the document claimed.
DPI said the timing of the meshing program, which would start in December 2016 and run for six months, would 'avoid most of the whale migration time.'
To complete the online survey, go to dpi.nsw.gov.au/sharks before 5pm, November 6.