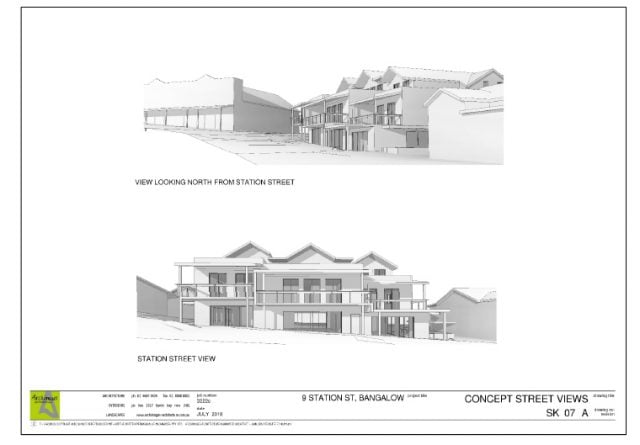 Chris Dobney
A new development planned for Bangalow's Station Street looks remarkably like one that was rejected by the Land and Environment Court three years ago, according to Bangalow Progress Association secretary Jenny Coman.
The plans for the development at 9 Station Street, next door to the historic A&I Hall, go on exhibition tomorrow and the Progress Association will hold a meeting to discuss them tomorrow night.
Sydney developer Bob Dunnet, trading as Gordon Highlands Pty Ltd, has submitted the application that would see a three-storey building comprising three shops and six 'shop top' apartments in the heritage precinct.
Two plans already rejected
In its original plan, the company sought to build eight apartments, three shops and basement car parking for 18 vehicles on the site.
Byron Shire Council rejected the developer's initial proposal in 2013 but, as the result of court-enforced conciliation with the council, the developer submitted a modified plan over New Year 2014.
Negotiations were abandoned after agreement could not be reached but the developer submitted the second proposal anyway, with council rejecting it after pointing out aspects of the shire's Development Control Plan and enforceable height limits in the new LEP had not been complied with.
Gordon Highlands then took the matter to the Land and Environment Court in September 2014.
But Commissioner Susan O'Neill dismissed the appeal after two days of hearings onsite and at Tweed Heads Local Court.
She refused the DA on the grounds of excessive bulk and scale and because the proposed building is not 'in harmony with the existing or future character of Station Street'.
The Commissioner was also of the view that the proposal would have 'an adverse impact on the heritage values and existing character of Station Street, the Bangalow Heritage Conservation Area and the heritage items in Station Street'.
Alarmed
Ms Coman told Echonetdaily she was 'alarmed' that the plan appeared to have resurfaced, despite some 'superficial changes.
In the new plan the upper floors have been given a weatherboard cladding treatment, the basement car park removed and car parking moved to the back of the block.
According to the planning documents, a 1.8 metre setback from the street would be provided and the building would 'taper down' at the southern end to more closely match the height of the next-door Scout Hall.
Ms Coman told Echonetdaily, 'I haven't spoken to the planner in detail but I have the same objections on bulk and size as I had with the previous plan. It stretches from one side of the block to the other.
Echonetdaily phoned and emailed Mr Dunnet's office requesting comment last week but none has been received.
Bangalow Progress Association meets at Bangalow Heritage House, Deacon Street, Bangalow, Thursday June 1 from 7pm.