Eve Jeffery
International Midwives Day was celebrated globally on May 5, while International Nurses Day will be recognised tomorrow, Saturday May 12. These days are an occasion to celebrate, commemorate and increase awareness of the contribution of midwives and nurses towards patients all over the world.
In keeping with those sentiments, midwives and nurses are busy across the Northern Rivers this week highlighting some of the issues these valuable clinicians face in their work day.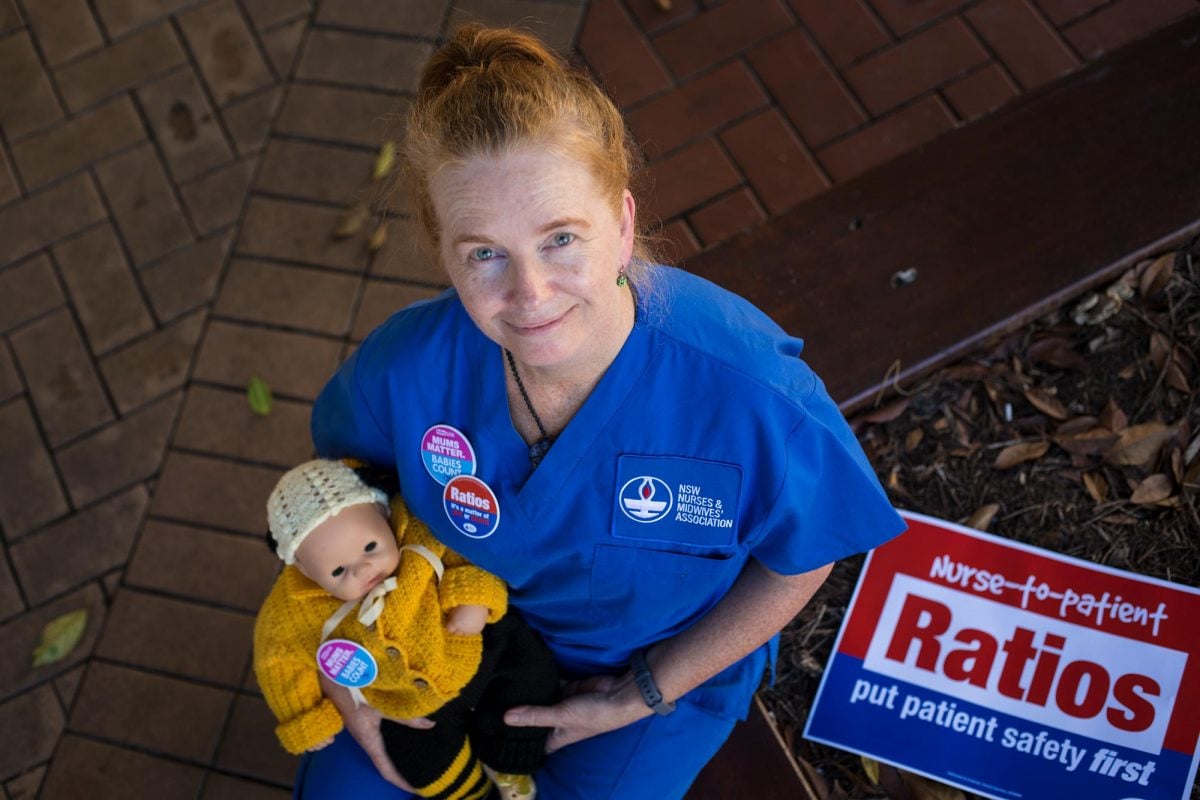 Ratios put patient safety first
Lismore midwife Heather Ryan spoke to media in Lismore yesterday as nurses and midwives gathered in the CBD to launch Ratios – a campaign to highlight the pressures they are under as a result of understaffing, increased workloads and poor skill mix issues across various wards, centres and units in New South Wales hospitals.
 Three local branches of the NSW Nurses and Midwives' Association (NSWNMA), Lismore Hospital, Lismore Community and Lismore Mental Health, are joining the campaign as part of a statewide push for a more transparent nurse-to-patient ratio rostering system.
Yesterday nurses and midwives were taking pledges from the community to raise awareness – they received over 200 signatures in support of the campaign.
Leading Excellence in Care
The annual Ena Williams Nursing and Midwifery Symposium is being held today in Ballina – experts in the field of nursing and midwifery will gather with staff from across Northern NSW for the annual event.
Ena Williams was the first Aboriginal registered nurse to train and work in Lismore, and this symposium has been named in honour of her achievements.
This year, the focus of the Symposium will be Nurses and Midwives Leading Excellence in Care.
The keynote address will be given by Dr Cathy Adams, Clinical Midwifery Consultant with Northern NSW Local Health District (NNSWLHD). Cathy will share her journey as a doctoral candidate and some key findings from her thesis and speak on the topic of change and innovation in nursing and midwifery practice.
Dr Christine Aggar, Nursing Research Academic, will lead a session on strengthening and building capacity with our Nursing and Midwifery research agenda.
Following the symposium, winners of the annual Nursing and Midwifery Awards will be announced at a cocktail function.
Katharine Duffy, Executive Director Nursing and Midwifery, Northern NSW Local Health District says the symposium and awards are an opportunity to acknowledge and celebrate the achievements of nurses and midwives across Northern NSW.
'These Awards are presented to Nurses and Midwives who have been nominated by their colleagues for demonstrating outstanding qualities as clinicians, mentors, leaders or educators,' said Ms Duffy.
The Symposium is being held at the Ballina RSL in partnership with the Collaborative Practice Unit and Northern NSW Nursing and Midwifery Services