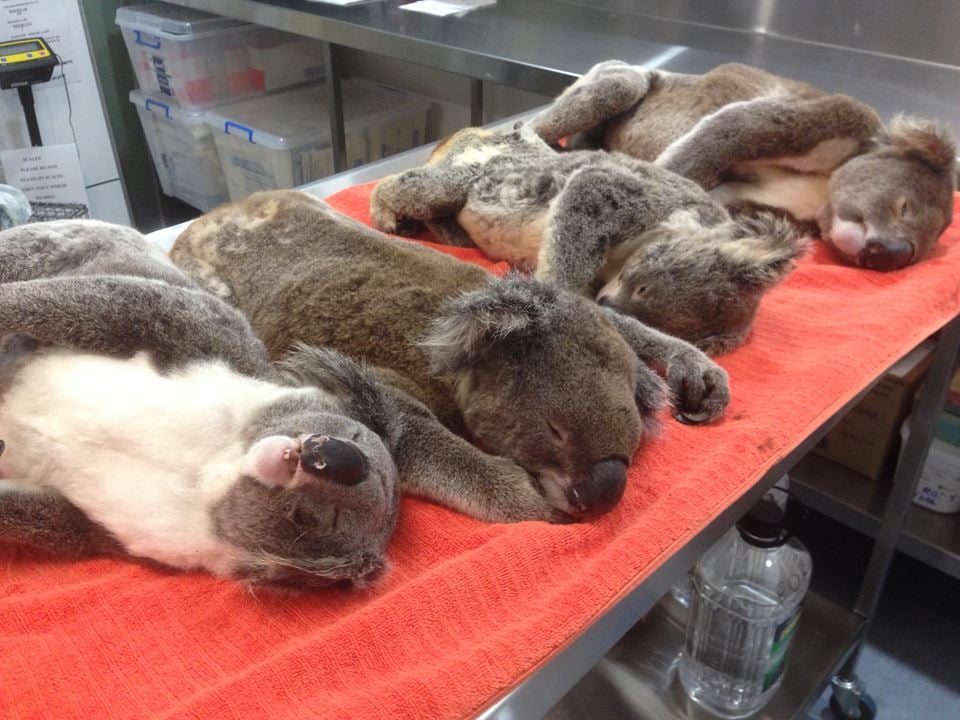 Friends of the Koala reports that despite its campaign to prevent koala extinction on the North Coast, 12 sick, injured and dead koalas were brought to its Care Centre within the space of three days this week.
On Sunday and Monday eight animals were brought to FOK's East Lismore centre.
Yesterday two more dead animals came in and another two were brought in on Tuesday.
Only two of the animals are is still alive.
Two of the dead animals were at peak breeding age, according to FOK president Ros Irwin.
Two were hit by cars – one in Wyrallah Road, Lismore, and one on Ewingsdale Road, Byron Bay.
Call-out to contain dogs
Marley, vet nurse at FOK, said of the remainder most were infected with chlamydia and one adult male had suffered multiple dog attacks.
Almost all were either dead on arrival or had to be euthanised.
Just two animals, dubbed Glow and Eli, are in a condition to be re-released.
'Glow was found in a mango tree, with no koala trees around. He's fine and will probably released somewhere close,' Ms Erwin said.
'Eli was also found "in the wrong place" here in Lismore,' she added.
Ms Irwin made a special call-out to people contain their dogs at night.
'It's horrific, generally there's not much we can do because they shake them around so much,' she said.
Horrific car strike
One of the animals killed was collected by Bangalow Koalas' president Linda Sparrow from Ewingsdale Road outside SAE, where it had been the victim of an 'horrific car strike'.
Ms Sparrow yesterday wrote an impassioned letter to Byron Shire councillors demanding action on koala warning signage that she said has been long promised but not delivered.
'I have personally rescued three koalas in Byron in last two months alone(Ewingsdale/ Byron/ Myocum),' she wrote
'All three had to be euthanised and this is the fourth one this morning.
'The poor boy (very healthy male) clearly had no chance. Sorry for gruesome images but this is what it is like on the frontline when you are called to this. Cars and koalas do not mix.
'How much are our koalas worth if not to provide safe passage?
'I am still waiting for koala signage on Lismore Road opposite Dudgeons Lane where 11 months ago I had to pick up this other healthy dead male 25 metres down from 201 Lismore Road.
'It is very distressing to be called to these scenes then to have to remove the body and take out to Lismore.
'We need to offer safe passage and if we don't stop West Byron that is the stark reality they are doomed.
'We urgently need koala signage to try and slow traffic down – particularly signage on the roads itself.
We cannot put a value on our koalas as they are priceless and  once they are gone there is no turning back,' Ms Sparrow wrote.
Tweed land purchase
Koalas in the Tweed Shire may stand a slightly better chance after the state government announced a further 40 hectare land purchase at Cudgera Creek Nature Reserve, in addition to a 100 hectare purchase announced six weeks ago at Cudgen Nature Reserve.
Twed MP Geoff Provest said the latest addition 'compliments existing efforts by the government to conserve high value koala habitat that supports landscape connectivity as well as the east-west movement of koalas between the hinterland and the coast'.
'This movement is important for the future survival of the Tweed's population of coastal koalas which have been recorded moving back and forth over the Pacific Highway near the nature reserve via a specially designed fauna land bridge,' Mr Provest said.