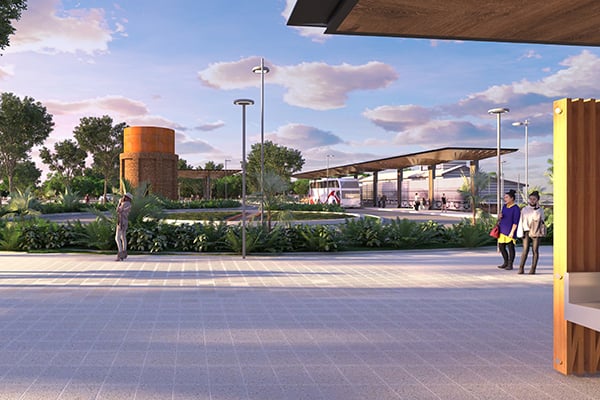 The Byron Bay Residents' Group called three times for the opportunity to discuss the proposed transport hub and interchange on exhibition for the site opposite Byron Bay Railway Station. They claim they were actively refused the opportunity to contribute to the proposal.
'This is a dreadful indictment on Council,' said Paul Jones, president of the Butler Street Community Network.
He claims that Council refused the community's attempts to engage on the project and that they left residents out of the planning process.
'We were blindsided,' he said of the latest plans that are on exhibition by Transport for NSW.
Residents called a meeting last week to see how they could be included in the discussion. Both Greens member for Ballina and Labor candidate Asren Pugh attended to hear the community's concerns.
No right of appeal
According to Mr Jones the only way that the residents now have to contribute is through Heritage NSW.
'We have no rights of appeal in relation to the proposal put forward by Transport for NSW,' he said.
'Our only avenue now is through Heritage NSW because they must give approval for the development to go ahead.'
While the residents believe that there are better options for the transport hub they have decided to look at how the bus interchange could be better located in the railway precinct. They are asking for it to be moved 100m north of the currently proposed site.
'We are asking for positive intervention that improves both local and traveller experience with moving this site to this new location,' he said.
Responding to questions from The Echo MLC Ben Franklin said he had taken advice from Council on what the community wanted in relation to the transport hub and even taking mayor Simon Richardson to Sydney to meet with relevant ministers including minister for Roads Melinda Pavey.
'My view is that we worked closely with Council and we have listed to them as the voice of the community,' said Mr Franklin.
Pugh tackles Nats
But Labor candidate for Ballina, Asren Pugh, has placed the blame squarely on Mr Franklin and the Nationals.
'We know the National Party promised this bus interchange over four years ago, before the last election. They did nothing for three and a half years and so now are trying to rush something through right before the next election. This is a broken promise,' he said.
'Under pressure, the government letterboxed local residents last week giving a little over a week to comment on the heritage impacts of the project.
'I am calling for this process to be halted until proper consultation with the community is undertaken. There is a clear need for a new bus interchange in Byron Bay, but you don't ride roughshod over our local community to meet an arbitrary political deadline,' he said.