Parents of students at a private Catholic high school in Ballina say administrators sent the entire year twelve cohort home early today to change after a cross-dressing prank.
With spring comes academic assessment time at schools and universities and Australian high school seniors nearing the end of one of the most formative experiences of their lives have kept up a tradition called 'muck-up day'.
While not an official event on school calendars, principals and teachers generally tolerate Muck-Up Day as gesture of good-will to students, who presumably need to let off steam after weeks and months studying intensively, many hoping to get good enough marks to qualify for tertiary education.
Water-pistol fights, food fights, dying the school pool a crazy colour, drawing on buildings with chalk… these are the sorts of pranks year twelve students typically carry out on Muck-Up Days across the country.
But in Skennar's Head this year, around a hundred senior students at Xavier Catholic College chose a slightly different stunt.
Catholic school 'out of touch' with today's generation
The school is co-ed but uniforms are gendered, so the students swapped uniforms for the day: boys in the girls' skirts and Peter Pan-collared shirts, girls in the boys' shorts and conventional short-sleeved shirts.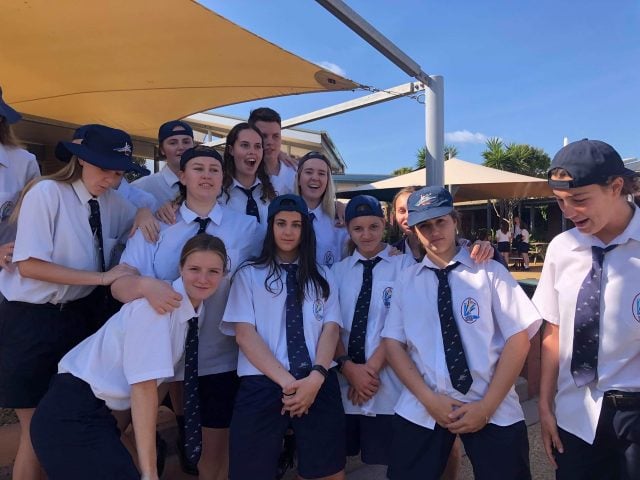 Looking at photos of the students, the difference in the costumes is subtle and the prank might seem tame to older generations who might remember egging their principal's car on Muck-Up Day.
But the school's reaction was bold, stern and unforgiving: all year twelve students were sent home to change back into conventional gendered outfits and parents were notified accordingly via text.
'This just shows how out of touch the school is with today's generation,' one parent told Echonetdaily.
'They're good kids, they're not bad kids, this is just harmless fun.'
The mother, who didn't want to be publicly named in case the school reacted negatively towards her family, said with the church experiencing a loss of faith, it was unbelievable such a lack of understanding of today's generation existed.
She said the school had also forbidden students from participating in last week's strikes, where hundreds of thousands of Australian students took to the streets demanding action on climate change.
But she was otherwise very happy with the school, from where three of her children had graduated in past years.
No comment from Catholic educators
Xavier Catholic College Principal Michael Vella has managed the school for at least five years and has so far declined to give comment on the incident.
The Catholic Schools Office for the Lismore Diocese has also been asked for comment.