Last week's Ballina Shire Council saw a long and tempestuous debate about the surf school tender process in the region.
There was a motion to call for new tenders for the next three years, which opened a can of worms about COVID-19, shark risks, surf schools taking over public areas, and financial strains on local businesses.
Sean Riley, the owner of Soul Surf School, made a deputation in opposition to the motion. He said it was financially onerous to demand new tenders from local operators just as JobKeeper was winding up, and businesses were facing losses of 70% or more due to COVID.
Mr Riley said that considering the difficult business climate, he couldn't imagine any new surf school operators coming in, with what was once a twelve month business now a twelve week business, and his own school 'currently averaging 5 guests a day at best', although he was still employing '25 Ballina locals'.
Shark capital of the world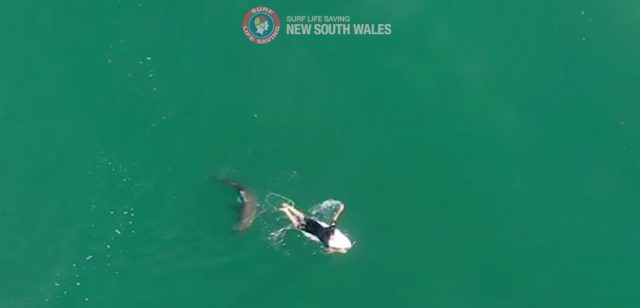 Accredited surf coach, David Rutter, who is seeking a surf school licence, then spoke in favour of the motion, describing Ballina as the 'shark capital of the world, even if you don't want to advertise it'.
He said emergency first aid for shark bites needed to be a part of new standards for surf schools, as well as COVID-19 risk assessments.
Mr Rutter also said that unused licences should be removed (he named two surf schools holding licenses that appeared to be inactive).
He said new operators should have a chance to tender, claiming it would be 'unconstitutional and negligent' to renew existing licences without people going through the tender process.
Cr Sharon Cadwallader argued it would be 'remiss of this council not to go to tender and consider the new risk, as pointed out.'
She noted that Ballina has had a big surge in visitors  and recommended council should proceed with the recommendation to go to tender, and adopt the new licence fees.
Cr Ben Smith suggested an amendment, with fees to be waived as long as businesses are eligible for JobKeeper.
Cr Jeff Johnson pointed out the discrepancy between Ballina and Byron Bay, in terms of instructors to staff ratio (there are ten students allowed in Byron and twenty in Ballina).
General Manager Paul Hickey said this was to do with the relative busyness of the beaches, but there was 'no exact science to it'.
He said compliance of surf schools with regulations had been 'fairly good'.
Cr Eoin Johnston spoke about local concerns of Byron-based surf school operators coming to Ballina, particularly the river beach at Missingham Bridge. The GM explained that there was no way to stop businesses from outside coming into the shire.
Mayor David Wright said he drives around a lot and sees 'full buses' of patrons to surf schools, with COVID precautions apparently not being taken. He supported the original motion.
Cr Cadwallader spoke against Ben Smith's amendment, saying council staff would be able to negotiate with successful tenderers if hard financial times continued.
The amendment was lost.
Another amendment proposed
Cr Keith Williams then suggested another amendment, calling for existing licences to be extended until September 2021, noting 'we need to recognise it's difficult for businesses to plan at the moment', but otherwise supporting the call for new tenders.
Cr Phillip Meehan said it was true that business turnover had dropped, but suggested this was an argument to do the tenders now, as businesses had more time.
Cr Williams' amendment was lost.
The mayor returned debate to the original motion, noting the large number of sharks in the area recently, and the problem of surf schools continuing to operate at Missingham Bridge when other beaches have been closed, despite the risks in the river.
Cr Meehan agreed with the mayor, and also spoke about the competition between surf schools and local residents at Missingham Bridge.
'If the swell is getting in through the river it's a popular spot for families to go and kids to learn to surf,' he said. 'When surf schools add another twenty people at busy periods, the 'amenity for local residents with young children is basically wrecked.'
He moved an amendment that surf schools not be allowed to operate at Missingham Bridge on weekends, school holidays or public holidays due to the impact on local residents.
Debate on this issue was put off until after the main motion was put.
The vote to call for surf school tenders and adopt new fees was carried, with only Cr Jeff Johnson dissenting.
Missingham Bridge only for locals?
Returning to the Missingham Bridge debate, Sharon Cadwallader said it was hypocritical to call for people to visit the shire and then restrict what they could do.
'People have discovered our shire, they love it, whether we like it or not,' she said.
Cr Ben Smith questioned the legality of charging surf schools for licences, and then limited where they could use them. 'If I was them I'd be taking council to court,' he said.
He questioned the view on this and other matters that 'we should lock out everything except our own residents.
'While this sounds great, it's not really our role or what we've done to date. I don't believe it is appropriate, I don't think it's an intelligent motion, there would be serious repercussions.'
Cr Meehan then called a point of order saying Cr Smith had insulted me by saying 'I'm not intelligent and it's illegal'.
Cr Smith apologised, saying his comments were directed at the motion and not personal: 'I love Phil, he's a great guy and he's very intelligent.'
With that cleared up, Cr Williams said, 'I find myself in the uncomfortable position of straddling a fence on this one.'
While saying he understood the points about crowded beaches and lack of parking, 'There's something logically inconsistent about having surf school licences and removing the best place for learning surfing.
'They like Missingham because it can be the only place that's suitable for learning to surf the outer breaks are too rough,' he said.
Out of touch with community?
Cr Meehan said, 'I think to take the side of the surf schools on this one is to be out of touch with our community. We're only talking about certain times. There are 202 school days in NSW, when they could still use Missingham if they chose to. We need to balance the needs of both groups.
'If you don't vote for it, you've got to be out of contact with our local community here,' he said.
Crs Cadwallader and Johnston both took offence at that.
Mayor David Wright said he agreed with Meehan's comment, noting the problems, 'but I'm not going to do anything about it, put it that way.'
With the vote split, Cr Eoin Johnston called another point of order saying, 'You've had a free kick and added extra threepence worth on to the debate, and you'll be voting. If you've had another crack at it, some of us should have a right as well.'
But he didn't get his way. When Mayor Wright put the motion to stop surf schools from using Missingham Bridge all year round, it was lost on the casting vote of the mayor.