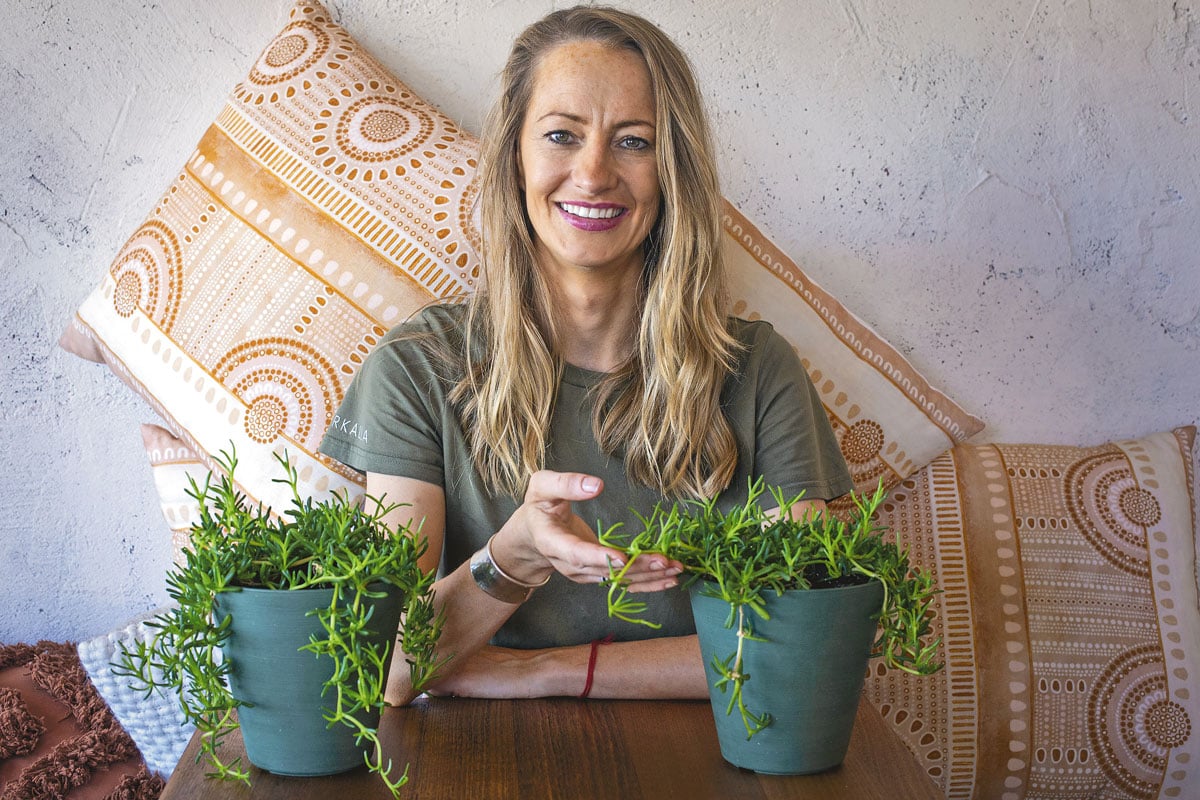 Story Eve Jeffery
Did you know karkalla, or pigface, is edible; either raw or cooked? The juicy green leaves, pink flowers and crimson fruit can be eaten in salads and stir fries, they can be used to make pickles, or be enjoyed as slightly salty fruits. Roasted karkalla leaves can be used as a salt substitute.
Owner of the newest eatery in Byron Bay, Mindy Woods, loves karkalla so much, she named her restaurant after it!
But karkalla is not the only native food you will encounter at Karkalla – you can try warrigal greens, macadamia, native hibiscus, gum leaves, lemon myrtle, riberry and Davidson plum and their special homemade native dukkah, the list actually does go on.
Karkalla Byron Bay is a passion project for Mindy, who was most recently the CEO of Lotus Dining Group Sydney and a MasterChef Australia alumni. Mindy has followed her dream and opened a venue of her very own, within seaspray's distance of Main Beach, Byron Bay. Karkalla is a nod to Mindy's heritage as a proud Bundjalung woman, with her people being the original custodians of the northern coastal area of New South Wales. 'Karkalla reflects the essence of what we believe to be truly Australian – our relaxed, coastal sun-kissed lifestyle, and, most importantly, our generous spirit, she says.
Mindy says the all-day brunches, the use of native produce and the love of locally-sourced seasonal ingredients is what is keeping customers coming back. 'We respectfully acknowledge the past and present traditional owners of the land of the Bundjalung people, the traditional custodians of this land, and respect their culture and identity which has been interwoven with the land and sea for generations.
'Whether you are a local, traveller, young family or a bunch of friends just hanging out, Karkalla is a wonderful way to experience native food and modern plates.'
Mindy also has a greater ambition to provide security and protection for our incredible and unique, local, natural resources that are rich in biodiversity.
Mindy has taken a very hands-on approach to Karkalla: creating the menu, fine-tuning a wine list and leading a venue redesign which has been inspired by childhood memories of pippying at the beach, collecting oysters and picking the nearby salty and succulent karkalla with her nan and family.
Karkalla Byron Bay is open Wednesday–Sunday, 8am–4pm at8 Fletcher St, Byron Bay.