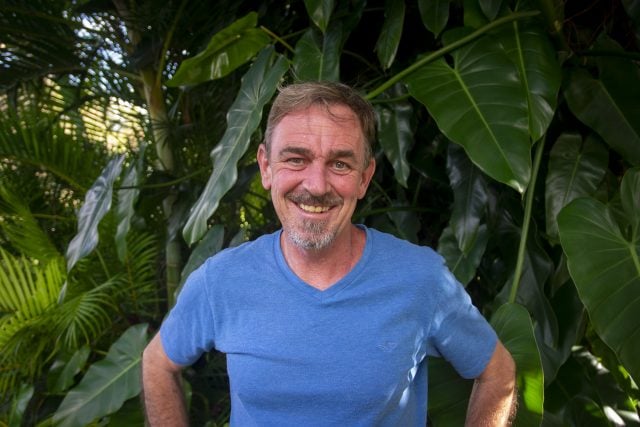 Since the Dunoon Dam was shelved, Rous County Council has put a new draft of the Future Water Project 2060 on public exhibition. They are currently seeking feedback from people living in the four constituent councils of Richmond Valley, Byron, Ballina and Lismore.
In part two of this two part series, The Echo sat down with Rous Chair Keith Williams to dig into the detail, and address some of the controversy around the future of water in the Northern Rivers.
Your opponents are currently attacking recycled water using quite inflammatory language. Is this damaging the prospects of success of projects like Perradenya, which some of these  people have previously publicly supported?
'This is where it's a scare campaign,' said Keith Williams. 'Terms like "toilet to tap", that's language deliberately designed to concern people. It's directly copied from the Toowoomba campaign.
'And then there's the other claim that this is illegal in NSW. No it's not illegal, it's part of the Australian Drinking Water Quality guidelines, it's just that no one's ever done it and been licensed.
'That's why we need the pilot plant [at Perradenya], so we can do that and prove up the technology.'
Time to get it right
'Now we've said there will be a twenty year timeline between now and when we would potentially use that as a source of water,' Keith Williams told The Echo.
'That's a long time for us to be able to get it right, and from my perspective that's the guarantee that we've got. If we don't have it right then we've got other groundwater sources to look at.
'The second stage of Tyagarah and Newrybar were the groundwater sources I was most worried about, potentially with the larger environmental impacts.
'One of the things I'm pleased about with the second proposal is we try and avoid them.
'We limit groundwater to a scheme in Alstonville where we already own the licences, and a scheme at Tyagarah that just makes sense economically and feasibility-wise to provide growth in Byron Shire. So I can live with those.
'The Tyagarah Stage 1 that's proposed here is much, much smaller. We're talking about four bores as compared to Stage 2 which is potentially a dozen. So the environmental impact is much less, the proposed amount of water to be extracted is much less, and that's a good outcome.
'It's an outcome that shows we've listened to community concerns about over-extraction and over-reliance on groundwater, and we're trying to make sure we don't go down that path. We've got it there as a safety in case something else goes wrong.
'There were viable recycled water schemes even in the first version of the Integrated Water Cycle Management Plan, these were the schemes that passed the first coarse screening assessment. But then we said, "no we're going to focus on the dam, and on groundwater".
'We've listened to the community since June last year and gone, well we've shelved that one, we've reduced that one, and recycled water – it makes sense.'
Existing water sources far from clean
'The scare campaign I find it so frustrating, in this rural area,' said Keith Williams.
'We know that our current river sources, that we use, the Wilsons River source and the one in Casino that's using water out of the Richmond River, they already contain a whole range of what you might term "crap".
'Anywhere that there's grazing you've got animal faeces of various types, but you've also got the herbicides that have been used, the pesticides that have been used, and all of that ends up in our river sources and in our dams.
'Not Rocky Creek Dam, because that's a beautiful protected catchment. That's a real jewel, the fact that there's no development around Rocky Creek Dam.
'But Dunoon wasn't going to be like that, Emigrant Creek is not like that. The river sources aren't like that. They've got all kinds of inputs.
'The point is that you can have the technology to clean that water to the point where you couldn't tell where it's come from. And the same applies with the recycled water.
'The recycled water that currently comes out of the purple pipe in Ballina is far, far cleaner than the water we could extract from the dam at Emigrant Creek or anywhere else. Mixing it with river water makes it dirtier.
'So yeah the logic of it doesn't apply, and you would expect people that live on the land might have an understanding that the water flowing in that creek ain't as perfect as you'd like to think.'
Politics
What's driving the people who are hostile to this, when they know the science? You have been accused of making a political decision.

'The stuff about this being driven by politics is based on this theory that Bob Carr visited the region, and there must have been pressure from within the Labor Party on me as Chair to change my view. It's a fantasy.
'Yes, Bob Carr did visit the region. Yes he actually knows one of the landholders that has land that would have been inundated by the dam, and he went for a walk on it, then made Facebook posts about it.
'I've never spoken to him about it. The only time I've ever spoken to Bob Carr was about six years ago for about thirty seconds for a quick selfie with Janelle Saffin!
'He's got friends in that area because of his work over time. He's known people around Terania Creek since that fight.'
So is it ideological from the other side?
'It's like a culture war, from my perspective. Dams are good, other stuff is bad. It's really simplistic politics. And it works, certainly, out west, where you've got really scarce water and communities are wondering where it's coming from, and you've got politicians thundering away saying we can build a dam, we can solve the water crisis.
'But you can't just build your way out of it, and particularly in our instance, the cost of trying to do it, in terms of loss of koala habitat, loss of Big Scrub rainforest, loss of indigenous cultural heritage – there's huge costs that stack upon the other side, for that particular site.
'And you might say a dam's a great idea, but how are you going to actually do it at that site? That's the problem.'
And they keep acting like the indigenous heritage issues can somehow be swept aside?
'Yes, and they are a serious impediment. Even if Rous was 100% committed to the dam, and was going to go full steam ahead, it would certainly end up in court, and on multiple occasions I would think.
'There will be challenges in terms of actually doing the cultural heritage studies, and people not agreeing to participate, and what does that mean, how are you going to collect your information?
'As well as the fact that the Widjabul-Wiabal people are really united on this. It's not like you're going to play off one side against another.
'There's a united opposition from the traditional custodians to say. "don't do this". And that's going to be very hard for any organisation to overcome, in a legal sense.
'There's a whole range of Crown Lands issues with cultural and environmental heritage approval processes that a dam would have to go through, and it could fail at any number of those.'
Can the dam come back on the table?
The pro-dam councillors seem determined to throw as many spanners in the works as they can – it looks like this might continue up until the next elections. What's going to happen if these issues haven't been resolved by September?
'Well, Rous will adopt the new integrated Water Cycle Management Plan in probably July. The consultation will finish towards the end of May. We'll then have about six weeks for that to be summarised and to come back, and then Rous will make another decision.
'I expect, given my conversations with the other councillors, that would be to support the current version of the plan, maybe with some amendments depending on the feedback, but I can't see anybody who's going to go back and support a dam.'
You will have a new Byron Bay representative on Rous soon, now that Simon Richardson is leaving?
'Yes, and we don't know who that's going to be, but I'd be very surprised if Byron was to send a delegate that was a red-hot "we must build the dam" kind of person.'
So there's no prospect that the whole situation could be left up in the air until September, and then a new council comes in?
'No, I think there's a commitment to make a decision so that staff can get on with work. I can't tell you what the rest of the election results will be across the shires…'
Unfinished business
But you're keen to hang around in a leadership role at Rous, if that possibility is there?
'Yes, I feel like I've got a lot of unfinished business at Rous. The river isn't much cleaner, we've started on some projects doing some things but there's still a lot left to do, and I'm really keen to support and encourage the recycled water.
'I think purified recycled water is going to be the way that a lot of communities have to go, so we can show some leadership, and there's an opportunity there to show the rest of NSW at least, what this alternative technology looks like, to be proving it up and training people in it.
'That's an exciting opportunity for Rous, up here in the northeast corner of NSW where we are pretty much disregarded by the Sydney types.'
In terms of Ballina, have you decided whether you will be going for mayor?
'Yes, I am. That's part of the political response to me at the moment. You can't let your opposition have a win!
'And without being too blunt about it, I think Cr Cadwallader will also be running for mayor, and I think she sees this as a bit of a platform in terms of the broader water issues.'
Message for Casino and Ballina
Is there anything you would like to say to the people of Casino and Ballina about the Dunoon Dam?
'My message for people is that I came to this realisation; whether I thought the dam was a good idea or not mattered less than the fact that it's so unlikely to be able to be built.
'There are so many obstacles in its path that it is actually the riskiest option.
'When we're talking about securing future water supplies, putting all your eggs in the dam basket is very risky. There are legal, environmental and engineering challenges, and to focus everything on one project that's going to be your saviour?
'We're much safer with a system that has different elements, that has redundancy within the system, that can supply water to different communities without necessarily relying on the central parts of the system, but still have that there as a backup.
'That's a much stronger, more viable scheme than one that relies on one primary water source – that's a huge risk for the community.
'And given, a part of the background for this is about dealing with climate change, and acknowledging that rainfall is going to decline. When we get our rain, it will all come in one big lump. And the dam isn't the best option in those circumstances.
'Recycling water means we draw on less, and makes us less vulnerable.
'To me, in the longer term, that's part of what this is about. It's setting us up to deal with climate change and not rely on some of our previous solutions.'
Last word on Tyagarah
Is there anything else important you would like to add?
'In terms of the Tyagarah specific issues, the Rous staff have met with locals in the Tyagarah region to try and address community concerns, and part of it is that we've now broken it up into the two different schemes, and we're only looking to pursue Stage 1. That's a much smaller proposition.
'Most of our test wells in that area are around the airfield, and the preference for Rous is to find publicly owned land, either Crown or council-owned land, on which you could put the treatment plant, so that there's no need to be resuming properties or doing anything like that.
'We want a fairly small, compact scheme so that we do minimise that interruption.
'I would hope the people of Tyagarah can see it's not going to be a major impediment to their current lifestyles or enjoyment,' said Keith Williams.
If you missed part one of this conversation, you can find it here.
You can learn more about the Future Water Project 2060 and make a submission here.
---
More stories about the Dunoon Dam