Since the Dunoon Dam was shelved, Rous County Council has put a new draft of the Future Water Project 2060 on public exhibition. They are currently seeking feedback from people living in the four constituent councils of Richmond Valley, Byron, Ballina and Lismore.
In part one of a two part series, The Echo sat down with Rous Chair Keith Williams to dig into the detail, and address some of the controversy around the future of water in the Northern Rivers. This is the conversation.
What would you say to people who are thinking of making a submission to Rous about the revised water plan but they haven't done one yet?
'You hope that people are looking at the material that's been published and making a judgement from there,' said Mr Williams. 'I've already received a few email submissions and people are talking about elements within the Integrated Water Cycle Management Plan, the central document.'
So people seem to have actually waded through it?
'Yeah, or at least read enough of the summaries that they're familiar with the different elements of it, and they're making comments on those. That's fantastic to see, because it means people are engaging with it rather than simply giving a yes dam or no dam response. A lot of the responses so far have been really good.'
So you'd urge people to look at the info out there and make an educated submission?
'Yes, and all the information is still there, even the information about the dam. Rous got some criticism that the next version of the plan is actually an edited version of the one last year, with elements of the dam left in, but it's made clear the community consultation was absolutely clear.
'95% of people that spoke to Rous about the Future Water Plan were opposed to the dam, and that was a pretty overwhelming response.
'A large number of those submissions – several hundred – were also saying these are the elements we like, this is what you should do more of, and that's really informative, when people actually fill in a bit of the background of why they feel the way they do, that's useful.'
Are comments coming from across the region?
'It's hard to know at this stage exactly where everything's coming from. Certainly the community around The Channon and Dunoon is still very aware of what's on the cards, and want to see a solution that doesn't involve building the dam. It's hard to know how big the geographic spread is.'
But you would like to see responses from throughout the constituent councils?
'Absolutely, yes.'
Insufficient consultation?
Some people are saying there weren't adequate opportunities to respond last time, how long was it out there?
'Ten weeks, and to be honest, for any council to get 1300 submissions is actually a really significant number. There are very few issues that you see the community respond to in that kind of way. And even for Rous, we put lots of things on public exhibition and get zero response.
'So very clearly there was a heightened debate, and I think it's a good part of the process that we spent a lot of time talking about this.
'Certainly from my end I didn't feel like it was rushed, and the other thing was that when we got to December and the council was making decisions, that consultation was looked at deeply, and what people said was looked at deeply. And the new plan reflects that feedback. I think we've done an honest process in that.
'There'll be quibbles here and there, with what the new proposals are, but there's a lot of stuff that's consistent with what the public feedback was on the first round, so showing that we're listening and we're taking it on board, that's a good sign.'
And there's a few weeks remaining?
'Yes we've got until the 28th of May for the next round, I'm certainly hopeful that we'll get lots of submissions again.'
How did the Marom Water Treatment Plant tour go for Ballina councillors this week?
'That's actually about what Ballina Council's current plans are for the Marom Creek treatment plant.
'Ballina identified the need to upgrade that plant to meet modern standards, a number of years ago, so quite separate to Rous, Ballina went, "we need to upgrade this, to improve the quality of the water that comes out," and it's looking to spend several million dollars upgrading the plant.
'So the briefing was about that process, and there was a little bit of talk amongst the councillors over what would Rous's proposal involve.'
So that infrastructure will become part of Rous, potentially?
'We would hope so, because it's an existing treatment plant, it's already got a connection to the reservoir; it makes sense to centralise all your stuff.
'But you could potentially run two separate treatment processes there, because you need to do more processing of the water that comes out of the existing weir at Marom Creek, which is what it uses to supply Wardell/Meerschaum Vale areas, they get their current water from that plant, operated by Ballina. You could leave that to stand to run on its own, and in that location build another plant.
'It may make sense to do that combined. That's a discussion we've got to sort through, between Ballina and Rous. How do we value the asset is really the central question. What's a fair price for the rest of the network to contribute to taking over that asset?'
Alstonville aquifer
Speaking of Ballina Shire, can you address the concerns of people in Alstonville about potential over-exploitation of underground water in the new Future Water plan?
'We had a briefing for Ballina Council last week from Rous GM Phil Rudd, and Michael McKenzie, who's the project manager for the Future Water plan, so they did a specific presentation about Alstonville, to try and address some of those concerns.
'What was really useful was it helped councillors understand that the water we supply to Alstonville/Wollongbar at the moment is from a pipe that runs from Lismore to fill the Wollongbar reservoir.
'We don't have a pipe running in the other direction. So the idea that we would build this scheme and then use it to supply other areas, it's not a realistic worry.
'One of the reasons this makes sense, is that we've got 1.2 gigalitres of existing licences, that are part of the overall allocation of the aquifer, and the usage in Alstonville/Wollongbar is currently about 1.2 gigalitres a year, so we've got a real match between the water source that's located in that area and the demand in that area.
'So we don't need to send that water anywhere else. What it does mean is that we're using less Rocky Creek Dam water to service that community.
'There's the same kind of idea in the future with Tyagarah, that's going to provide water to that local area for the growth in Byron, essentially. You're not pumping that water anywhere else. You're meeting local needs first, which means less call on the central reservoir.
'So, in terms of "you're going to build this and then increase your licences," no, we've got no reason to want to increase the licences for the Alstonville scheme above what we've got now. So that should help reassure people that this is not the thin end of the wedge, for something much bigger.'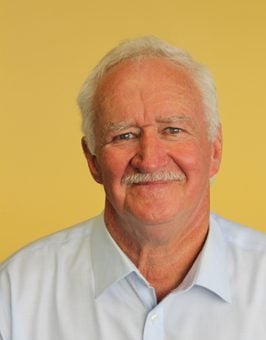 Some pro-dam councilors don't seem to believe any information you present them with, regarding underground water. How do you respond to that?
'To me, bringing in the Alstonville aquifer issue with the dam, is completely disingenuous. The Alstonville aquifer scheme was proposed to go ahead even with the dam.'
And the councillors who are hostile now all signed off on it?
'Yes, they had no issues with it a year ago, June last year when the plan came out. We were going to use that and then build the dam. I think it's this question of whether we might build it and then want to make it bigger. So sizing it to make it match the local usage is an important point there.
'Another thing we covered in the briefing was the actual details of the aquifer. How big is it, how deep is it?'
But you haven't been able to make that public?
'Well I'm now about to make it public! This is the map we're currently using. There are actually multiple aquifers that you would call part of the upper aquifer. Some people are using the little ones, and some are into the bigger one.
'There's then a fairly thick solid layer of basalt before we get to the lower aquifer, which is that one there. And they're pretty sure – not certain at this point – that there's a pretty solid dividing line between those two. A hundred metres of rock tends to be pretty solid.
'But essentially the Alstonville plateau is layers of different lava flows, and you get aquifers in between the lava flows, so there's actually, depending on where you are, a few different ones.'
Chief Scientist's report
So this study of the Chief Scientist that Our Future Northern Rivers have been quoting, that questions the viability and integrity of the underground water, do you have anything to say about that?
'That's where we get back to these figures: we know the estimated total aquifer is 640 GL, given the area it covers and the rainfall it receives, it recharges about 50 GL a year. Now these are the NSW Water figures.
'So the recharge amount that's reserved for the environment under that scheme is 41,000 ML, 41 GL. The total that's allowed to be extracted by everybody is therefore 9 GL, and we've got 1.2 of that 9, for local water utility.
'The Chief Scientist's comments about the aquifer being under stress, not knowing enough of what's going on, is that at this stage almost none of the private pumps have meters on them.
'This is a broader NSW water issue, that water extraction is occurring across the state with no metering. Now they've said we're going to introduce metering and we'll have it here in this area by 2023. But that's the uncertainty. It's about how much is being extracted and who's extracting what – by private landholders.
'We meter exactly what the public water utility takes out, we know that we don't exceed our amounts, but because there's no water meters we can't guarantee what the private sector is taking. That's the source of the uncertainty.
'It's not about the size of the aquifer or the recharge, that's fairly well known. What's uncertain is what's the private takeout. 2 GL is basic landholder rights and then there's a bunch in other licences. We don't know if that take is appropriate.
'It seems a bit wrong-headed to then be going, "Oh the aquifer's under stress. Rous shouldn't do anything." No, we need the NSW government to roll out its metering program and then the uncertainty disappears.
'In terms of dealing with people's concerns about the Alstonville aquifer, rolling out accurate metering is the solution, not saying Rous can't use its existing licences.'
And you stand by your claim that Rous's latest proposed approach to underground water would actually help the farmers on the plateau?
'We know the existing bores have a negative impact on agriculture when they're turned on, at least one of the bores does. So the status quo doesn't actually help farmers.
'What would help farmers is moving those bores to a deeper level, so that we stop competition between farms and town water. That's actually the aim of what we're planning to do there, and that's where local farmers will see a benefit from it, not a loss.
'Are they better off if we leave things as they are? No, they're not,' said Keith Williams.
You can learn more about the Future Water Project 2060 and make a submission here.
Part two of this discussion will be in The Echo on Monday.
---
More stories about the Dunoon Dam