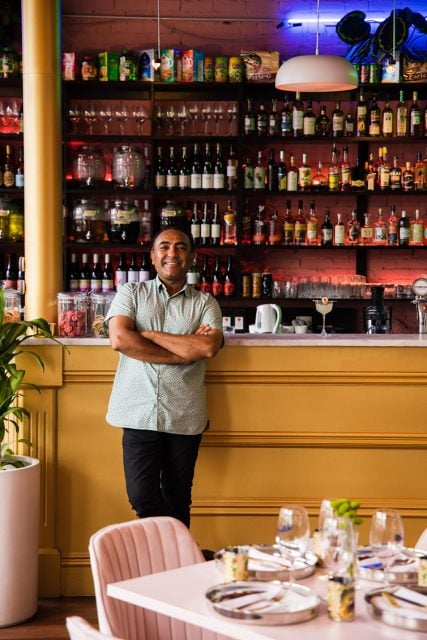 This Thursday at 4pm is the soft launch of acclaimed chef-owner Jessi Singh's 'unauthentic Indian' restaurant Daughter in Law on Fletcher Street, Byron Bay (where St Elmo used to be). 100 per cent of all proceeds from the busiest night of the opening week will go to a three-pronged initiative close to his heart, which directly supports Indian people living through COVID. The restaurant will gradually ramp up from Thursday, and will be accepting bookings via the website from Monday 14 June.
This is not your typical Indian joint. 
Singh, who has run restaurants in Melbourne, New York, California and Sydney, as well as the Melbourne and Adelaide branches of Daughter in Law, has been mastering the art of what he calls 'unauthentic Indian' food for many years now; and will be blending the flavours he grew up on, with local Northern Rivers ingredients, and new cooking techniques.
'I like working with what surrounds me. Yes, I'm Indian, but I live in Australia and I'm also Australian,' he says. The menu at Daughter in Law Byron, unlike the interstate varieties, will be more coastal style; ambitious and playful, and aims to encapsulate the Byron Bay lifestyle with an emphasis on seafood, vegan and gluten-free fare.
Singh describes his food as 'unauthentic' because, in his view, 'there is no such thing as authentic Indian food. There are no recipes, and everything is passed on through the generations, in the kitchen, verbally. Daughter in Law represents my travel journey throughout the world, so it's global food with an Indian twist; these recipes will be passed on to my children.'
Celebrated sommelier, Bhatia Dheeraj, will be overseeing the extensive wine list, which includes local producers alongside interstate and overseas drops. For cocktails, there's an Indian spiced sangria – a mixture of red wine, sweet vermouth, and orange – as well as the Daughter in Law, which is made with Byron's favourite Brookie's gin, a tandoori-fired pineapple, and cardamom lime.
The 65-seat restaurant will have a vibrant atmosphere with daily DJs spinning '80s and '90s tunes to get the party started, while projected scenes from famous Bollywood films will flicker on the walls. Green and blue velvet seating, handmade glasses with rainbow peacocks, gold touches (a colour that traditionally symbolises wealth and prosperity in India) and a pink neon sign will add to the buzzing space.
'We don't take things seriously, but we're very serious hospitality people. That's the goal; to be fun and relaxed, not to be stuffy,' says Singh.
The restaurant will be open in 'soft launch' mode from 10 June at 4pm (Thurs–Sun for walk-ins only in the first week). Then from Monday 14 June they will be open 7 days and reservations can be made via the website below.
Daughter in Law: 22 Fletcher St, Byron. Mon–Sun 4pm–late (7 nights from 14 June). www.daughterinlaw.com.au.