The north coast is made up of all sorts which is one of the reasons that so many people love to love the place.
While there were some who took to the streets on May 29 with banners including statements like 'My Body My Choice' another local activist has taken the slogan to heart making t-shirts saying 'anti-anti-VAX'.
Local cartoonist Holly English, who made the t-shirts, told The Echo that she recently went with her friend Caroline to support her as she got the vaccine.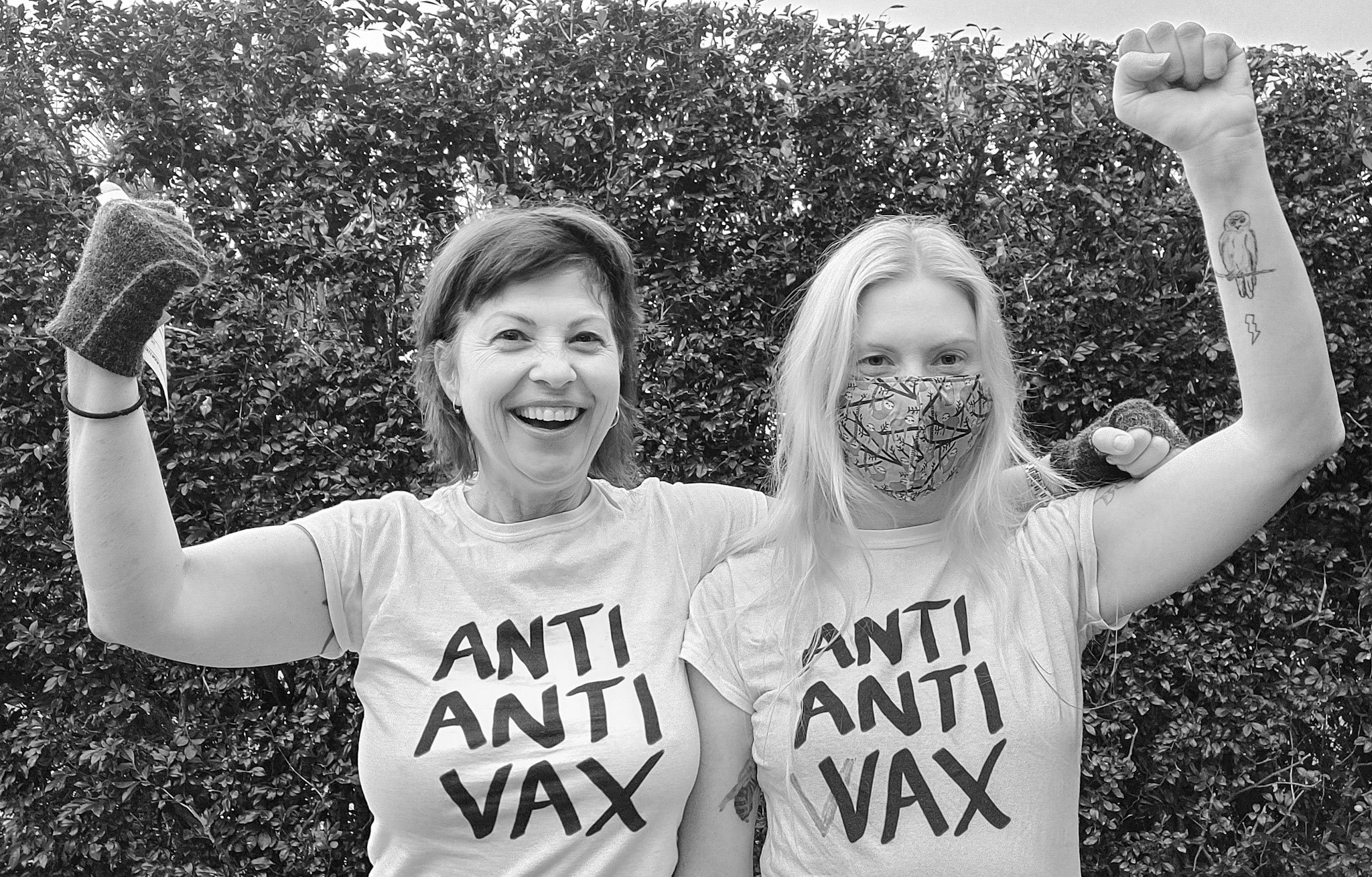 Pro-vax flak
'I'm noticing as a pro-covid vaccination supporter, I am getting a little flak here in the Shire,' she said.
'Knowing a friend who is in her 30s who has suffered over a year from post-covid fatigue syndrome (she is still very sick), 30,000 people dead from COVID in New York City, let alone what is going on in India, it's not the time to be condemning vaccines.
'I was a hippy child, an environmental activist child and teenager and have lived on natural medicines and naturopathic and alternative ways of living my whole life, though always taking what I've needed from Western medicine,' she said.
'In light of broader awareness, research and education, I think it's essential to be vaccinated unless there is a health issue against it.
'I live behind my elderly mother, and my friend Caroline works with vulnerable and indigenous people in the community.
'I'm eligible for the Pfizer and have registered already with New South Wales health for the vaccine at Lismore base hospital. I'm waiting for my call!
'This is not a simple cold and I'm tired when I mention to people that I'm looking forward to getting the jab, I'm met sometimes with disdain or like I'm crazy or brainwashed. I don't meet them the same way if they refuse to get the jab, that is their business.
'In fact, many of my friends were hippy kids and aren't vaccinated and nor are their children. That doesn't bother me at all.
'But this is different. I've been quite surprised at the reactions. Perhaps they react that way as they know I am a left-wing alternative hippy in the heart. And therefore, I should prescribe to all the certain belief systems of Mullumbimby stereotypes. This is a global pandemic and I am not brainwashed. This is for real.'
Fear of forced vaccinations
However, organiser of the May 29 rally Dean Jefferys said that while he was pro-choice the rally was part of a national and international day of protests to highlight 'govcorp' tyranny around forced COVID-19 vaccinations.
'As Melbourne is in lockdown, many are questioning the strategy and impact of locking up millions of healthy people. People are doubting whether the vaccine and the "Fortress Australia" strategy is the best and only way forward,' he said.
'Coercive strategies like what the PM proposed last week – that in the future we may need to have a vaccine passport to travel, not only internationally but across state borders – raised the heckles of many Australians, and caused many questions to be asked about our direction and strategy for dealing with this pandemic'.
Mr Jefferys says that, 'Rather than destroying people's lives and the economy with constant lockdowns and closed borders into the future, we could simply support those who are concerned about their health, and who trust the vaccine, to get the vaccine'.
'Those that don't want the jab could be encouraged to have a healthy lifestyle and immune system and then if they do get COVID-19, treat any symptoms with known non-toxic available antiviral drugs'.