Essential Energy says it is continuing to work to restore energy to flood-affected areas throughout the Northern Rivers as 10,300 customers remain without services. 
'Our crews continued restoring power to most flood-affected areas while continuing to deal with access issues from flooded areas, falling or fallen trees, washed out roads and landslips. Work continues to assess network damage, and isolating flood impacted properties to ensure community safety,' they said in a press release.
Tweed Valley/Byron Region
Work continues on significant damage to Ewingsdale network, requiring pole replacements and re-stringing the network over the creek
Customers remaining without power include:
Murwillumbah – 104

Tweed Heads – 49

Main Arm – 43

Ewingsdale – 103

Byrill Creek – 35

Pottsville – 59

Duranbah – 189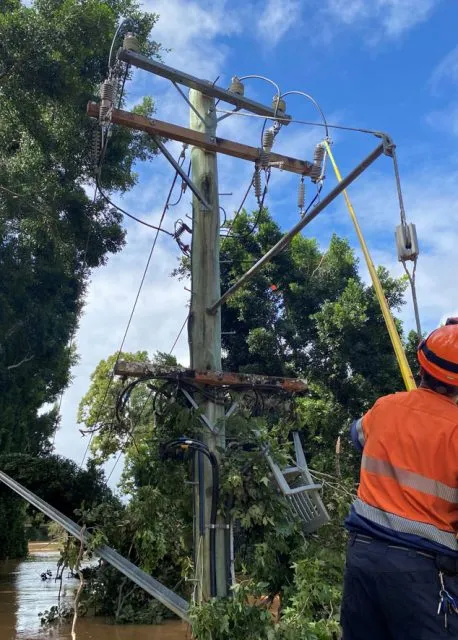 Northern Rivers
Aerial patrol organised today to assess conditions and what access is available around Coraki, Woodburn and Broadwater

Majority of Ballina CBD premises have had power restored with the focus on Ballina West today

Significant rural network damage will require helicopter support, potentially hampered by weather conditions
Customers remaining without power include:
Lismore -5,417

Ballina – 1,208

Woodburn – 2,005

Evans Head – 53

Alstonville – 422

Jiggi – 466

Dunoon/Mt Nardi – 77

Mt Burrill – 41

Lagoon Grass – 23

Kyogle – 32

Rileys Hill – 76

Casino – 2
Clarence Valley
Essential Energy crews continue to make repairs where access is available.
'Additional crews have arrived and are being deployed to support local team members.  Crews today are undertaking a range of activities, including a focus on assessing inundated properties for safety as power becomes available to more areas. Essential Energy is working with local electrical contractors and Accredited Service Providers to help make the process for safety assessing customers' premises as efficient as possible for affected customers.,' said a spokesperson.  
'Essential Energy reminds the community that as clean-up efforts continue and power is being restored, to 'Look Up and Live' and be aware of powerlines above where they might be working, especially if using heavy machinery.'