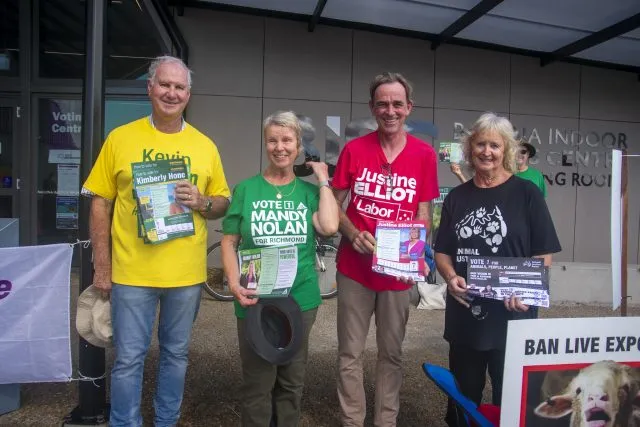 People were queued out the door at the pre-poll booth in Ballina Indoor Sports Centre yesterday, with brightly dressed volunteers and AEC officials offering assistance to voters.
With nowhere to park and long waits to vote, it felt more like a normal election Saturday than a working Monday, apart from the absence of democracy sausages. Although the BISC booth is in the federal seat of Richmond, people from Page are also able to vote early at the Ballina pre-poll.
As one election official put it, 'The Lismore pre-poll is at the university, and you need a university degree to find it!'
Another Lismore pre-poll location has since opened in Carrington Street, but the flood-related destruction in the city is likely to make it more difficult than usual to vote on election day. These factors have made the Ballina Indoor Sports Centre the place to be for early voting.
How to vote?
The volunteers representing the candidates have a front-row seat on the mood of the electorate, even if they are slightly biased.
Katrina Hodgkinson was handing out how to vote material for Kevin Hogan and Kimberley Hone.
She told The Echo, 'People are very strong in their views. They are coming in and saying, "We've got to win". You know, we've got to do the right thing. I'm really pleased with the response today,' she said.
Ms Hodkinson said the big issues for Ballina were housing and the economy. 'I think everybody's struggling a little bit,' she said. 'We need a good secure economic base. And I think that's at the heart of what a lot of people are actually thinking deep inside right now.'
And what did she think would happen on Saturday? 'I wouldn't be handing out if I wasn't hopeful!' she said.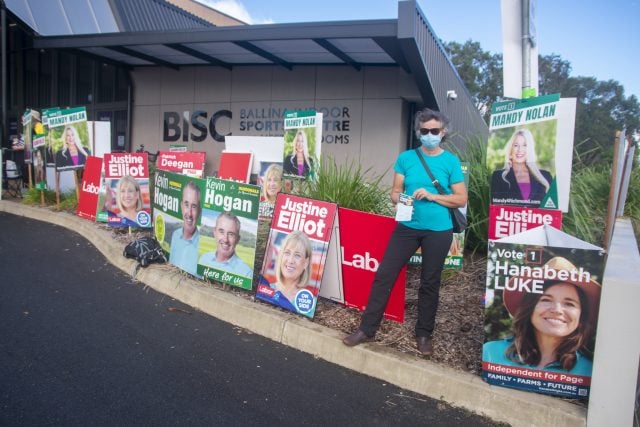 Teal and rust, and animals
Claudia Catterall was volunteering for the independent candidate Hanabeth Luke and said she was also hopeful.
'There's obviously a big move to the independents.
'I'd say she's less well known than some of the independents but there's plenty of people who would like to see some more independent representation in government and who are very sick of party politics.'
Next to Claudia was Judy Dean, who was encouraging people to vote for the Animal Justice Party in the Senate, and was struck by the number of people wanting to vote early.
'I think it's a great idea myself,' she said.
Ms Dean said there was a wide divergence of political views from the electors in Ballina. 'There's definitely variety!'
People have made up their minds
Handing out for the Greens' Mandy Nolan and Kashmir Miller, Francoise Sauvere  said 'a lot of people have already made up their minds.' She said everyone was being respectful with each other on the electoral frontline in Ballina.
She believes Mandy Nolan has a 'real chance' in her first political tilt.
'I think what's good about her is that she dares to talk and say what it is and what needs to be fixed. And I don't see that happening with other parties.'
Ms Sauvere said the Greens presence on the booth had been boosted by the presence of Kashmir Miller and Jenny Leong in recent days, which created a bit of 'media buzz'.
And in the red corner…
Former Ballina councillor and Chairman of Rous County Council Keith Williams was handing out for the Richmond incumbent, Labor's Justine Elliot, as well as Patrick Deegan in Page. He said that Labor had done poorly at pre-poll in the past, but 2022 had 'a much better feel'.
He also felt most early electors had already made up their minds. 'They don't necessarily want so much guidance,' he said.
Although this meant there hadn't been a lot of interesting conversations with voters, Mr Williams said it was a different story between the volunteers for the different candidates.
He said everyone was working together to avoid the aggressive atmosphere that can be a problem on election days.
An enjoyable experience?
'We've made a conscious effort to have a very relaxed atmosphere, to not be rushing at people, and to try and make democracy a pleasant experience,' said Mr Williams. 'I think that speaks well of all the people here, that everyone's bought into that.
'It makes it a much more enjoyable experience for the volunteers. Everyone is smiling and happy when people arrive.
'Voting should be something you feel empowered about,' he said. 'And this is how you are going to exercise some of your power.'
What about Saturday?
'You never know until the counting is done,' said Keith Williams. 'But I think Justine is going to be returned and I actually think she might get a bigger majority.
'For Labor, the strength in the seat is converting previous National Party voters to accept that there's a need for change.'
And the big Ballina issues? 'Hip pocket issues and cost of living is still a big driver for a lot of people here,' said Mr Williams.
'There's also a lot of people that are genuinely concerned about climate change and are on that side of the ledger, so to speak, whether that's Greens or Labor or a teal independent, but a lot of your average voters here are going "my pocket's hurting at the moment."'
Mr Williams says that the official response to the floods is also a live issue, describing the delayed government response as 'really poor', with people who have been through absolute disaster being hassled for ID and told to fill out complex forms online to qualify for assistance.
'Most people have never applied for a government grant in their life,' he said. 'And they've been told "jump through these hoops and you can get some money". It's terrible. There's a lot of people that are still hurting, and that will be reflected in the vote here.'
Pre-poll voting will be available at the Ballina Indoor Sports Centre in 63 Cherry Street from 8am to 8pm until Thursday 19 May, then 8-6pm on Friday and Saturday.