Justine Elliot is the incumbent member for the seat of Richmond. She has held the seat since 2004, representing Labor and winning six elections.
In 2007, the Member for Richmond was also the Minister for Aging under the Rudd-led Labor government and she was a parliamentary secretary under the Gillard-led Labor government. Most of her time in parliament has been served under coalition-led governments.
Bay FM Community Newsroom host Mia Armitage interviewed Justine Elliot at Bay FM on 12 May as part of the third and final part of a series of interviews with Richmond candidates.
About those Greens votes
MA:   Justine Elliot, you've been in the state of Richmond more than seventeen years, you've won six elections here. It's an impressive achievement by most standards.
But when you look at results for Richmond over the past five elections, you can't help but notice how the glory days of your 2007 win with Kevin Rudd at the helm, when you won the seat comfortably in your own right * and went on to become the Minister for Aging, those days have faded slightly more with each election since ever since the 2010 election.
Your wins have relied more heavily on preferences from Greens voters, your electorate suffered two recent climate catastrophes as well as ex-cyclone Debbie earlier.
But a recent report from Climate Analytics finds that none of the major parties in Australia have climate action policies strong enough to take us to where leading scientists say we need to be, which is no more than one and a half degrees Celsius warmer on average across the globe by 2030.
The researchers of the Climate Analytics report say Labor's policy will get us to two degrees warmer, which doesn't meet the goal of last year's Glasgow Climate Pact.
How can you go to an election in the Richmond electorate with climate disaster survivors and a next generation of youth who have been out in the streets calling for climate action backing a party that isn't promising to, at the very least, put an end to fossil fuel production in Australia? Aren't you just inviting more people on the Northern Rivers to vote Green?
JE:    Well, Mia, I'm actually asking for people in the Northern Rivers to vote for Labor and to vote for me on May 21, so that we can actually get a Albanese Labor government in place for a whole range of issues in terms of creating a better life for people here over really important points like cost of living, like cheaper childcare, fixing aged care, a federal ICAC, and really, really importantly, taking action on climate change.
This is without a doubt one of the major issues in our community and right across the nation and remember, Labor has taken to the last six elections a policy on climate change, we so strongly believe in taking action and we've got a very strong policy this time as well.
Transition, jobs, power bills, investment
JE:    The fact is, everyone is committed to decarbonising our environment and our community and we have to have that transition from fossil fuels to renewables and Labor's policy addresses a lot of that, in terms of getting to net zero by 2050. We've got massive amounts of investment in renewable energy, we have to have that, we've also got a whole range, a whole suite of measures that you would have seen, in terms of what we're promising for a lot of solar banks, community batteries, and electric vehicles as well, which is equally important.
But I think when we're talking about taking that action on climate change, it's only Labor as a party of government that can deliver that. Remember all the inaction that we've had, from the Liberals and Nationals, and Scott Morrison, they've had 22 policies that have gone nowhere. It's one of the most frustrating things and one of the biggest issues in this election and that's why we're so committed to taking this action and our policies will do that and I think what's important to mention, as well, is when you are a party of government, and you are really committed to, it's such an important area, like taking action on climate change.
Of course, our approach to it is, we have to decrease emissions, we also have to lower power prices and we also have to focus on job creation. So, we have to look at all of those areas that have to be addressed and in doing that, and then in that transition that I talked about and making sure we get to a focus on renewable energy, there's some really important things to consider. We have to make sure power prices stay low, we have to make sure that some of the current jobs are protected. But we're also investing in a lot of new jobs.
Under our plan as well, we're talking about 600,000 new jobs in renewable energy, and five of six of those jobs will be in regional areas, it's so important to do that. So, we have to look at all those measures when we look at transitioning and when we talk about mining as well, it's important to remember to, we're still going to need coking coal to make steel to make the wind farms and to make the solar panels as well. Unfortunately, there isn't the technology to be able to do that effectively yet, but part of our investment in renewables is looking at that.
So, what we're saying is, we have to make that transition as fast as we can, but at the same time ensuring we keep our prices low and we have committed a lot of money to fixing that grid as well. Keeping the power prices low, making sure we protect jobs that people already have, but also focusing on new jobs of the future, that's vitally important, but our absolute focus is making sure we act on climate change.
That time The Greens…
And I would like to say that in terms of the history of the Labor Party, we have had a very, very strong commitment to taking action on climate change. We lost government over it, we lost two prime ministers. We know how hard it is, we fought very hard for the carbon pollution reduction scheme and I would remind people here that at that time, The Greens teamed up with the Liberals and Nationals, teamed up with them to vote against the carbon pollution reduction scheme. So, I would say to people, do not trust The Greens when it comes to climate change. That was one of the worst acts I have ever seen. We've now had a decade of inaction because of what The Greens did in teaming up with the Liberals and Nationals. Imagine how far we would have been if we'd had that in place at the time. So, we are very, very focused on taking action on climate change, taking this policy to the election. It's only Labor and only a vote for me that can get rid of Scott Morrison and actually take action on climate change.
Elliot deflects on Adani
MA:   Well, you say that, but of course, if Teal Independents, The Greens, other Independents and other minor parties managed to get enough seats in this election, they could well end up with a balance of power and that's something that they're all aiming for.
So, if that happens, and if Labor did form a minority government, and then you were forced into a position where you had to work with some of those crossbenchers and make negotiations, is Labor open to setting some stronger targets when it comes to emissions? Because I understand everything you've said about generating jobs, protecting jobs in a transition, but it's not like this situation has just come upon us.
Fair enough, Labor has been in opposition and so some of those big, big transitional changes have been beyond the party's control. But when you look at Queensland, where there's a Labor government, it doesn't signal a lot of confidence when it comes to Labor and their relationship with coal mines, if you look at say, Adani.
JE:    Well, I'm not in the Queensland Parliament. I'm the federal representative here.
MA:   Fair enough, but to an average voter, Labor is Labor.
JE:    Well, that's not correct. I mean, I'm the Federal Member for Richmond. Also, people here know my long history, particularly in terms of fighting coal seam gas mining in our region, a huge fight that our community won. They know how strongly I feel about this issue and how committed I am to it and as I said, like, we have taken action on climate change to a number of elections. We're so committed to doing that, and we are committed this time with net zero by 2050 and that whole range and whole suite of policy measures to be able to do that compared to the Liberals and Nationals.
'We will not, we will not,' work in minority gov with The Greens, says Elliot
JE:    But let's look at the political landscape because you touched on that and it's important for people in our region. The fact is, it's by only voting for me, the Labor candidate, will you get rid of Scott Morrison and get a Labor government. There is no other pathway, if you vote for The Greens or an Independent here, that just makes it easier for Scott Morrison to stay as prime minister, because the fact is Labor needs to hold seats, like mine, and win eight more, which is a real challenge to win those eight seats around the country, to get majority government.
Now Anthony Albanese has made it really clear, very clear, in fact, a number of times, we will not, we will not be having a minority government with The Greens or any other Independents at all. So, the absolute reality is if you want a Labor government, voting for me on May 21 is the only way and anyone else who tells you differently is, in fact, lying. Voting for any other candidates, whether it's The Nationals or whether it's The Greens or whether it's the Independents, that all helps Scott Morrison. The only pathway is by voting Labor on May 21.
Labor to prioritise Northern Rivers disaster recovery
MA:   Okay, let's go back to the recent flood crises here, you've been very critical of the state and federal responses. Again, obviously your power to get something done has been limited in opposition, but what will change in terms of how ready our region will be next time we face natural disaster if you win your state again, and Labor wins the election?
JE:    We've spoken a lot about the devastation here and it still is ongoing. The other night I was at Ocean Shores, talking with the community there at the forum that they had, and I'm out and about talking with a lot of people right throughout the region and as we know, it's had a huge impact, and people are still deeply traumatised. People are still contacting me in their hundreds, particularly in relation to those disaster payments and I'm making those representations and talking to the minister's office in relation to all of them. We have a long road ahead in terms of recovery and yes, I was very critical about the state and federal governments, particularly from the lack of planning from the state perspective.
But from both levels of government, the lack of action, the lack of value to deliver even now, where are the mobile homes? You know, where are the caravans? You know, what is it, nine weeks after? It's incredibly traumatic. So I think from that perspective, I've said to many people that if we are elected on May 21 and Labor forms government, on day one, I will be talking with Anthony Albanese, the prime minister, and Murray Watt the [shadow] emergency services minister has been here many times, about what we need in our community.
Call for state emergency plan
I also think it's important to note that there's a couple of inquiries going on in New South Wales, there's the state government inquiry into the floods and there's the New South Wales upper house inquiry as well. I've got concerns about the state government inquiry in terms of whether it's not too transparent, and the government wanting a bit of an outcome [rather than] actually looking at what went wrong and what they should do better.
But the New South Wales upper house inquiry, which will be having hearings up here as well, it's a really good opportunity, I think, for people to come along and tell their stories. I've been very critical. I continue to be very critical about what's happened in the past. But what we also need to focus on is how we move forward, what are the lessons learned.
One of the biggest lessons learned, I think, is that the New South Wales State Government has no emergency disaster planning. In other states, they have that in place. We need to have a complete management structure that involves all levels of government, and all emergency services so if we were in such a catastrophic situation again, there will be systems in place, that everyone knows what they do, all the discussions already had about getting the resources here. As we all know, our wonderful SES had a huge lack of resources, all of our emergency services, there were so many areas where we just didn't have the support and capacity on the ground and no ability to get that here and we desperately needed it. , having those sort of emergency management structures really helps that.
Elliot to push for dedicated disaster phone line
JE:    I think, also, from the federal government perspective, a lot of lessons learned as well. It's been a complete debacle with the payments, as we've discussed, with Scott Morrison deliberately excluding us, but also people just not being able to contact Centrelink, which is why I've said, 'come to me, I'll help you,' because [they say] 'I can't get through,' they're told they haven't got ID, like, it just adds to the trauma they've already got.
I'd like to see a dedicated line, and phone number that people contact where they can actually talk with someone who is able to understand their situation and help them through it. People do not need more trauma when they have lost their home and their business. So that's part of it. The other really big issue is that of the massive communications failure that we had, and we all experienced how terrifying that was, and such a concern and it still is, and I think there needs to be a lot done in terms of looking at, particularly in terms of, say, accessing Starlink satellites, so that people can get that communication. So, I think there's a whole range of issues.
Labor promises to prioritise Northern Rivers housing
MA:   You've brought your party's housing spokesperson, Jason Clare, to this region at least twice in recent times to spruik Labor's affordable housing policy for the nation. But despite acknowledging a deepening housing crisis on the Northern Rivers, you and Jason Clare have repeatedly missed the opportunity to announce a specific target or plan for this region.
So, you've said you'll talk with the community to develop a plan. But the situation has been dire for years, you've had plenty of time to work with the likes of local councils, service providers and charities. I'm sure you've heard some of their experiences and ideas. Surely you recognise people are frustrated, tired of waiting and stressed and surely you can assure them Labor will create affordable and social housing opportunities on the Northern Rivers if it wins the election?
JE:    This, I think, is one of the biggest issues in our community and it has been for years and again, I speak to people every day in terms of either not being able to get a rental or having to leave their rental property suddenly because the rents have skyrocketed overnight. People who have no capacity to ever buy a house here because the prices are so expensive and yes, it has gotten a lot worse over the past year and of course, with the floods.
It's even made it beyond a humanitarian crisis, with people living in their cars. It's something happening all across the country. But it's particularly bad here because of the extent of our crisis before the floods and yes, I've had Jason Clare up here a number of times, our spokesperson when it comes to housing, and he has met with a lot of people in the community.
Remember also, we haven't been in government. So, I've been very critical of the Morison government, not addressing [it]. They don't have any programs like this and are just not interested in [them], they're not even bringing any to the election as well.
We've announced a couple of programs, one of these, the $10 billion affordable housing fund, to make sure we can be building affordable houses, and particularly making sure that those are for emergency services personnel as well. And also a lot of money in terms of addressing emergency accommodation. Now when Jason was last up here, and he was asked about this, he said if we are in government, that we will be prioritising this area because he actually understands what's happened here. As does Anthony Albanese.
Anthony has been here many times, he knows the history of what's happened here with the housing crisis. He knows how much worse it was with the flood and we also did announce recently our policy about assisting people to actually buy homes as well, by the government providing that equity, up to 40%,, which will assist people getting their own homes as well and that's a policy, obviously, across the nation to assist people because these are problems happening everywhere. Everyone, particularly young people, can't get into the housing market. There are so many issues with housing. But both Jason and Anthony Albanese have said this area will be prioritised because of the extent of the problems here.
Labor refuses to back Greens Northern Rivers housing target
MA:   Prioritised, but how? I mean, would you be prepared, for example, to, say, match a policy that The Greens have announced for this region, which I think was something like they want to see 15,000 homes built, affordable homes, but with a particular emphasis on disaster survivors. Is that the sort of policy that Labor could match? I mean, Labor's been matching plenty of the coalition's policies, why not match a Greens one?
JE:    Well, as I said, Jason made the point very clearly that we'll be prioritising it if we're in government and we'll obviously look at how much we can be doing. But we know this area is a priority. Look, I understand that, you know, I mean, The Greens have made a number of announcements. But let's be clear about some of the announcements The Greens make, they're all false promises to start with. None of them are properly costed. The Greens have made trillions of dollars of commitments with no capacity to pay for them.
Secondly, they're never going to be in government and thirdly, they're never going to be in minority government. So, they can go out and promise people the world and that's false. What I'm saying, as the Labor member here, is that what we are committed to is making sure that we assist people here as much as we can by prioritising our policies for this area, particularly with housing.
Last time we were in government, as well, it was the first time a federal government addressed homelessness. We had massive amounts of programs for homelessness and affordable housing. This is just the start. But the focus will be here and obviously those flood affected areas because of the devastation that people have felt in this area.
Elliot declares support for Assange
MA:   There were 29 members of the Parliamentary Friends in support of the Bring Julian Assange Home group at the end of the recent parliament, but you weren't one. Will you join the group if you win the seat again?
JE:    Absolutely and I've indicated previously that I was keen to join the group. I think, and I've spoken publicly about this before, this issue has to be finalised. I think Julian should come home and I've said that before. He has, obviously, he has mental health [matters], we all have concerns about that and we've actually expressed to the government many times that they need to make that clear to the authorities in the United Kingdom as well.
In terms of where the case is, that I understand, currently the Home Secretary in the United Kingdom is able to make that final decision based on the extradition decision. Labor has consistently said to the government that, 'you should be lobbying the UK Government to say that this should be brought to an end'. It's been going on for so long, we should finalise this, of course, also that Julian has been offered all the consular services and his well-being is looked after. I think it's really important that that happens and we've been pretty clear about that and I think the government really haven't done enough in that sense, if you like and they should be doing more. I mean, this is a very timely matter. We're not sure when the UK Home Secretary might make that decision, but certainly it needs to be expressed to them. I think that these matters should be brought, it should be brought to an end.
An end to TPVs but off-shore regime to stay under Labor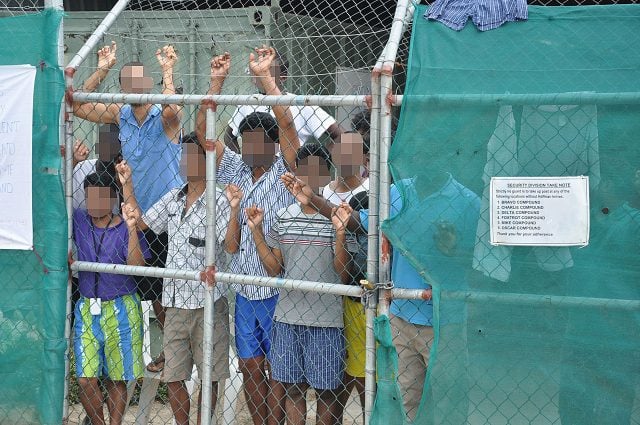 MA:   Labor's policy on offshore asylum seeker processing, which is to continue the regime, is a big turnoff for a lot of voters who might still prefer the party over the coalition. Do you acknowledge accusations from overseas bodies like the UN of the practice as being in contravention of human rights?
JE:    Look, what we've said and very clearly we've said this, is that Operation Sovereign Borders is one that we would continue with in terms of the pillars around that, in terms of the offshore processing, regional processing and the boat turn-backs.
We've said we'd do that but we also said we need to have a strong policy but also a compassionate one and we looked at the government leaving people languishing for years, which is absolutely horrific, with what they've done and we've also said, in terms of those temporary protection visas that are in place, we will convert them to permanent visas as well.
We're also going to increase the refugee intake, we think that you can have a strong border protection policy, but it can also be compassionate in terms of increasing our refugee intake. We believe that that's important.
And this is a big issue in the community, it's come up many times and it's a very difficult area, if we're talking about people's lives and one of the things that I often reflect on is that when we got into government in 2007 and we did open things, that's we said, this is what we're going to do. So 50,000 people came and 1200 died and that's the reality and we accept that that we were wrong. I mean, the fact is, if we have a policy like that people will get in boats, and people will die and we cannot pursue that and it is irresponsible.
'We'll bring them home,' Elliot promises end to Biloela family limbo
JE:    So that is essentially why we have backed this position of the government's Operation Sovereign Borders. But if I can just mention on those policies, a really big issue, and one that I feel really strongly about is about the Biloela family and Labor have made it very clear, if we win government, they can go home. These people should be at home, they're part of that community. They have been deeply traumatised, with what's happening now, in terms of being locked up and not being able to go home, it's wrong, we've made it very clear that we will do that, we'll bring them home.
No ministerial ambitions for Elliot in 2022
MA:   I want to go now to a possible future for you and if you win your seat again. Is there a particular portfolio that you have your eye on, an area in government that you would most like to have some responsibility for if Labor wins the election again? Where will Justine Elliott go? What sort of minister will you be? Will you be a minister after serving the federal Labor for so long?
JE:    Well, thanks for the question. But I think you're getting a bit ahead of yourself, we have to have the election first and obviously the people of our region, the people of Australia, decide what that outcome will be, if I am successful here again. That's a real privilege and honor if I am and if Labor is able to form government, I've publicly said that I will not be seeking to be a minister or a parliamentary secretary. I've had the great honor of doing that, I was Minister for Aging under the Rudd Government and I was a Parliamentary Secretary for Trade in, the Gillard government, great honors, a real privilege to be able to not just serve your community but the country and really important policy areas.
But my focus is on our community and I think, particularly with what we've been through with the floods, I need to be here giving this 100% of my time and my commitment because the reality is, if you are a minister or parliamentary secretary, you're hardly ever in your community, you're in parliament for about twenty weeks of the year and the rest of the time you're around the country. So that means that I would not be able to do what I need to do here, which is being with my community, which has been through a huge amount and I've been very, very vocal about that. My hearts here and that's what I would always focus on.
Education, Medicare and a federal ICAC
MA:   All right, well, if that is your clear priority, then can you just go into that a little bit more and just just give us three key priorities for change in the Richmond electorate if Labor wins the election.
JE:    A lot of the issues that I feel really strongly about are particularly around housing, as we've discussed, but also around education and educational opportunities for people from the regions because it's not fair that kids from our area don't get a decent start in life. It's not fair they do that. Also, around strengthening Medicare, people need to have access to decent, affordable health care.
Another issue that I just touched on that I feel incredibly strongly about is having a federal ICAC in place. Scott Morrison promised one in the last election, we've seen nothing but lies since then. We've been really clear about bringing that in. I think that's vitally important and I think the other really important thing is that we made a very, very strong commitment to the Uluru Statement from the Heart and we'll follow it as it was written, voice, treaty, truth, making sure we acknowledge within the constitution, that we have that reform that's vitally important, and Anthony has said we'll have that in the first 100 days.
*        In the live interview, the reporter added here 'without preferences from Greens voters', in error. Justine Elliot won the highest number of first preference votes that year but still needed Greens preferences to win the seat of Richmond. The error has been removed from the interview transcript above to avoid confusion without losing context.